Fine art and furniture shops still trade in ivory

When Bao Ve Rung & Moi Truong reporters visited Phu Khe commune, Tu Son Town of Bac Ninh province in late May and said they wanted to buy some products made of ivory, they luckily met a woman who offered herself as a guide.
"The shops all sell genuine products. There are no fake products here. Several million dong would be enough to buy a small bracelet. The prices of bracelets are different, depending on the size," the woman, called N, said.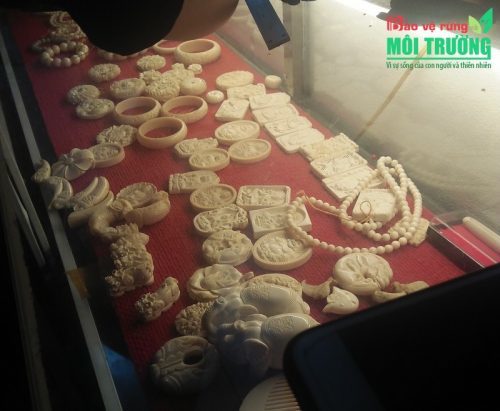 N said the reporters to Tam Anh Shop in Thuong Hamlet of Phu Khe Commune. There were sets of furniture made of aloe wood and sua (Dalbergia odorifera), a kind of precious wood which has a fragrant smell.
N was a professional guide. She called a 20 yr old named H, and told her to show products to visitors.
"The clients want some jewelry made of ivories," N told H.
As the reporters were brought by N, H led the visitors to a small room, where ivory products were available.
The room was 8 square meters, just enough for a glass cabinet displaying ivory jewelry and a bed.
"All the products here are made of imported ivory and have high quality," H said.
The room was 8 square meters, just enough for a glass cabinet displaying ivory jewelry and a bed.
To prove that the products are made of ivory, H used a torch."If products show the pink color like this under flashnight, they are real products".
H showed jewelry products, then threw down onto the ground. "If the products were fake, they would break. But these are real ivory, so they are very hard," H said.
"If you can prove the products are fake, bring them back and we will refund money," he said.
Many jewelry items were displayed in the glass cabinet, like bracelet, necklace, comb and other sophisticated items. All of them were made of ivory.
According to H, the prices of products depend on the weight and the sophistication of products. Bracelets are priced at between VND1.2-10 million, pendants from several hundred thousand to several million. Ivory rings are the cheapest item, just VND200,000.
With the information and images collected at Tam Anh Shop, the reporters notified police and caught the shop selling ivory products illegally.
The owner of Tam Anh voluntarily handed over all the products made of ivory, including bracelets, necklaces and decorative items. The total weight of the seized items was 6 kilograms.
Thanh Mai

Customs and police officers in the northern city of Hai Phong have discovered 3,446 kg of ivory and 3,977 kg of pangolin scales hidden inside a container.  

Bui Thi Ha, vice director of Education for Nature, speaks to Vietnam News Agency about the status of ivory trafficking in Vietnam and ENV's proposed measures on fighting trafficking.