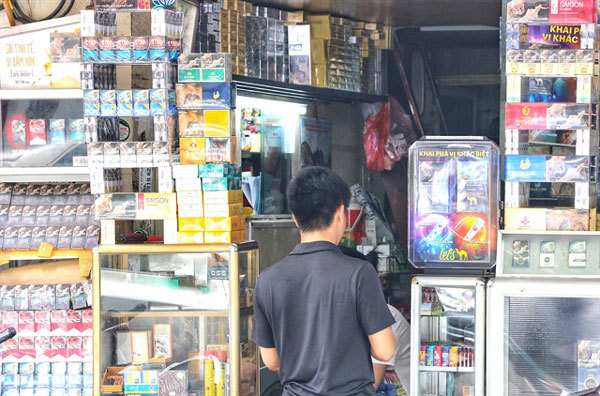 Illustrative image. – VNS photo 
The regulation could be a big change for cigarettes sellers in Vietnam – one of the 15 countries with the highest number of smokers in the world and third in ASEAN, behind only Indonesia and the Philippines.
According to the World Health Organisation, about 40,000 people in Vietnam die due to cigarettes each year and nearly one in every two people in the country smokes.
An owner of a small streetside drink stall in Hanoi told Việt Nam News that the fine was too high and vendors like her don't even make anywhere near VNĐ5 million a month.
"With fines like that even if they come to buy, we would not sell," she said.
"I would tell them: 'Don't buy, you don't have the money. You buy this and we'll both get fined'," she said.
While the new regulation has tough fines, it's not the first attempt to deal with smoking by minors.
Decree 98/2020/NĐ-CP on fines or violations relating to the commerce, production and trade in counterfeit and prohibited goods, and protection of consumer rights – dated August this year and taking effect from October - also regulated a fine of VND1 million to those who sell alcohol or tobacco to people under 18 years old.
In Vietnam's Law on Prevention and Control of Tobacco Harms, which took effect in mid-2013, selling cigarettes to people under 18 and using the minors to buy/sell/smoke on public transport are banned.
Also under the law, cigarettes cannot be sold within 100m of schools, hospitals or healthcare centres.
However, few changes have been made, at least in terms of the availability of cigarettes in Vietnam where cigarettes can be easily found. In some convenience stores, cigarettes are displayed right near the cashiers. People even smoke in hospitals, next to 'No smoking' signs.
At a training course held last week by the health ministry for health workers and officials, many raised concerned about the feasibility of the new regulations.
Tran Nguyen Truyen, chief inspector of Nghe An Province's Health Department said inspectors did not have the staff to regularly patrol and detect those who smoke in banned areas or who sell cigarettes or alcohol to minors.
Violations were usually not recorded or documented, he said, adding that an inter-sectoral team was required to deliver penalities.
Dr Bui Minh Trang, vice head of Codes of Ethics and Legal Affairs Department in HCM City-based Pham Ngoc Thach Medical University, said that inspectors and ward/commune People's Committees were empowered to deliver fines but were rarely present when the violations happened.
It's also difficult to identify buyers' ages and few sellers ask consumers for such verification.
Vice head of the Ministry of Health's Department of Legal Affairs Tran Thi Trang said difficulties when implementing any law were unavoidable.
She said the ministry and agencies would try their best to address difficulties or problems during the implementation of regulations relating to alcohol and tobacco.
"To make the law feasible and practical, it is necessary to strengthen communication, inspections and resources," she said, adding that strict law enforcement and punishment could help deter violators and increase awareness of legal regulations.
Le Thi Thu, manager of a programme on prevention and control of tobacco harms and non-communicable diseases belonging to HealthBridge Canada in Vietnam, said people could help detect violations and provide evidence so authorities could handle the violations.
People could record the violations with their mobile phones and submit the images to authorities.
"Communication plays a key role to improve public awareness and legal understanding," Thu said.
In addition to marketing about tobacco's harms, campaigns should target young people to give them a proper understanding of tobacco, she said.
Another cigarette vendor told Việt Nam News that to curb underage smoking, the country should focus on kids at the age of puberty.
"They learn that they need to keep up with their friends and 'be cool'," he said.
For a long time, smoking cigarettes has been a symbol of being cool and to change that, we need more than tough fines. VNS
Bich Huong

Decree 117 states that anyone who sells cigarettes to the minors will be fined from VND3m (USD129) to VND5m.

More than 100,000 people die each year from cancer in Vietnam, and medical experts believe the fatality rate will rise because more and more young people are starting to smoke.