Fintech seeing rapid growth across ASEAN
As ASEAN and Vietnam in particular embrace the rise of digital payments, thanks to their young and digital-savvy populations, investors continue to pay more attention to the fintech environment.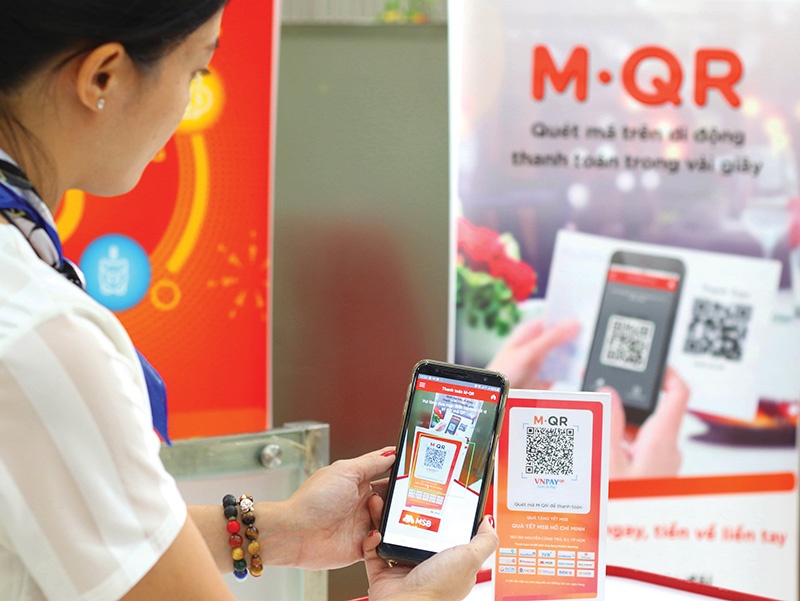 More and more people are using smartphones to send money.
ASEAN's fintech financing returns increased more than threefold in the first nine months of 2021 compared to 2020 to an all-time high of $3.5 billion. According to the FinTech in ASEAN 2021 study by UOB, PwC Singapore, and the Singapore FinTech Association, the resurgence in fintech investment was led by 167 deals, including 13 mega-rounds, totalling $2 billion. Vietnam ranks third in fintech investment across ASEAN, receiving two of the 13 mega-rounds.
Singapore continues to top fintech funding within ASEAN this year, accounting for 44 per cent of the total amount. Vietnam saw a sharp rebound in funding, attributable to two large deals, namely $250 million into VNPay and $100 million into MoMo's Series D fundraising round.
The number of funding deals grew by 32 per cent to 167 deals in 2021, with almost half the deals going to Singapore-based fintech firms. Meanwhile, Indonesia made up a quarter of deals, with Vietnam and Malaysia in joint third.
"This year, we see greater interest in late stage (Series C and above) fintechs, with 75 per cent of the firms in the top 10 funded list coming from the late-stage category. Meanwhile, the top two funded early stage fintechs are backed by well-funded parent firms Grab and VNLife," said the report.
Payments attracted the most capital throughout ASEAN, totalling $1.9 billion, followed by investment tech at $457 million and cryptocurrency at $356 million, which increased fivefold from $68 million in 2020.
Payments-related firms continue to be the most financed fintech sector in Vietnam, accounting for approximately 93 per cent of total funding, totalling $375 million to date.
The increasing valuations and funding are growing ASEAN's fintech unicorn herd rapidly. From the top 10 funded list this year, seven firms are in the unicorn club namely Grab Financial Group, VNPay, NIUM, GCash operator Mynt, Ascend Money, Xendit, and Matrixport. Singapore and Indonesia remain the two markets that most investors and fintechs are focused on within the region. The former for the maturity of its financial markets and regulator, and the latter for the market potential it offers.
The latest report from Google, Temasek, and Bain & Company observed that digital financial services have witnessed "substantial growth", with digital payments and e-wallets quickly becoming common place – connected to the expansion of e-commerce, where purchases are paid digitally rather than with physical currency.
Digital payments increased by 9 per cent in terms of total transaction value, from $646 billion in 2020 to $707 billion this year, with a predicted $1.17 trillion by 2025.
The prominence of fintech and e-commerce in raising the stakes for ASEAN's internet economy has sparked a flurry of interest from investors in startups plying their trade in these areas.
Except for Singapore, payments continue to be the most common form of fintech businesses in most of the ASEAN-6 countries.
In Vietnam, payment fintech come in top at 21 per cent, followed by investment tech (20 per cent), cryptocurrency (19 per cent), alternative lending (17 per cent), finance and accounting tech (7 per cent), bank tech (6 per cent), insurtech (5 per cent), regtech (2 per cent) and financial services blockchain (2 per cent).
As digital currencies gain wider adoption in the region, UOB expects the share of cryptocurrency firms to grow in all ASEAN-6 countries, including Vietnam.
E-wallets overtook credit and debit cards as the second most popular payment option in ASEAN, trailing only cash, with six out of 10 respondents using e-wallets in the previous three months.
Various e-wallets have also become the focal point of a person's digital financial life, being used to pay bills, move money overseas, pay for goods and services, purchase insurance and investment products, and so on.
One in every five respondents said they have used an e-wallet to send money internationally, with respondents in Vietnam and Thailand leading the way with 27 per cent and 25 per cent, respectively, cited UOB's assessment.
In markets that are well-suited for the use of e-wallets – generally those with large unbanked or under-banked populations and relatively poor financial infrastructure – fintech firms have seen rapid growth and expansion of their user base and uses since last year.
MoMo led the pack in terms of the top three most used e-wallets in Vietnam, at 82 per cent, while Zalo Pay and VNPAY made up for 62 per cent and 28 per cent, respectively.
"If there was an investment that would have made sense from a valuation standpoint, the chances are that it was a company that you would have already written a check into. If you were seeing a fintech company raising Series B money now, the price of that company would be two, maybe even three times higher than it would have been pre-pandemic," said Justin Hall, partner at Golden Gate Ventures.
Hoang Duc Trung, partner at VinaCapital Ventures, emphasised that fintech has evolved into a multifaceted business in recent years, encompassing e-wallet payment services, financial advising, fundraising, and crowdfunding, peer-to-peer lending, management services, mobile money, asset management, cryptocurrency, to name a few.
"With such a tremendous wave of digital change, fintech is unquestionably among the most promising and successful enterprises. Vietnam ranks well in terms of usage density for payment method providers such as e-wallets, thanks to its young and digital-savvy population, growing smartphone users, and the prominence of e-commerce," he said.
Source: VIR