Fires at karaoke parlors result in fatalities in 2022
Fires at karaoke parlors in many cities or provinces caused a high death toll in 2022.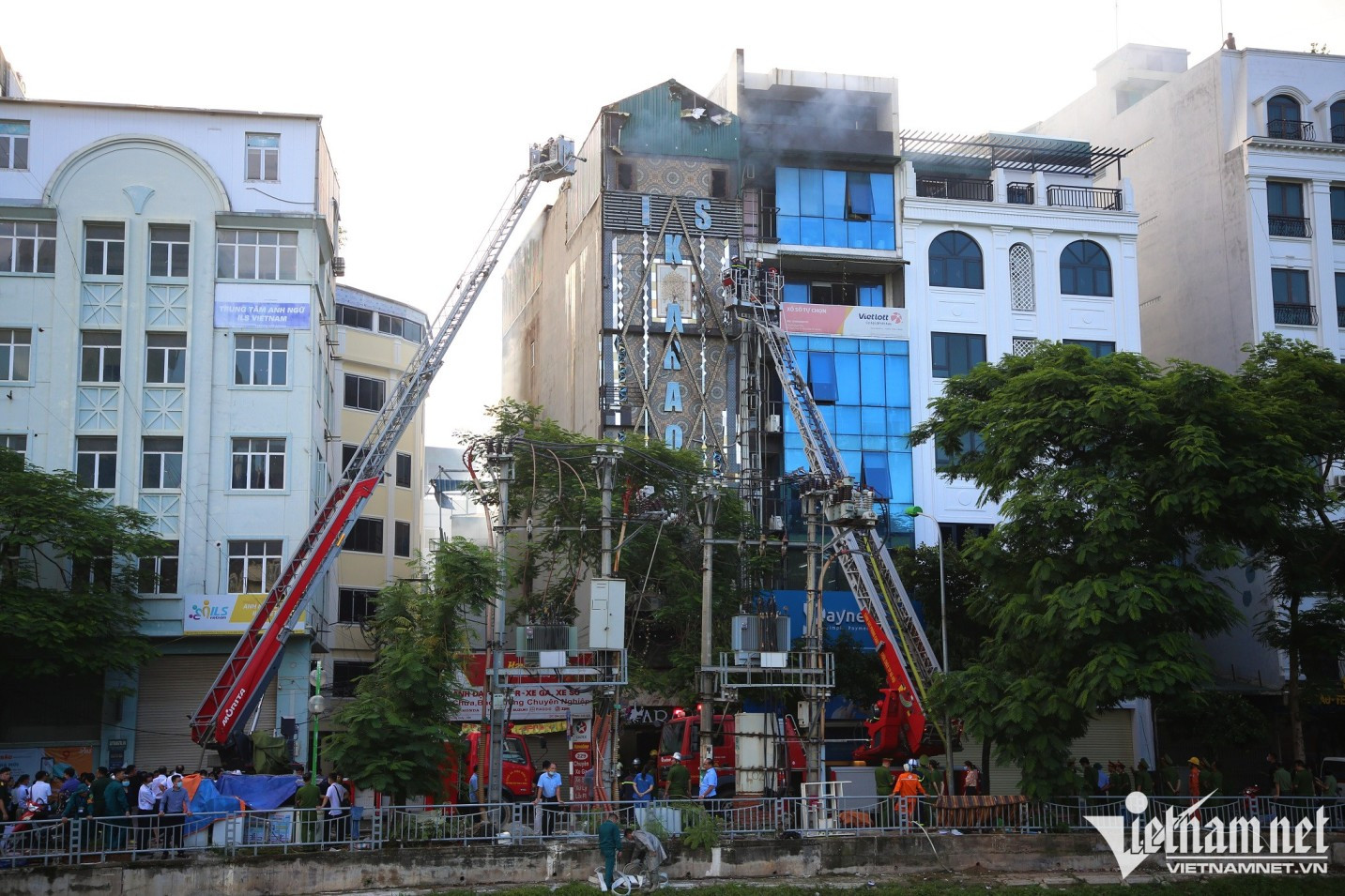 In Hanoi, on August 1, ISIS, a karaoke parlor at No 231 Quan Hoa Street in Cau Giay district, caught fire. The fire began on the third floor and then spread to the upper and lower floors of the building.
Sixty fire officers and soldiers and 10 fire engines were dispatched to the scene to put out the fire, but it took more than nine hours to extinguish the fire. Three officers died during the mission, including Senior Colonel Dang Anh Quan, Senior Lieutenant Do Duc Viet and Corporal Nguyen Dinh Phuc.
The Hanoi Police later filed charges against Pham Duy Hung and arrested him, the manager of ISIS, and began an investigation.
According to the Hanoi Police, there are 1,400 karaoke parlors in the city, 58 percent of which do not meet requirements. Around 425 can fix problems to satisfy requirements, but have not done this. And 326 were unable to fix problems (figures as of September 2022).
Just one month later, on September 6, another fire occurred at An Phu Karaoke Parlor in An Phu Ward of Thuan An City of Binh Duong province. At the time, there were 60 people on the site, including clients and workers.
After nearly a day of fighting the fire, the police found 32 dead bodies. The victims died from asphyxiation.
After finding the karaoke parlor had violated many regulations on fire prevention, the Binh Duong Police detained the owner Le Anh Xuan and prosecuted Nguyen Duy Linh, former lieutenant colonel, leader of Thuan An City Police Fire Prevention and Fighting Police team, and Nguyen Van Vo (former captain, officer of the team) for irresponsible behavior causing serious consequences.
After a fire that killed 32 people, the Binh Duong Police examined the fire prevention and fighting work in the province and discovered 144 facilities that violated regulations, fining them VND2.9 billion.
Meanwhile, 35 facilities have been suspended as they cannot satisfy requirements on fire prevention and fighting.
On September 12, Prime Minister Pham Minh Chinh convened an online meeting on fire prevention and fighting and reviewed the implementation of Decree 83 on rescue teams.
Chinh asked the Ministry of Public Security and localities to carry out fire prevention and fighting work throughout the country.
From October 7 to November 15, the police inspected 482,003 facilities for fire prevention and fighting, and 100 percent of karaoke parlors, bars and discotheque halls.
As many as 17,714 violation cases were discovered, and fines totaled VND141 billion.
Dinh Hieu