First case of new coronavirus variant detected in Vietnam
Vietnam detects first COVID-19 case carrying the newly found, highly contagious variant of coronavirus on Saturday.
The patient is a 45-year-old Vietnamese woman repatriated from the UK in a flight landing at Can Tho International Airport on December 22 but was quarantined on arrival.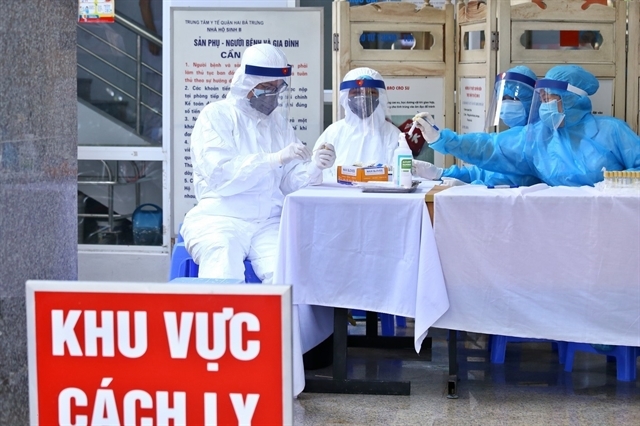 Health workers at a hospital in Hanoi collect specimens to be tested for COVID-19.
The flight has 305 passengers on board, 147 of them were quarantined in Tra Vinh Province, 137 in Vinh Long Province, 17 in Can Tho City and 4 in HCM City.
The HCM City Pasteur Institute have conducted genetic sequencing on the six COVID-19-positive cases detected among the 305 arrivals and Patient No.1,435 was found to have been infected with the new strain of SARS-CoV-2.
The woman has a 10-year history of high blood pressure.
Prior to her return to Vietnam, her health was reportedly stable.
One day after being placed under quarantine, typical COVID-19 symptoms like sore throat and light fever developed and her specimens were sent to lab for testing.
The results returned positive on December 24 and she was moved to Tra Vinh Province's Hospital for Tuberculosis and Lung Diseases.
As of December 31, the patient only suffered from light coughing, no sore throat or breathing difficulties, while X-ray scans show mild damages to her lungs.
Her husband, who currently remained in the UK, has also tested positive for the virus.
HCM City Pasteur Institute has asked the health ministry for further guidelines in research and anti-epidemiological responses.
The new coronavirus variant, first detected in the UK and thought to be responsible for the rise in cases in the country, is deemed to be much more transmissible than other variants but does not seem to be resulting in more serious diseases or deadlier, and approved COVID-19 vaccines could still be effective against it.
Other than Việt Nam, 33 countries have reported infections with the variant, mostly among recent arrivals from the UK.
To head off the spread of the new virus variant, many countries and regions have imposed bans on entry from the UK, or foreign arrivals altogether.
VNS

Minister of Health Nguyen Thanh Long has warned that Vietnam remains at high risk of COVID-19 infections from abroad as the number of cases in many countries keeps rising.