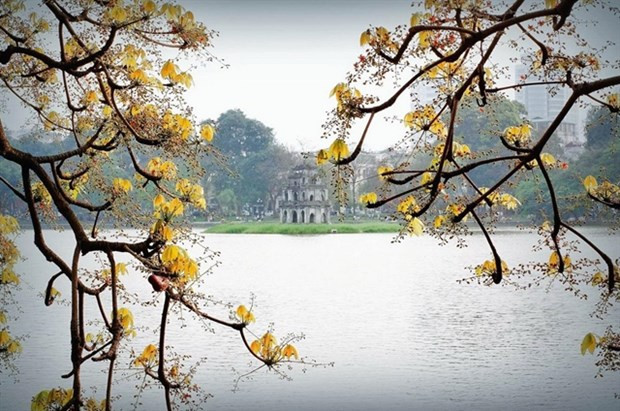 Hanoi is the most beautiful in autumn. (Photo: travel.com.vn)
To celebrate Hanoi's most beautiful time of the year, the festival will introduce tourism products and potential, typical craft products and souvenirs of the capital city via dedicated areas surrounding Hoan Kiem (Returned Sword) Lake.
A series of parades and performances will be organised in various districts and townships. These captivating displays include the lion and dragon dances of Thanh Oai district, the Mid-Autumn Lantern Procession of Son Tay township, Dong Anh kite performance, floral art of Me Linh district, traditional puppetry show of Te Tieu-My Duc, as well as the introduction of the art of tea processing and the enjoyment of West Lake lotus tea.
The highlight of the festival is the re-enactment of traditional and contemporary wedding ceremonies on Dinh Tien Hoang Street, showcasing the evolution of Vietnamese wedding customs over time. Visitors will also be treated to mesmerising dance performances, including both folk and sports dances, and a fashion show featuring the elegant ao dai, the traditional Vietnamese costume.
Young attendees will have the opportunity to participate in parades, engage in painting activities, and visit exhibitions displaying children's artwork. Meanwhile, a procession of tourist cyclos, bicycles, and double-decker buses will travel along Thanh Nien road, Phan Dinh Phung street, and Hoang Dieu street.
Additionally, a photo exhibition entitled Sac Thu Hanoi (Colours of Hanoi Autumn) will be held at the Centre for Cultural and Artistic Activities on 22 Hang Buom street and around the Statue of King Ly Thai To.
According to the deputy director of the Hanoi Promotion Agency, Nguyen Thi Mai Anh, the Hanoi Autumn Festival 2023 is an opportunity to promote the beauty and cultural value of city, highlighting the uniqueness and attractiveness of landscapes, historical and heritage sites of Hanoi – an appealing, high-quality, and safe tourist destination.
It also aims to showcase the distinctive values of traditional crafts and cultural heritage of the capital city, which are considered the essence of the nation with their own unique characteristics.
"Autumn is the most beautiful time of the year in Hanoi, offering the perfect conditions for visitors to explore and discover the famous landmarks and exquisite culinary delights of the 1,000-year-old capital," she said./. VNA