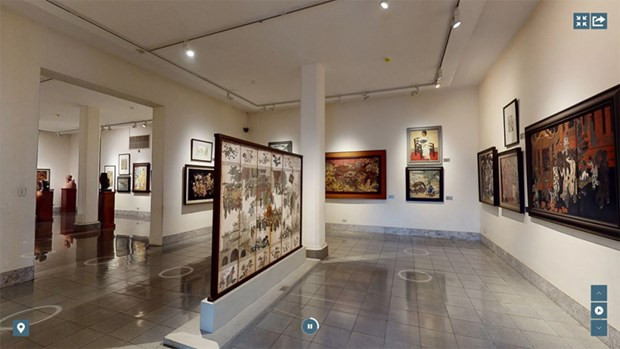 The first Virtual Art Exhibition Space (VAES) is launched on October 3. (Photo: baovanhoa.vn)
Director of the Vietnam National Fine Arts Museum Nguyen Anh Minh said that the outbreak of the COVID-19 pandemic, which prevented visitors from enjoying art works directly for a long time, prompted the museum to develop the VAES.
The building of the 3D space started in 2021 with the cooperation between the museum and Vietsoft Pro JSC, simulating the real exhibition space.
Initially, it will host 10 exhibitions, including seven featuring collections kept in the museum and its branches in Ho Chi Minh City and Hue.
According to Minh, the opening of the space is just the first step of the museum to optimise the values of fine art works and introduce them to audiences globally without any border.
In the time to come, the museum will continue to complete and upgrade the space to ensure best interaction and convenience to users./.VNA