Fitch Solutions, a subsidiary of Fitch Group, expects the Vietnamese economy to record strong growth in 2021 and would raise its real GDP growth forecast to 8.6%, from 8.2% previously.
Vietnam recorded an estimated GDP growth of 4.5% year-on-year in the fourth quarter of 2020, accelerating from 2.7% y-o-y in the third quarter. As a result, the country recorded an economic expansion of 2.9% for the year and outperformed Fitch Solutions' forecast of 2.6%.
The growth acceleration in the fourth quarter was broad-based across the economy, but was driven by a stronger recovery in the industrial and construction sector, and the services sector, stated Fitch Solutions in its latest report.
"This was due to effective domestic containment of Covid-19 outbreaks and also strong exports growth supported by the EU-Vietnam Free Trade Agreement (EVFTA)," it added.
With a global vaccine roll-out underway, Fitch Solutions expects 2021 to herald a year of economic recovery around the world, which should support external demand for Vietnamese exports. Meanwhile, the world is set to witness an increase in inbound leisure travel with the creation of regional travel bubbles.
Favorable conditions kick in
Industrial production and construction, which accounted for 33.7% of GDP in 2020, will continue to drive growth in 2021.
The industrial sector grew by 4.8% year-on-year in the fourth quarter, up from 2.3% year-on-year in the previous ones, led by manufacturing at 8.6%, which grew at more than double the 3.9% in the third quarter.
Fitch Solutions expects strong growth momentum in manufacturing to continue into 2021, supported by growing external demand from trade deals such as the EVFTA, UK-Vietnam Free Trade Agreement (UKVFTA), and the Regional Comprehensive Economic Partnership (RCEP).
Notably, the UKVFTA signed in December 2020 aims to reproduce similar aspects of the EVFTA as the UK would have exited the EU by end-2020. Vietnam is also among the few Asian countries – along with Singapore, South Korea, and Japan – which has secured an exclusive FTA with the UK.
"Considering that Vietnam has been a major beneficiary of the supply chain relocation/diversification trend out of China over the past several years, we see large scope for growth in Vietnamese exports in the years to come," added Fitch Solutions.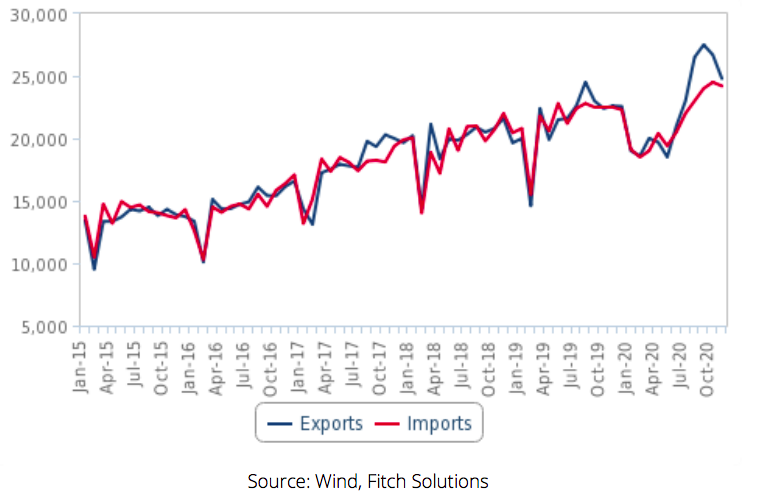 Trade Exhibiting A Healthy Growth Trajectory - Vietnam - Exports And Imports, USDmn
More importantly, there will be trade diversion in Vietnam's favor from buyers in the EU and also the UK. In 2019, the European Union only accounted for about 13.5%, while the UK accounted for 2.2% of Vietnam's total exports.
Particularly in the UK's case, the UKVFTA would position Vietnam as a key country to source lower value added and agricultural goods from Asia over the coming years, considering that the UK's other existing arrangements in the region are with more developed countries specializing in higher value-added products.
The RCEP, though only set to kick in the latter half of 2021 at the earliest, should also support foreign direct investment into Vietnam, given Vietnam's favorable structural and labor demographics, and eventually strengthen its position as an exports manufacturing hub, stated Fitch Solutions.
Construction growth also picked up to 8.6% year-on-year in the fourth quarter, from 7.0% in the third quarter. Fitch Solutions expects growth in this sub-sector to remain strong, adding effective containment of Covid-19 in Vietnam would allow for smoother progress of private construction projects such as housing and commercial real estate, given less risk of work disruptions due to Covid-19 infection clusters.
Meanwhile, broad services growth could strengthen in 2021. The broad services sector (41.6% of 2020 GDP) grew by 4.3% year-on-year in the fourth quarter of 2020, up from 2.8% in the previous quarter, led by wholesale and retail trade at 7.0% and financial services at 7.2%.
"Vietnam's ongoing economic recovery, combined with a good likelihood for its involvement in regional leisure travel bubbles in 2021 considering the progress of the ongoing global Covid-19 vaccine rollout, will constitute further tailwinds to retail, as well as hotels and restaurants and the transport category," added Fitch Solutions. 
According to Fitch Solutions, growth of the agriculture – forestry - fishing sector (15% of 2020 GDP) will remain fairly low and stable so long as cultivation does not experience any major supply shocks from bad weather, and thus should not deliver a material change to headline growth.
The sector grew by 4.7% year-on-year in the fourth quarter of 2020, up from 2.8% in previous quarter, driven by stronger growth in the agriculture sector of 5.9% in the fourth quarter, versus 2.8% in the third ones. Hanoitimes
Nguyen Tung

Despite a decline in state budget revenue, remittances, and foreign direct investment, Vietnam is expected to see positive growth with a surplus in current account this year thanks to a rise in export turnover and foreign currency reserves.
The COVID-19 situation has considerably sped up the transition of manufacturing work into Vietnam and the country is uniquely positioned to take advantage of this move.