Hoan Kiem Lake is the heart of Hanoi. Whenever the Vietnam national football team wins a match, the fans tell each other: "Let's go to the lake!" There are five reasons why Hoan Kiem Lake is a must-see destination for locals and travelers.
Thousand-year enticement history
Hoan Kiem Lake is surrounded by historical monuments. A thousand years ago, this place was a bustling urban area of the Thang Long Capital. The body of water earned fame for being attached to the legend of King Le Loi, who received a holy sword from the Golden Turtle Genie to defeat invaders. He returned the sword to the lake, and a giant turtle took it before disappearing under the water. The name of Hoan Kiem, "returning sword" or Sword Lake, was born that way.
The most famous monument here is Turtle Tower, which is believed to be where Golden Turtle Genie often sleeps. If you spend time learning about it, you will find many exciting mysteries about the tower.
Hoan Kiem Lake features two floating islands: the Jade Island in the north of the lake, connecting to the mainland through The Huc Bridge; the smaller island - Turtle Island, is in the middle of the lake with a hundred-year-old Turtle tower surrounded by shimmering emerald waters. The place is where the specimen of the last Hoan Kiem turtle belonging to the Rafetus Swinhoei species, the world's super rare giant turtle, is kept.
Next to the lake, there's a temple worshiping King Le Thai To, who borrowed the magic sword from the Turtle Genie to fight the northern invaders. King Le Thai To Statue inside the temple is the oldest in Hanoi.
Almost opposite Ngoc Son Temple is Ba Kieu Temple, a 400-year-old building dedicated to Princess Lieu Hanh, one of the Four Immortals in Vietnamese folk beliefs.
There are many other relics around Hoan Kiem Lake. If you are a history buff, this is a goldmine to explore.
Wonderful natural scenery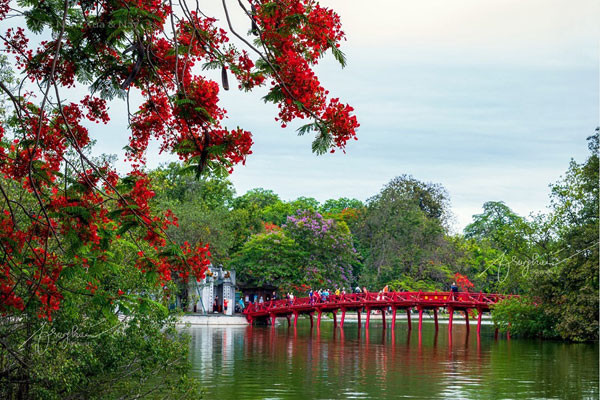 The emerald color of Hoan Kiem Lake is caused by the green algae Chlorophyta, which is peculiar to the area and cannot be found anywhere else.
The green lake water becomes a mirror in which rows of lakeside trees are reflected. These plants bloom brilliantly in summer, look gilded in autumn, turn red and begin to shed their leaves in winter and sprout green shoots again in spring. Hoan Kiem Lake is always an inspiration for photography lovers all year round.
The lake is said to be beautiful all year round: brilliant in peach blossom and in traditional spring festivals; enchanting in breezes that help dissipate summer heat; romantic in the scenery of willows falling on the surface of the lake the mist in autumn; misty in yellow fall foliage and inviting in the fog and drizzle of winter.
Hoang Hai Yen, a traveler from Ho Chi Minh City, said for southerners like her, besides Uncle Ho's mausoleum, Hoan Kiem Lake is also a must-visit destination.
"It is so beautiful and mesmerizing. The scenery of the lake makes us extremely excited and reminds us about the long-lasting ambiance of the ancient citadel some centuries ago," she told The Hanoi Times.
The two ideal places to enjoy the scenery are the area in front of the Ly Thai To Statue and along Le Thai To Street.
The best time to enjoy Sword Lake is at dawn and before sunset when the sunlight shines through the treetop casting long shadows on the lake's surface.
Don't forget to prepare a good camera and wait for the right 'golden time' to shoot. Indeed you will have genuinely artistic pictures.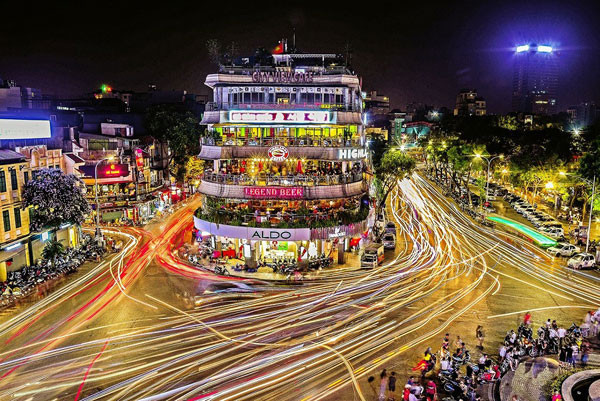 Must-try dishes
Hoan Kiem Lake lies close to the Old Quarter - which never comes to mind without the must-try foods there.
When reaching Hanoi, pho cannot be forgotten. Lakeside Pho Thin is a big name among Hanoi's brands of pho (rice noodles with beef or chicken) with nearly 70 years of history. The restaurant is famous for its clear noodle soup style, beef marinated in fish sauce, pepper, and ginger. In 2019, it was selected to serve 3,000 international and domestic reporters during the US-North Korea Summit.
Following the lakeside, you will reach Hoan Kiem Lake Street, the shortest one in Hanoi, with a length of less than 50m. Here you can enjoy home-recipe beef salad, with the typical flavor of native vegetables mixed with elaborate fish sauce, served with the best-dried beef.
Not far away is Dinh Cafe, a well-known coffee shop featured in a National Geographic video. The owner is the daughter of a renowned coffee-making family in Hanoi. In addition to Vietnamese-style roasted and ground coffee, the shop serves such unique dishes as egg coffee, lotus seed wrapped in longan, and various typical Hanoi fruit juices.
In summer, it's an excellent choice to visit Thuy Ta Restaurant at No.1, Le Thai To Street, to buy ice cream. Thuy Ta has existed for more than 60 years as one of the capital's two best-known ice cream brands. Many people love to taste ice cream cones every time they visit the lake.
Hoan Kiem Lake is just a tiny piece in the culinary picture of Hanoi, but a quintessential part that you should choose to explore.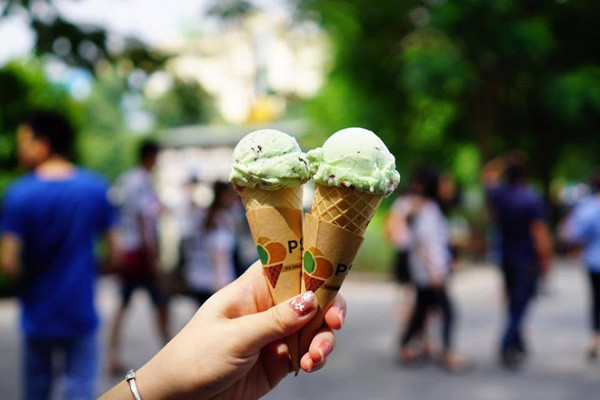 The cultural center of Hanoi
If you want to learn about Hanoians, take a walk around Hoan Kiem Lake. This place is a cultural and entertainment space for both locals and tourists - domestic and foreign.
Men and women, the young, the elderly, and the children can find a relaxing space by the lakeside.
Thuy Hang, a Hanoian resident from Cau Giay District, told The Hanoi Times that she visits the lake twice a week for the beautiful landscape and joining public events that are frequently organized at some nearby cultural centers like Ly Thai To Statute and Flower Garden, Mo Art Space, Heritage House at No.87 Ma May Street, Hanoi's Old Quarter Cultural Exchange Center at No.50 Dao Duy Tu Street, among others.
"The cultural activities held in these places are exciting and rich in Hanoi's identity, especially during major holidays or Lunar New Year (Tet) holiday," she said.
In addition, right next to Hoan Kiem Lake, you can find Dinh Le Street, known as the book street of Hanoi, and Thang Long Water Puppet Theater, offering beautiful shows.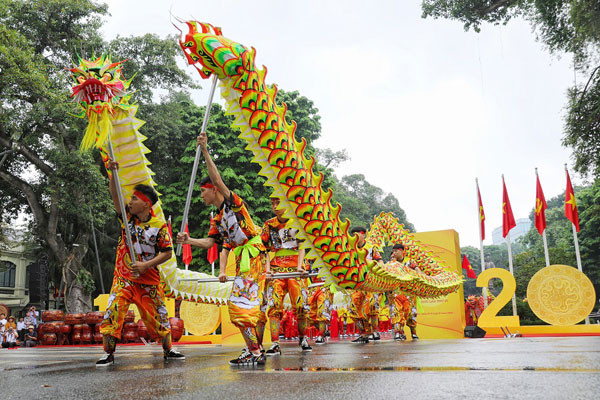 An ideal weekend rendezvous
At the weekend, Hoan Kiem Lake turns itself into a pedestrian street featuring many exciting activities like music performances, fold games, and others that attract many visitors.
A place is also a favorite place for many folk and contemporary artists. Even big shows featuring celebrities often select the lakeside as the stage. And all the shows are free.
There are groups playing Mandarin Square Capturing, Tug of War, and Shuttlecock Kicking, among other folk games, throughout the area. Many community activities take place here, drawing large gatherings of young people.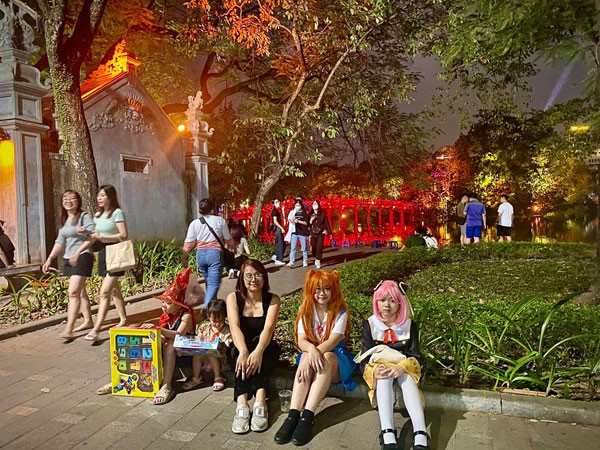 Vu Quang Anh, a Hanoi resident from Dong Da District, Hanoi said that it'd been so long since his last visit to Hoan Kiem's pedestrian zone, so he came here just to capture some exciting moments.
"I have seen many interesting cultural events organized here on weekends. People now know more about popular games, and joining the games would bring them closer together," he shared with The Hanoi Times.
These folk games bring exciting experiences and bridge everyone together, take players back to their childhoods momentarily and help them forget the troubles of daily life.
Source: Hanoi Times