Five Vietnamese universities make World University Rankings
A total of five local universities have been named among the global list of the world's top 2,000 universities for the 2021 to 2022 edition, as released by the Center of World University Rankings (CWUR).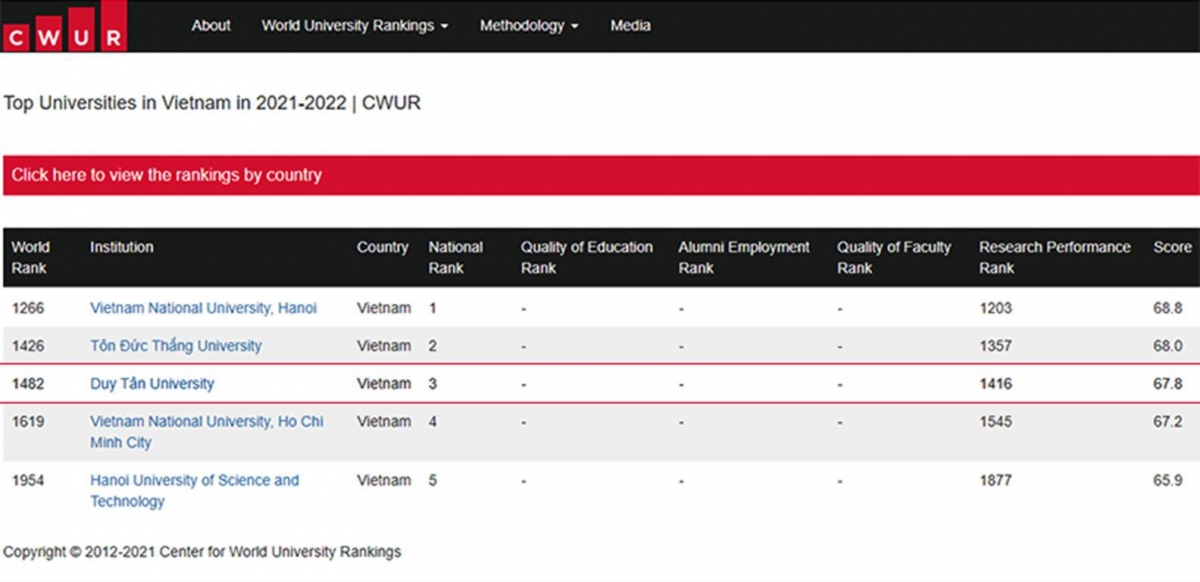 Based in Hanoi, the Vietnam National University comes out top in terms of the national rankings and is placed at 1,266th in the world.
Elsewhere, Ton Duc Thang University is in second place for Vietnamese institutions and stands at 1,426th globally.
In third place in the national rankings is Duy Tan University which is also placed at 1,482nd in the world.
Furthermore, the Vietnam National University in Ho Chi Minh City and the Hanoi University of Science and Technology come in at fourth and fifth in the national rankings and are listed 1,619th and 1,954th in the world rankings, respectively.
All five local universities have shown strong improvements in relation to the world rankings. Most notably, Duy Tan University has recorded the most significant rise, climbing 177 places from 1,659th in the 2020 to 2021 edition to 1,482nd in the latest edition.
This year's version of the list also marks the first time that the Hanoi University of Science and Technology has made the global 2,000 list.
The global list of 2,000 educational institutions compiled by the CWUR as part of the 2021 to 2022 edition have been chosen from 19,788 establishments worldwide.
The list is primarily based on criteria such as quality of education, alumni employment, quality of faculty, and research performance.
VOV

Four Vietnamese universities have been listed in the Impact Rankings 2021 by Times Higher Education (THE), the only global performance tables that assess universities against the United Nations' Sustainable Development Goals (SDGs).