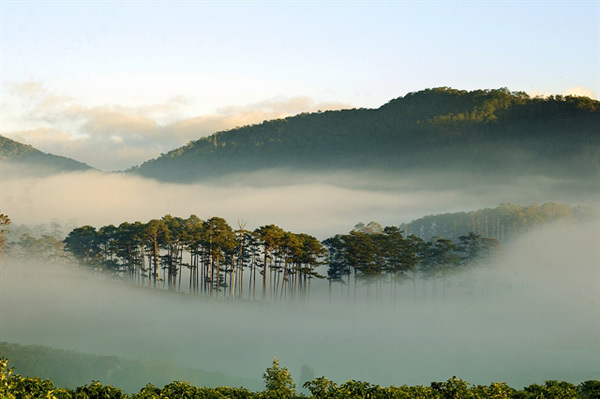 MISTY MOUNTAINS: Clouds blanket the Bidoup-Nui Ba National Park in Lam Dong Province - one of the richest biodiversity sites in Vietnam. Photo courtesy of Bidoup-Nui Ba National Park
The deer was one of 21 species discovered by Vietnamese and German scientists and biologists from the HCM City-based Southern Institute of Ecology and the Leibniz Institute for Zoo and Wildlife Research.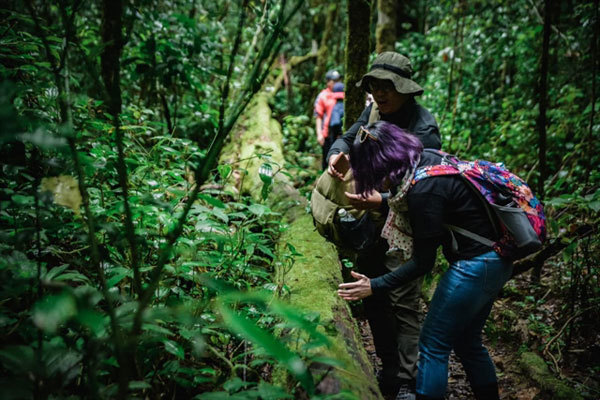 IN THE JUNGLE: Trekkers explore the primary forest at Bidoup-Nui Ba National Park, which is visited by some 10,000 tourists and researchers each year. Photo courtesy of Change
Seven of the species recorded in their survey are listed as among the most-threatened in the world and include owston's palm civet (Chrotogale owstoni), the sun bear (Helarctos malayanus), and the white hedgehog (or albino hedgehog) -- the first found in the Southeast Asian region.
"Discovering large populations of endangered wildlife in half of the park's area is an outstanding result," says Nguyen The Truong An, a co-ordinator from the Leibniz Institute for Zoo and Wildlife Research and a member of the research team.
"The park is seen as a rare nature reserve, with images of many endangered species snapped by camera traps. Healthy populations of wildlife are still in existence in the park."
Rich biodiversity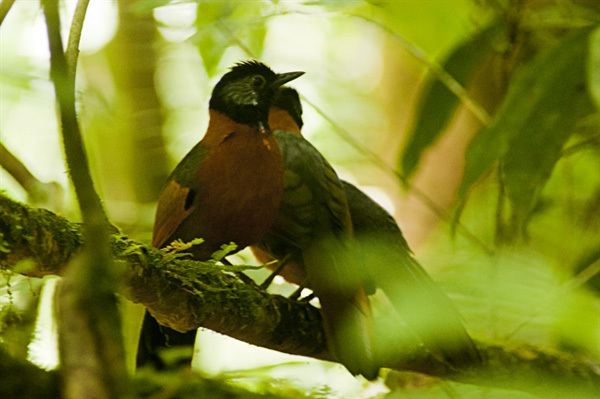 AT RISK: An endangered bird is snapped in the jungles of the national park. Photo courtesy of Bidoup-Nui Ba National Park
The Bidoup-Nui Ba National Park, which covers roughly 70,000 hectares, 91 per cent of them primary forest, is rich in flora and fauna.
Park director Le Van Huong says 2,075 species of flora -- one-sixth of Vietnam's total -- have been found here, while 301 bird species (30 per cent of all birds in the country) have also been spotted.
"Surrounded by high mountains such as Hon Giao (2,060 metres above sea level), Langbiang (2,167m), and Bidoup (2,287m), the park is covered in mist and has a cool climate year-round, with rainfall of between 1,800 and 2,000mm," Huong explains.
"Abundant underground water reserves supply enough upstream sources for the Dong Nai River -- an important water resource for HCM City."  
"The average temperature of 18 degrees Celsius provides moisture for the evergreen primary forest and a favourable habitat for ecological systems."
With 30 years of experience at the park, Huong said one of the newest camellias (Polyspora huongiana), discovered in 2012 by biologists from both Vietnam and Royal Botanic Garden Australia, was named after him for his scientific contributions to conservation.
He adds that the park is one of the four richest biodiversity sites in Vietnam and a destination for many of the 221 birds listed as endangered globally.
According to Le Quang Son, deputy director of the park, funding of VND40 billion (US$1.74 million) has been extended as Payment for Forest Environmental Services (PEFS) to 1,500 indigenous people protecting 34,053 ha of forest since 2006.
The park has also preserved pine trees more than a thousand years old -- typical of the conservation efforts seen all around the Central Highlands.
"The park is home to the unique Pinus krempfii (or Krempf's pine), a species of pine tree with broad flattened needles only found in Vietnam, and another 96 endangered species of flora listed by the International Union for Nature Conservation (IUCN)," Son says.
"The rich biodiversity at the Bidoup-Nui Ba National Park is a precious core zone in the UNESCO-recognised Langbiang world biosphere reserve."

STANDING OUT: A mushroom grows in the national park - home to more than 2,000 plant species. Photo courtesy of Change
An ethnic K'Ho man, K'Sa Enluy, 31, says his people respect ancient trees as "Gods of the Forest".
"We believe that the forest is home to the God of Water," he explains. "The K'Ho have preserved water for crops and life for thousands of years. This is why a large population of ancient trees has been well preserved.
"The forest is a sacred land in the souls of the K'Ho people, so illegal activities like hunting and logging are banned."
Under pressure
ATTRACTION: The Bidoup-Nui Ba National Park has become a popular eco-tourism site in the Central Highlands due to its cool climate and rich biodiversity. VNS Photo Cong Thanh
The Bidoup-Nui Ba National Park, which is around 50km from the city of Da Lat, can be reached by bus from either Da Lat or Nha Trang.
This easy access allows for tourism growth and socio-economic development in rural areas, but also makes illegal logging or hunting so much easier.
Research conducted by the Japanese International Co-operation Agency (JICA) and the Bidoup-Nui Ba National Park revealed that nearly 80 per cent of local inhabitants in the core and the buffer zone of the park are ethnic minority people.
The K'Ho represent 90 per cent of all local ethnic groups and earn a livelihood primarily from farming, while land for coffee and other cash crops is limited.
Demand to expand crop-growing areas may put pressure on certain parts of the protected forest.
The provincial Lam Dong authorities have approved a VND1.3 trillion ($59 million) programme on preserving local biodiversity, with a focus on high-value flora and endemic animal species.
The programme will help offer solutions and introduce policies on the sustainable conservation of eco-systems and endangered species.
Park director Huong says the park has been co-operating closely with the World Bank (WB), the Asia Development Bank (ADB), JICA, USAID, and the German International Co-operation Agency (GIZ) in different programmes focusing on the research and protection of flora and fauna and has supported sustainable livelihoods for ethnic groups.
"We expect that some endangered flora may soon be commercially grown in home gardens," he says.
"This would be the best way to preserve precious natural gene sources, while improving the earnings of local ethnic communities in the core and buffer zone at the park." VNS
Bui Hoai Nam

Bidoup - Nui Ba National Park, 50 km from the downtown of Da Lat city to the north, is a perfect destination for a weekend trip for nature lovers, thanks to its most beautiful and pristine pine forest in Lam Dong province.

A range of rare and endangered animal species in Vietnam and the world were discovered at the Bidoup-Nui Ba National Park in the central highlands province of Lam Dong through a camera-trap survey on the site from October 2019 to March 2020.