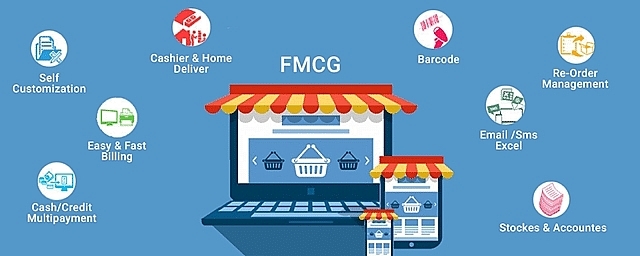 E-commerce and online distribution are particularly fitting for FMCG
In a talk with VIR, Nguyen Phuong Nga, market development director at Kantar Worldpanel Vietnam, an international company dealing in consumer knowledge and insights based on continuous consumer panels, said the growth of e-commerce revenue from FMCG exceeded 100 per cent.
Thereby, e-commerce will take up a significant portion of the Vietnamese FMCG segment in the next five years, gaining ground thanks to the convenience it offers and the dynamism of retailers.
Three years ago, an FMCG brand like Vinamilk using online channels for sales was controversial. At the time, although Vinamilk held one of the largest FMCG distribution networks in Vietnam, it pounced on online salesto seize the opportunities e-commerce was creating.
In fact, over the world, FMCG businesses like Nestlé have also established flourishing online sales channels that now bring in triple or even more profit compared to traditional channels.
"Thanks to the analysis of data collected from online platforms, FMCG businesses can target promising customer groups to improve sales performance and growth of e-commerce revenue from FMCG exceeded 100 per cent."
According to Statista, Vietnamese people spend an average of $17 on buying food and healthcare products like milk, food, soft drinks, and pharmaceuticals online. This amount will rise to $20 by 2020. Meanwhile, sales from this segment are estimated at $53 million at present and are expected to increase to $142 million by 2020.
According to London-based market research firm Mintel, FMCG brands see great promise in millennial customers, also known as Generation Y, customers in the age of 20-30, who can catch up with technology trends. Mintel reported that this group habitually shops online and will give up brands that do not provide online services, and will choose brands having online services instead.
By analysing data collected through e-commerce platforms, retailers can create a more personalised shopping experience than through traditional methods. For example, retailers will recommend a different selection of goods to a 30-year-old female customer from Ho Chi Minh City who has a preference for card payments than to a male university student running on a budget in Hanoi or an elderly couple using the same account from the countryside.
"Thanks to the analysis of data collected from online platforms, FMCG businesses can target promising customer groups to improve sales performance," said Nga from Kantar Worldpanel Vietnam.
Across the four biggest cities in Vietnam, online shopping in the first quarter of 2019 grew by 73 per cent on-year in revenue, and by 59 per cent in the second quarter, while the growth of convenience stores increased by 22 per cent, supermarkets/hypermarkets by 12 per cent, and traditional markets/grocery stores by 5 per cent only.
Reports found that FMCG will grow rapidly on online channels in the time coming. According to Kantar Worldpanel, global online FMCG sales rose by 20.3 per cent last year and captured 5.1 per cent of total FMCG sales, and it is anticipated to double in size to 10 per cent of total global FMCG sales by 2025.
Of this, great growth is reported across emerging markets like Thailand, Vietnam, and Malaysia."In Vietnam, connected consumers play an important role. Shopping is not done through a single platform, and consumers use more channels to access information. Therefore retailers need to identify customer touchpoints and map out the most effective way to attract them to their products and services," said Le Thi Thuy Trang, director and head of Nielsen Vietnam's retailer vertical.
A recent report on the online FMCG market by Nielsen Vietnam revealed that global online FMCG will reach $400 billion next year with the annual growth of 18.4 per cent, four-times faster than the traditional FMCG market.
Last year, e-commerce in Vietnam grew by more than 30 per cent, while FMCG grew by 147 per cent in value. This was driven by more and more online consumers who are interested in online shopping and spend an increasing amount online, and are easily attracted by online promotion. VIR
Nguyen Huong

While seeking new growth, many big companies, from The Gioi Di Dong (phone distributor) and Petrolimex (petroleum distributor) to Son Kim Retail are targeting the FMCG (fast-moving consumer goods) sector.

Vietnam's mergers and acquisitions market is abuzz in food and beverages, as well as in consumer goods, as the competitive landscape evolves and rivals reshape their portfolios.