Folk art becomes top fashion
Contemplating paintings on a wall goes back to neolithic times, but wearing art on items of clothing is a new experience for wearer and watcher in Vietnam. Today, many young artists share a passion for folk paintings
VietNamNet Bridge – Contemplating paintings on a wall goes back to neolithic times, but wearing art on items of clothing is a new experience for wearer and watcher in Vietnam. Today, many young artists share a passion for folk paintings transferred by the printing craft from design to jackets, ao dai (traditional long dress) and even shoes.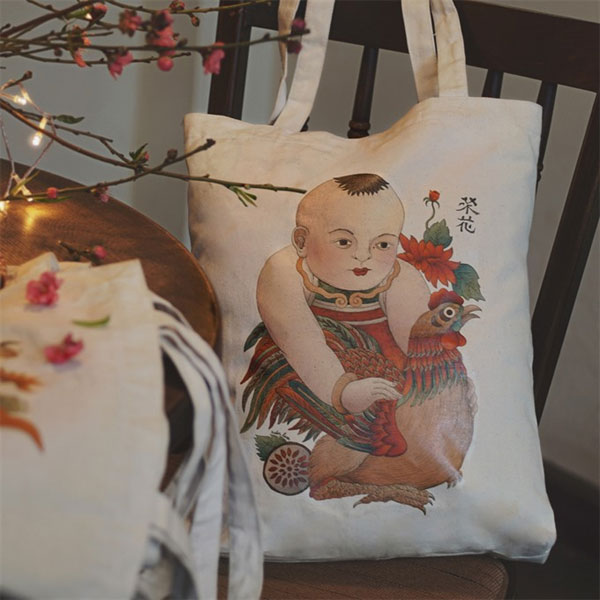 Charming: A Dong Ho painting printed on tote bag by Nguyen Xuan Lam. — Photo courtesy of Tired City
They are excited by the vitality of folk paintings, whose popularity has been waning in recent years so they are finding ways to revive the art and make it popular in contemporary life.
Designer Dang Ngoc Han proudly introduced a collection of traditional long dress inspired by Hang Trong paintings at an art event for APEC Week last November. The collection not only honoured the traditional art of Viet Nam, it also "wowed" international guests.
"Among the many ao dai collections I have created, I selected Hang Trong as my inspiration, thus presenting two slices of Vietnamese culture at the same time," she said.
(Hang Trong art is traditionally produced on paper with one carved woodblock inked in black to give an outline that is then filled in with different colours by hand. Its artistic cousin, Dong Ho, is produced by a series of woodblocks, each carrying a different colour).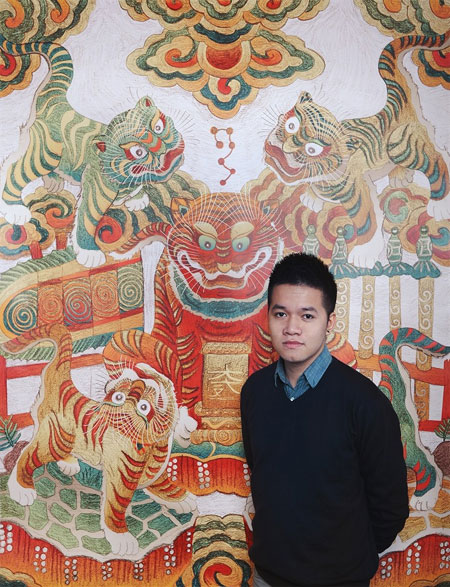 Brilliant: Nguyen Xuan Lam grabbed public attention with modern techniques to remake folk art. — Photo courtesy of Tired City
Han released her collection during an Ao Dai Festival in 2016 in Hanoi. Among the outfits, some were designed for children, the disabled and the overweight because she wanted to create products suitable for all people. The festival was her chance to make both ao dai and folk paintings again popular among people.
"The collection is best-selling," Han told Viet Nam News. "Not only adults, but also children love the designs. Foreigners also warmly welcome the long dresses in this collection.
"Many parents buy ao dai with Hang Trong prints for their children to remind them of the quintessence of Vietnamese culture. Children may not remember what the paintings look like, but when they wear them, they certainly do."
When talking about Vietnamese folk art, people usually think about Dong Ho paintings.
Hang Trong paintings seem less well known. That's why Han decided to use them on her designs.
Han has read many documents about Hang Trong paintings. She also consulted veteran artist Le Dinh Nghien, probably the last artist of this genre. He has been trying his best to preserve the traditional paintings of the ancient Red River Delta.
"When Han spoke to me about printing Hang Trong paintings on ao dai, I was surprised," said Nghien.
Nghien loaned her paintings and documents that he and his family had collected over the years so that she could select designs to use.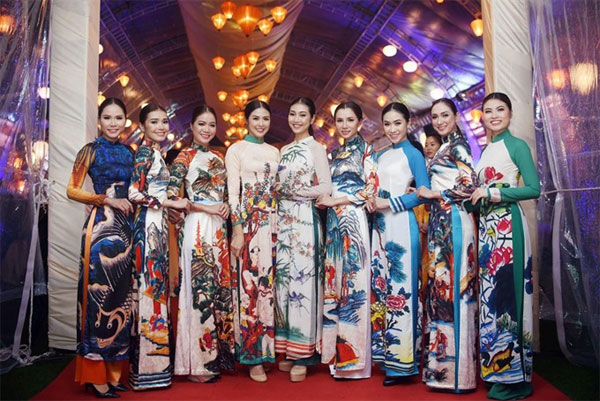 Eye catching: Designer Dang Ngoc Han (4th left) introduces her collection of ao dai inspired by Hang Trong paintings during APEC Week last year. — Photo courtesy of the designer
Hang Trong folk paintings cover such topics as religion, Lunar New Year, social practices and illustrations of popular stories.
The folk paintings are generally colourful and feature strong colours, such as red, orange, yellow, pink, green, and blue. The basic colours are used to create a unique style.
While some artisans use woodblocks to print black basic outline of the paintings and then fill in the details, some work without woodblocks, drawing the whole picture completely by hand.
The pasting process comes after that. Each painting is normally painted on layers of poonah paper made from the bark of trees. It takes great skill to do the pasting to keep the surface flat without creases.
But the most sophisticated task is the process of colouring. The paintings are coloured layer by layer. Only when the first layer is dry, is a second one started, thus creating the "soul" of each painting. Sparkling colours can be created by skilled craftsmen.
Living legend: Le Dinh Nghien, the last maker of Hang Trong paintings. — Photo dantri.vn
Trinh Thu Trang, a lecturer at Ha Noi Architectural University, met Nghien at an event many years ago and they began to collaborate.
Trang said she was totally charmed by Hang Trong paintings. "A world of colours opened before my eyes," she said. "The brilliant colours attracted me. I fell in love with the paintings right then."
Recently, she opened an exhibition featuring paintings created by Nghien and a book on her research into using the designs to apply to clothing.
The exhibition, titled The New Classics, is running until January 25 at Dong A Gallery, 115 Nguyen Thai Hoc Street, Hanoi. Although folk paintings are part of tradition, many young people have rarely seen them.
Trang founded the 'S' River group to help young artists preserve the values of Hang Trong paintings and by teaching children to actually make their own interpretations of the art with support of Nghien.
The 'S' River group also exploits Hang Trong paintings in a modern way by using the patterns and colours in combinations on clothing and product wrappings. But the soul of the art remains.
"Hang Trong paintings can cover not only classical topics, but also contemporary themes. I also want to use the paintings on contemporary designs, such as for boxes of Lunar New year dried fruit, rice crackers, slip-on shoes and other products," she said.
Trang's book, entitled Họa Sac Viet (Painting Vietnamese Colour) in which she introduces colours, patterns and the content of Hang Trong paintings as well as the potential to apply them on modern products.
"I have also digitised Hang Trong paintings and use them for contemporary graphic designs," said Trang. "I want to inspire other people to use these patterns."
This is the first project in Vietnam to analyse the value of Hang Trong paintings. Sculptor/lecturer Nguyen Xuan Thanh said he was moved to see the paintings at the exhibition. He said that without young people like Trang and Han, "the genre could have been lost".
Thanh expects that designers will discover other traditional paintings, such as Dong Ho and Kim Hoang.
Young painter Nguyen Xuan Lam has his own way to promote traditional folk paintings.
Lam has grabbed public attention with his modern techniques on reshaping folk art. He uses graphics software to give the traditional art a contemporary look. His calendars, notebooks, tote bags, postcards, bookmarks, and fashion designs and folk patterns have attracted many youngsters.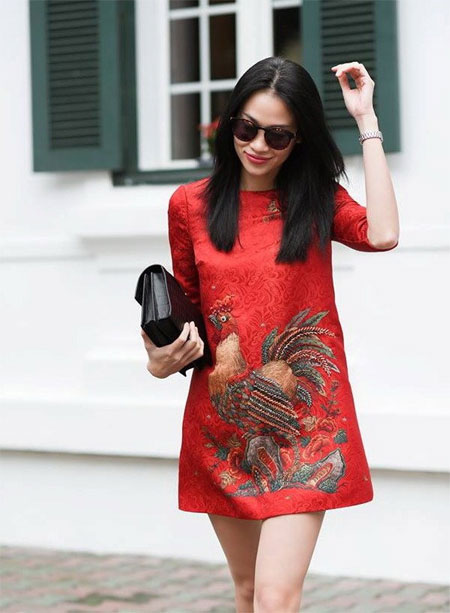 Stunning: A Dong Ho painting screen printed on a dress created by Nguyen Xuan Lam. — Photo courtesy of Tired City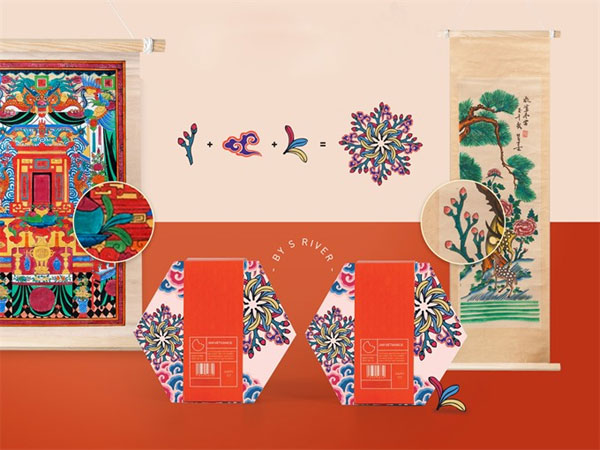 Packaging: Patterns on Hang Trong folk paintings are used on boxes of dried fruit for the Lunar New Year. — Photo courtesy of S River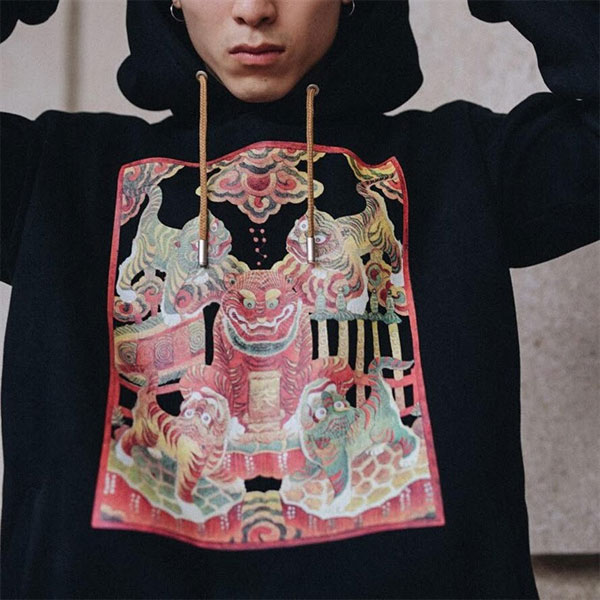 Classic: A design in Nguyen Xuan Lam's hoodie collection which embraces a folk painting of Five Tigers. — Photo courtesy of Tired City
Lam's hoodie collection with imprints of Five Tigers, Cranes and Saint Giong were released early this month. The designs were sold out in a few days. It proved just how young people love this art.
"The collection is a nice combination of street wear and traditional patterns," he said. "The silk screen printing allows the colours to stay fast on the fabric, making the products of higher quality compared to hot press printing."
Lam started the project Ve Lai Tranh Dan Gian (Folk Paintings -- The Remake) two years ago by recreating paintings with graphic techniques. It began when he got lost in the Viet Nam Museum of Fine Arts where he came across the paintings that he used to see at his grandparents' home.
"The stunning art grew on me and I started think about doing something special during the Lunar New Year holiday. That's how the idea of Folk Paintings -- The Remake crossed my mind."
Lam tries to bring folk art closer to everyone, especially youth. Using his inspiration, people not only can admire folk paintings during New Year, but they can see it everywhere at any time.
Early this month, lecturer Trang joined Lam in a talk show on how to apply folk paintings to life.
"With enthusiasm from young people like us, Vietnamese traditional arts in general, and folk paintings in particular, are here to stay and likely to be embedded in the minds and souls of our young people."
Minh Thu
VNS