Food reviewers on social media: new job in Hanoi
Food reviewers, who can eat for free and earn money from restaurant owners after posting reviews on social networks, are becoming more common in Vietnam.
Ms. Truong Thi Van Trang for two years has reviewed food by traveling to different restaurants, ordering a variety of dishes, and writing about her experiences on social media. This has been a common job around the world for a long time, but it is fairly new for Vietnamese.
Restaurants prefer to invite food reviewers rather than celebrities to promote their reputation.
Ms. Trang's hobby is to try new food. When she was an undergraduate, she had a notebook filled with addresses of excellent restaurants to try out. However, her monthly allowance was not generous, so she had only a couple of chances each month to hang out.
After her graduation, she could eat out more often as she earned a stable income from her job. Whenever she tried a new dish, she would take photos to publish a review on social media.
At that time, she just simply thought that she wanted to recommend some good eateries to everyone and warn them about bad restaurants so that people can avoid them. She was surprised that her posts attracted people's attention. As a result, some restaurant owners started to contact to make a deal with her to promote their restaurant's reputation.
"At first, I did not do this for money as I was not confident enough about my ability. However, because my reviews gradually attracted a considerable number of social media users' attention, I have been earning a living as a food reviewer for two years," she said.
According to Ms. Trang, most of the food reviewers are young adults. While some of them consider this as their side job, others earn a living as a food review. If food critics are asked to give reviews after a meal for a restaurant, they earn at least 600,000 VND. For every Tik Tok video for a review, they earn from 1,500,000 VND to 3 million VND as making a video is more complicated.
Food reviewer on social media platforms: a new hot job.
Currently, Ms. Trang publishes about four reviews a week and often eats out at noon as her photos are much better thanks to the sunlight. This helps her make from 8 million VND to 10 million VND.
However, she refused to write a review as a matter of principle if the meal is not truly scrumptious. She will also give feedback immediately about the service if it is not at an acceptable level.
Mr. Bui Le Hieu, a junior student studying at a university in Ha Noi, earns around 650,000 VND for a review he posted on a social platform. As he has lots of free time, he receives invitations from restaurant owners to come and try their food and shares his experience at the restaurant afterwards to other people nearly every day. Now, he can live independently and even assist his family.
In the past, only a person with an account on Facebook, Instagram, YouTube with many followers was able to become a food reviewer. It is much easier now as people can publish their reviews of a restaurant on online social groups.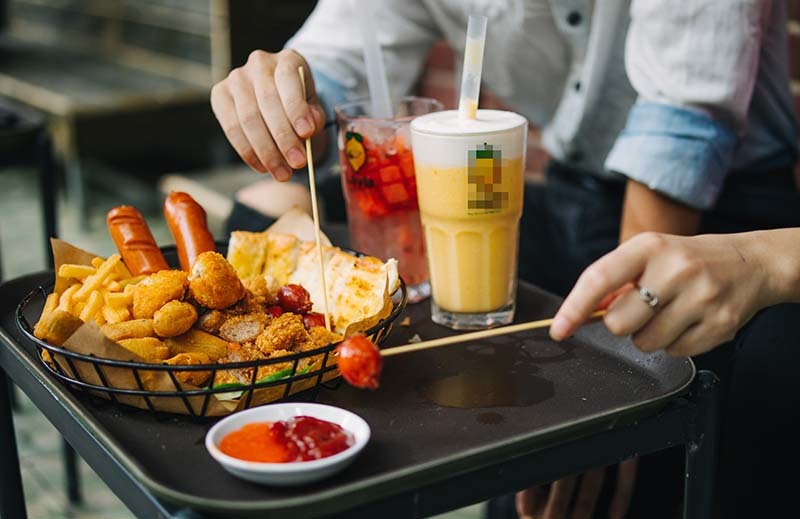 Becoming a food reviewer can help young adults make a decent amount of money.
Chau Giang

For the first time, Vietnam has five culinary world records recognised by both the World Records Union (WorldKings) and the World Records Association (WRA).