For Hanoi, building a smart city needs connected technological system

Hanoi should set up a connected technology system in order to build a smart city model, Deputy General Director of Gamuda Land Dennis Ng Teck Yow said on the sidelines of the Symposium on "ASEAN – Japan: Cooperation for Prosperity".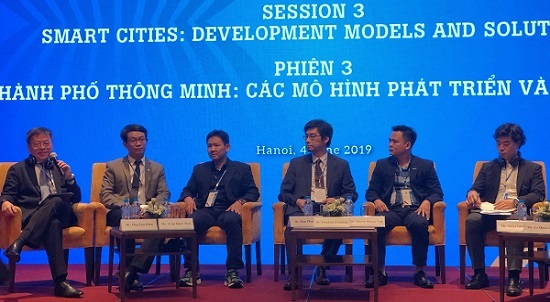 The seminar with theme "Smart cities - Development models and Solutions".
The event was organized on June 4 by the Ministry of Foreign Affairs of Japan in coordination with its Vietnamese peer, as part of the 2019 ASEAN-Japan Day under the Vietnam Initiative.
 Under the framework of the Symposium on "ASEAN – Japan: Cooperation for Prosperity", experts and delegates discussed the theme "Smart cities - Development models and Solutions".
According to Gamuda Land's Dennis Ng Teck Yow, building a smart city depends not only on the technology system but also on smart infrastructure for creating the connection. "Hanoi and Ho Chi Minh City need to emphasis more on developing a connected technology system so as to build a smart city model," said Dennis.
With regard to the development of smart city model in ASEAN region, experts identified the some negative consequences resulted from the urbanization and population growth in ASEAN cities, including water and air quality management, road traffic control, income inequality and urban-rural development gap, among others.
At the discussion panel, experts voiced their perspectives on opportunities and challenges for ASEAN in planning a smart city and possible applications from Japanese experience.
Japan - ASEAN partnership
On this occasion, experts and delegates also discussed measures to lift Japan - ASEAN strategic partnership to a new level.
Speaking at the opening ceremony, Minister-Head of the Government Office Mai Tien Dung hoped for Japanese assistance toward building ASEAN member nations' high-tech capacity and capitalizing on the ASEAN – Japan free trade agreement.
In addition, he said suggestions and proposals for specific cooperation and solutions will help deepen the ASEAN – Japan strategic partnership in line with the new context to contribute to peace, security, and development in the region and all over the world.
On his side, Parliamentary Vice-Minister for Foreign Affairs of Japan Norikazu Suzuki wished for a stronger Vietnam – Japan relationship which could bring peace, growth and stability for the Asia – Pacific region.
He said focusing on ASEAN's prioritized sectors and central role, Japan will continue supporting the bloc's connectivity process.
Sharing with media on the regarding the relationship between ASEAN and Japan as well as the role of Vietnam, Vietnamese Deputy Foreign Minister, Nguyen Quoc Dung said that it is not difficult to identify the consistency of this relationship and Japanese imprints on ASEAN's development over the past 45 years. However, the drastic alterations of the current world and regional situation have posed new challenges and opportunities for both sides.
As the country coordinating relations between ASEAN and Japan, and Vietnam has made specific and typical contributions such as organizing seminars which bring together experts from Japan and the ASEAN region to discuss and come up with solutions to deal with the challenges for stable peace, connecting digital economies and sustainable development, among others.
For the opinions that Vietnam is holding a central position in the relationship between Japan and ASEAN, Vietnamese Deputy Foreign Minister, Nguyen Quoc Dung said that the judgment is completely grounded.
Assuming the role of a coordinating country, Vietnam must take the lead in that relationship.
It requires Vietnam to make a great effort to cooperate with the parties to take initiatives to conduct activities and projects and provide documents to set the course for this relationship in the next three years.
For Hanoi, building a smart city needs connected technological system. Hanoitimes
Ha Phuong