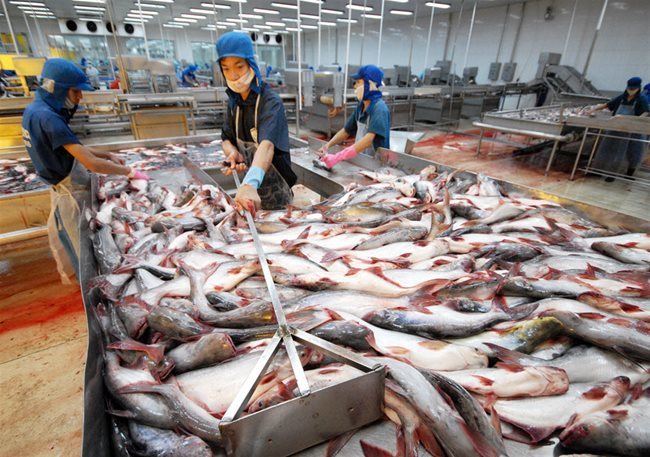 Yet how long the recovery will remain is only a guesswork as it depends upon international market demand and responses from domestic producers. What the industry needs to do now is to make radical changes to raising and processing technology, as well as market structures.
After a long time of decline, the price of tra fish began to bounce back in October, jumping by 30% from the lowest point. However, similar to what happened in 2019, after a short while of recovery, the price went down again, leaving nagging worries about market consumption.
From another point of view, although the price plunged deeply by a half last year, the basic infrastructure for tra fish raising remains stable in Vietnam. Moreover, in the context of a declining market, some companies in the field still committed investment. The new race in the tra fish industry now is one of raising and processing technology to have fish of better quality and more diverse processed products.
In lieu of calling for help and waiting for assistance, businesses in the industry opted for a different approach. They changed their business strategies and optimized technology to better meet market demand so that as soon as markets recover, they would be the first to reap the benefit.
The precariousness of tra fish price has been an old, boring story for decades, happening time and again with cycles often lasting for one year. The latest cycle, however, lasted for almost two years. The bigger the price margin is and the longer the rising time is, the worse the consequence will be. The latest price decline was also the longest over the past decade, which has lasted for 18 months.
This year is forecast to be a recovery time. However, when it actually begins and how long will it last depends largely on international market demand and responses of local fish producers. The markets of China, the European Union, the United States and some Southeast Asian countries will bounce back after a long time of slump because of Covid-19. Therefore, the key factor in the coming time will be in the hands of domestic fish producers. However, they are only initial conjectures. Among these, China is the biggest unknown. This nation may restrict fish imports although her domestic demand may be on the rise.
Domestic fish producers may have learnt the lesson in 2017 when they kept a cool head to see stable prices gradually go up. However, as many rushed to dig ponds and raise fish in 2018, prices tumbled again. Actually, prices might have not been so low last year had it not been for Covid-19. Beyond all predictions, the pandemic landed a major blow on the local tra fish industry. Yet the industry was luckier than many other sectors because whether an epidemic breaks out or not, people need to eat and tra fish is a good food to consume. And so, the tra fish industry has survived. Anyway, that still shows that unexpected events spare no industry. Therefore, putting tra fish production in control remains a wise thing to do in the time to come.
Normally, rising prices will offer two scenarios, either prices continue to climb as fish producers want to delay their selling in the hope of even higher prices, or prices will lose momentum and begin to tumble. The second scenario did materialize in 2019, is currently the case and may continue in the future.
It is also a rule that prices begin to plunge at the end of the year and extend to February of the following year, before making a U-turn. However, this routine may change if Chinese imports take place differently. The U.S. and European factors may exert some influence on domestic fish prices. However, they are no longer as big as they were.
The comprehensive picture of Vietnam's tra fish market has changed significantly. The American share is now only 15% while that of China is 35% and is forecast to rise further. Meanwhile, the EU and Southeast Asia account for under 10%. Needless to say, therefore, all eyes are now on the Chinese.
Changes to production methods and market structures
A drastic change to market shares always leads to considerable fluctuations of both prices and fish production.
The decline in the European market during a long time before 2010 resulted in plunging fish prices afterward. When the U.S. became a major fish buyer, any unfavorable condition from this market would soon destabilize the domestic fish market. And when China dramatically boosted their market share, prices soared; on the contrary, prices would plummet. Price fluctuations over recent times came mostly from changes to market structures. Covid-19 only played the role of another supplementary and dangerous factor.
The aftermath of market structure changes has forced domestic fish producers and processors to brace themselves for responses. The next question will then be which market may come to the rescue if China changes her fish import.
That may be reinstating the U.S. and European markets and seeking new markets in Russia, Japan and Southeast Asia. However, it is easier said than done if there is no breakthrough in fish production and distribution channels.
What should be taken into account is to exploit the domestic market whose purchasing power may amount to millions of tons of fish every year. Nonetheless, this option requires drastic changes in production methods, from fish raising to processing. The profit margin of the tra fish industry is extremely low, according to many researches. That's why it needs key changes in fish raising and processing technologies as well as market structures.
A wide domestic market also means creating more job opportunities for fish raisers and those who engage in the domestic supply chain. To turn this into a reality, it requires the participation of localities when it comes to production, consumption and investment for innovation.
The assistance of the Government via agricultural extension programs and promotion programs are really necessary. As long as profit is great enough, companies will pool their money in new investment projects.
Vietnam's tra fish industry will rise to the challenge relying on the capacities they have developed previously. The dynamic enterprises who are bold enough to make new investment projects will reap profit from the market recovery.
SGT

As exports have been stagnant because of the pandemic, catfish companies are experiencing tough days, anticipating big losses in 2020, reported CafeF.