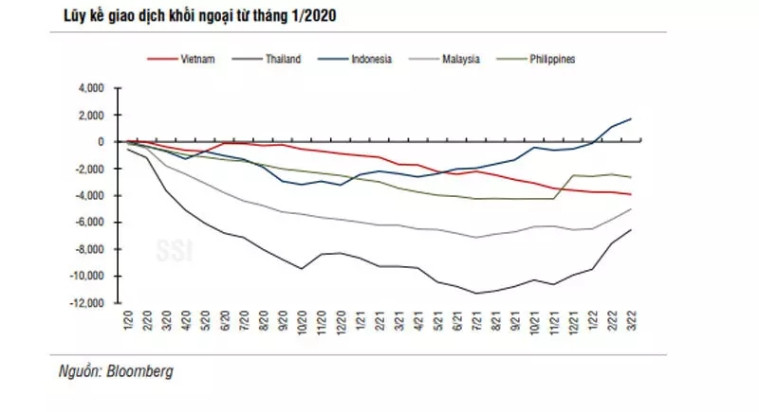 The prices of shares increased again in recent trading sessions, thus helping the VN Index regain the historic peak of 1,520-1,536 points.
According to SSI Research, foreign capital flows have improved since the second half of March and will come back soon thanks to fiscal and monetary policies of Vietnam and other countries, and exchange rate stability.
Foreign investors tend to disburse money for bank stocks and stocks benefiting from goods prices and the reopening of the economy.
Vietnam has set a clear roadmap for reopening the economy. It has fully reopened its borders and made a policy shift, considering Covid-19 as an endemic disease instead of a pandemic. This has helped regain foreign investors' confidence.
In terms of stock valuation, the estimated P/E of Vietnam's stocks in 2022 is 14.1x, which is much lower than that in other regional markets. Analysts believe this is a good valuation for long-term investment.
In March, geopolitical tensions and the moves of large central banks continued to affect investors' sentiments, and cash flow to Vietnam was influenced by these moves. ETF had strong net withdrawals in early March and saw mild improvements in the second half of the month.
The total ETF capital flow was minus (-) VND650 billion in March. Four large funds continued seeing net withdrawals, including VFM VN30 (- VND435 billion), SSIAM VNFIN Lead (- VND200 billion), VanEck (- VND447 billion) and FTSE Vietnam (-VND130 billion).
Meanwhile, VFM VNDiamond and Fubon still saw cash inflows.
There have been positive signs of foreign investors coming back since late March thanks to the purchasing power of VFM VNDiamond after the depository certificates of the fund successfully made an IPO in Thailand under the name DR "DIAMOND ETF".
The fund was listed and put into transactions on March 31, and is expected to help attract Thai investments into Vietnam.
In Q1, ETF capital still saw a net inflow of VND172 billion, with the purchasing power mostly from Fubon and VFM VNDiamond.
Active funds continued seeing net withdrawal, VND588 billion in March, lower than that of February (- VND968 billion), and cash flow saw positive signs in the second half of March.
In Q1, active funds withdrew VND1.1 trillion, a mild improvement compared with the net sale of VND3 trillion of the same period of 2021. Foreign investors' net sale was VND7.7 trillion in Q1, a decrease of 55 percent.
M. Ha