Foreign crimes grow under guise of local businesses

Crimes by foreigners continue to rise as Vietnamese authorities' attempts to manage their temporary residence registration proved unsuccessful.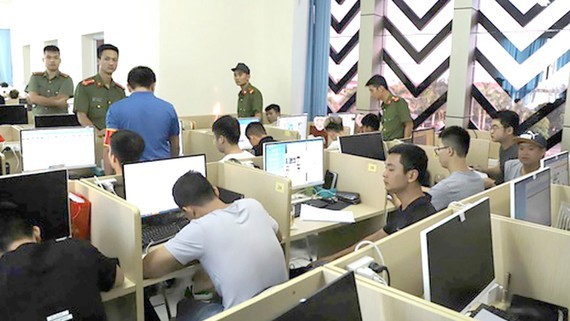 Police busting a foreign cybercrime ring
Recently discovered foreign crime rings involve cybercrimes or organizations operating under the guise of local service providers.
"Zero fee tours"
For many years, Phuoc Dong Commune in Nha Trang City has been a hot spot for unauthorized Chinese laborers, whose commute are enabled by a number of local transporting "businesses".
On the surface, these businesses are regular tourist service providers. In reality, they would regularly arrange so-called "zero fee tours" to pick up and drop off workers who live in varying parts of town to avoid getting their IDs checked.
One such business had previously operated as an educational facility, but have long switched to transporting services and tourism. The owner tried to justify the change by blaming poor revenue and difficulties in staff training.
He also acknowledged that half of his 70 staff members are Chinese, saying that most businesses that serve Chinese tourists also use Chinese employees.
Another such establishment recently sprang onto the scene in Cam Lam district, near a traditional market area with a variety of souvenir stalls. The salespeople are mostly Chinese or Vietnamese who know Chinese. An employee said that this facility was previously located in Nha Trang City, but relocated due to high leasing fees and to facilitate Chinese tourists arriving to and from the nearby Cam Ranh airport.
Cybercrime on the rise
Police have busted a major transnational online gambling ring run by foreigners in Vietnam. This organization has been working under the guise of a foreign investment enterprise based in Our City urban zone in Hai Phong City.
This is reportedly the largest gambling ring operating in Vietnam to date in terms of number of foreigners and amount of money involved, said Director of Hai Phong Public Security, Sr. Col. Le Ngoc Chau.
These Chinese gamblers came to Vietnam as tourists or migrating workers to run large-scale gambling organizations for Chinese people, avoiding supervision from both Vietnamese and Chinese government. Their operational method limits human entry and exit which causes many difficulties for local authorities to inspect or supervise.
Another ring was busted on June 9, 2019 in Quang Ninh province, with 77 Chinese suspects arrested, about 200 bank cards and hundreds of electronics confiscated. These people had been organizing transnational gambling activities at 18 locations across three major provinces of Vietnam.
In Da Nang City, 34 people with Chinese nationality were arrested for stock market manipulation during an unexpected police search at a phony hotel.
Many foreigners come to Vietnam to commit frauds, appropriation of property, theft, and drug trafficking. There have been hundreds of cases of impersonating police officers or postal employees through social media to scam people or force them to transfer money into their account.
According to the Ministry of Public Security, in 2018 and at the end April 2019, there have been 499 criminal cases related to cybercrimes with 876 suspects prosecuted, including many foreigners. SGGP
Tan Nghia

A ministerial meeting on enhancing the cooperation effectiveness in combating transnational drug crime was held in Hanoi on September 10 as initiated by the Vietnam Ministry of Public Security.  

More than 380 Chinese were found gambling online in Our City, a 100 percent foreign invested urban area in Duong Kinh district in Hai Phong City.