Finnish Pyn Elite Fund has released a report, raising the long-term prospects of Vietnam's stock market with the prediction that the VN Index will reach 1,800 points from 1,000 points currently.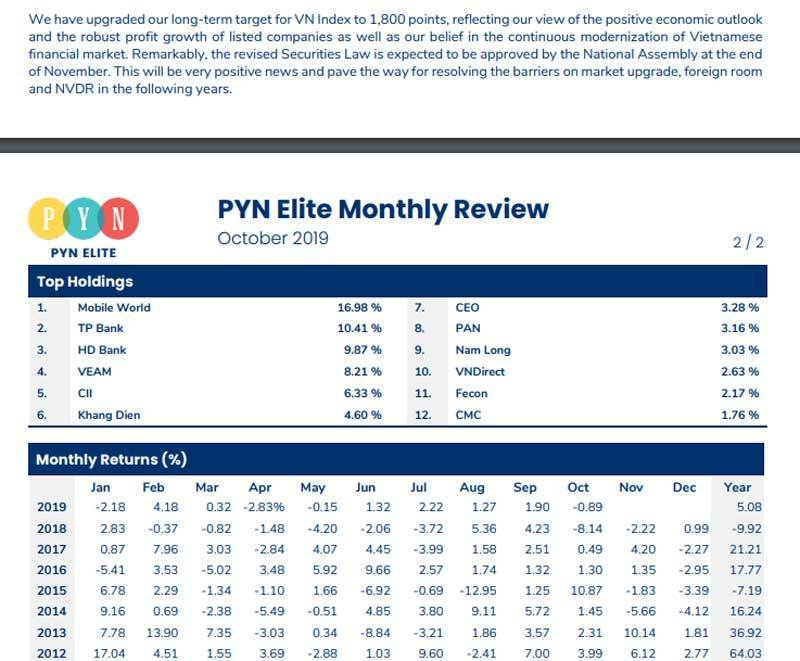 The positive factors of the Vietnam's economy and the increase in profits of listed companies were cited as a reason behind the optimistic forecast.

The amended securities law, which is expected to be ratified later this month will serve as an important factor that helps upgrade the stock market ranking, and solve the question about allowed foreign ownership ratio and issue NVDR (non-voting depository receipt) in upcoming years.

As of the end of October, the value of Pyn Elite Fund's investment portfolio had reached $453 million, of which shares accounted for 91 percent and cash 9 percent.

Mobile World (MWG) shares account for the largest proportion, 16.98 percent, in the fund's portfolio, followed by TP Bank (10.41 percent), HD Bank (9.87 percent), VEAM (8.21 percent), and CII (6.33 percent).

Just over the last two years, about 10 billion dollars from the region have been poured into Vietnam's leading corporations.
Established in 1999 in Finland, Pyn Elite Fund is now a familiar name to Vietnamese investors. Previously, the fund mostly targeted the Thai and Hong Kong markets. However, in the last half of the decade, the fund has restructured its portfolio and focused on Vietnam.

Morgan Stanley Capital International (MSCI) has published Q4 periodic portfolio structure report with MSCI Frontier Markets Index. Vietnam's HD Bank shares have been added into the basket, while the number of Kuwaiti shares in the basket have decreased.

By the end of October 2019, Vietnam ranked second in MSCI Frontier Markets Index basket, with 18.77 percent, just after Kuwait (30.21 percent).

Prior to that, in early June, MSCI weeded out Argentina from the basket because the market has been upgraded into an emerging market. Therefore, the proportion of Vietnam's shares in MSCI Frontier Markets Index has increased to 18.22 percent.

With one additional share, Vietnam now has 12 out of 92 shares in the basket. These include the biggest names – Vingroup, Vinamilk, Vinhomes, Masan, Vietcombank, Hoa Phat, Sacombank and HD Bank.

The top 10 biggest shares in MSCI Frontier Markets Index comprises three names from Vietnam – Vingroup, Vinamilk and Vinhomes.

There are many funds with assets of hundreds of million of dollars using MSCI Frontier Markets Index for their investment activities, such as Templeton Frontier Markets Fund, Morgan Stanley Institutionam Fund and Magna Umbrella Fund .

Tundra Vietnam from Sweden has released its investment report for October with the increase in the proportion of Vinhomes and FPT shares, and the replacement of Vietinbank for Hoa Phat in the top 10 of the portfolio. 
D. Anh
The Government recently issued Decree No.86/2019/ND-CP regulating the minimum legal capital levels of foreign banks' branches and credit institutions operating in Vietnam.

Real estate firms are seeking new sources of capital as commercial banks have tightened lending.