Foreign groups crave local tech transfers
The process of domestic businesses absorbing external technology is faced with weaknesses due, in part, to the low ratio of foreign-invested high-tech projects in the country.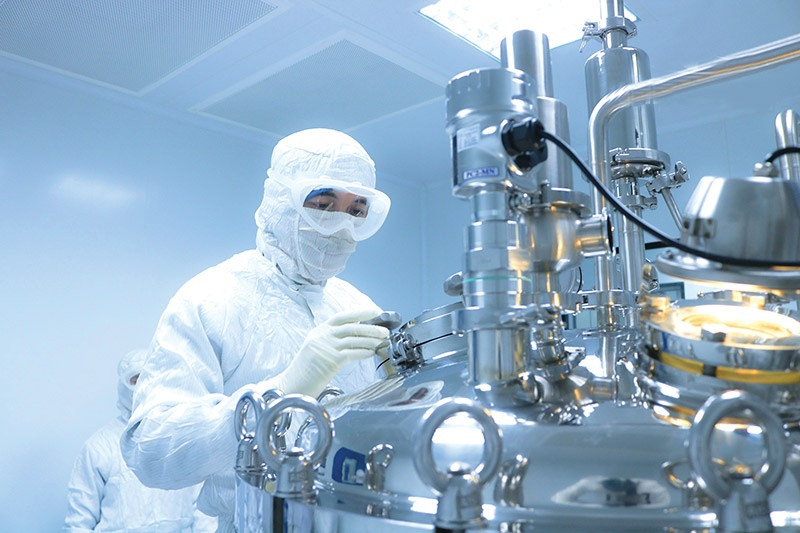 Some sectors in Vietnam are in need of stronger interactions between foreign and domestic enterprises, Le Toan
The first annual foreign direct investment report unveiled on May 10 by the Vietnam Association of Foreign-Invested Enterprises showed that the quality and effectiveness of attracting and using foreign-invested capital have been limited.
"The number of projects with advanced and modern technology originating from European countries is still low (5 per cent). Most projects use medium technologies (80 per cent), 30-40 per cent of which comes from China. Outdated technology (15 per cent) still leads to risks and challenges regarding environmental pollution, increased energy consumption, and resource depletion," the report noted.
The report showed that the connections and interactions among foreign-invested enterprises (FIEs) and Vietnam's private and state-owned enterprises in the economy have not been tight or coherent enough, and the spillover effects on productivity and technology have been thus far insignificant.
Ngo Cong Thanh, former deputy director of the Department of Planning Management under the Ministry of Planning and Investment, said, "FIEs tend to use more materials imported for production rather than raw materials and goods available from domestic enterprises. Foreign-invested projects place more emphasis on a few stages seen in labour-intensive, medium-tech industries such as processing of garments and textiles, footwear, assembly, and also in food processing."
In addition, domestic enterprises often undertake simpler stages, leading to limited transfer of tech, as well as a slow improvement of localisation ratio, as in some industries such as automobiles, electronics, and consumer electronics, Thanh said.
In contrast, domestic enterprises' capacity for absorbing external technology and technology literacy remains limited. Figures from the General Statistics Office showed that the ratio of industrial groups using advanced technology is 20 per cent, while the ratio for Thailand is 31 per cent, Malaysia 51 per cent, and Singapore 73 per cent.
Oil and gas exploitation is one of a few sectors seeing strong growth thanks to receiving technology transfers from foreign partners. All oil and gas exploration and production contracts involving PetroVietnam, for example, have to mention regulations on technology transfer, management, and technical engineer training programmes. The group receives software for processing and interpreting seismic documents, and exploiting technology from companies like Schlumberger, Landmark, and GeoQuest, among others.
PetroVietnam also applies biotechnology and chemical technology to improve the oil recovery coefficient in secondary production in the Bach Ho, Rang Dong, and Su Tu Den oil fields.
Elsewhere, Phu My Fertiliser Plant of PetroVietnam Fertiliser and Chemicals Corporation and Ca Mau Fertiliser Plant of PetroVietnam Ca Mau Fertiliser JSC have attained the most advanced technologies.
Private domestic groups are being proactive in combining with foreign partners to receive advanced tech. For example, Truong Hai Auto Corporation will introduce a new Mercedes-Benz bus edition through a partnership with the German automaker Daimler. In 2017, the two parties signed an agreement to transfer technology, turning the Vietnamese group into the new distributor of Fuso trucks and buses in the market.
Ko Tae Yeon, general director of Heesung Electronics Vietnam Ltd., said an effective method to get advanced technology from foreign partners is to make Vietnamese people more involved in accessing it.
"The Vietnamese education system needs to be reviewed, and some solutions to upgrade the training programme need to be worked out, in order to effectively implement this technology transfer," he said.
Another method is to set up regular seminars or job training programmes for tech owners to share information with others according to their level of knowledge, Yeon said.
Fostering technological transfer through FIEs to domestic partners is one of the government's priorities. In January, Deputy Prime Minister Vu Duc Dam signed a decision on adjustments and supplements to a number of articles of 2018's Decision No.1851/QD-TTg approving a project to promote the transfer, mastering, and development of foreign tech in Vietnam in prioritised industries to 2025, with an orientation to 2030.
According to the decision, Vietnam expects to build a database on 4,000 dossiers of foreign technologies, receive the transfer of 400 technologies from abroad, and master 10 technologies by 2025.
Source: VIR