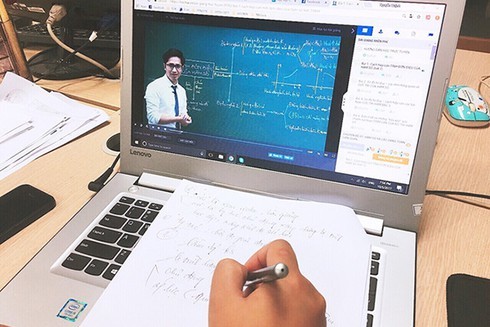 Vietnam is among the top 10 markets with the largest e-learning growth in the world.
With an estimated value of US$2 billion and an enormous growth potential, Vietnam's online education market (e-learning) is attracting a big investment capital from foreign funds.
Everest Education was the latest Vietnamese education start-up to successfully raise US$4 million in a Series B round led by Hong Kong private-equity fund Hendale Capital late last month.
The round also saw the participation of venture capital fund Viet Capital and Singapore's Nullabor.
Early last month Singapore- and India-based education fund manager Kaizen Private Equity (Kaizen PE) also decided to invest US$10 million in YOLA, a Vietnamese ELT (English Language Teaching) service provider backed by local PE firm Mekong Capital.
Earlier, Vietnam edtech company KYNA also raised second funding from SEAF Women's Opportunity Fund (SWOF), CyberAgent Capital and other investors. Previously, KYNA received the first round of investment in April 2016 from CyberAgent Capital.
Education start-up Gotit has recently mobilized US$12.5 million from some US funds. In 2016 it had raised over US$9 million in seed and series A funding to build on its on-demand platform for knowledge. It then became a partner of Microsoft Office.
Another education start-up, ELSA Speak, which stands for English Learning Speech Assistant, a mobile phone application that utilizes artificial intelligence to help non-natives with English pronunciation, recently beat 1,200 competitors to win the first prize at SXSWedu, a competition for education technology start-ups in the US. It uses artificial intelligence to help users improve their English pronunciation.
ELSA Speak has raised more than US$15 million and has around four million users in more than 100 countries and territories around the world and was listed as one of 13 promising tech startups in Southeast Asia by the South China Morning Post.
Positive outlook
Experts attributed the big interest among foreign investors in Vietnamese edtech start-ups to the very positive outlook of the country's online education market.
According to international market research firm Ambient Insight, Vietnam is ranked in the top 10 markets with the largest e-learning growth in the world with a rising rate of 44.3 percent last year.
Nguyen Thanh Nam, founder of FPT Online University (FUNiX), said that Vietnam and some other countries like India, the Philippines and Mexico, which face major population pressure, have had to opt for e-learning to keep up with the education levels in developed countries.
Under the current context, according to Nguyen Khanh Toan, chairman of Huong Viet Group, this is a golden time for Vietnam to make the e-learning model widespread in the country.
Ten years ago, some companies pioneered e-learning and achieved reasonable success, including Violet.vn, Hocmai.vn and Topica, who have millions of followers.
The quick success of the edtech companies also means Vietnamese people are able to access sophisticated education technology, again underlining the huge potential of the market.
The country's e-learning market size is calculated based on the fact that every year Vietnamese are estimated to spend US$3-4 billion to send their children abroad to study. Besides, the sheer numbers are attractive: it is a country with more than 22 million students.
The value of global edtech startups was estimated at more than US$190 billion in 2018 and is expected to exceed US$ 300 billion by 2025. The value for the Vietnamese market is currently estimated at more than US$2 billion.
According to Pham Minh Tuan, founder and CEO of Topica, in 2020, the global E-learning market will increase to US$252 billion and the Asia-Pacific region may account for 54 percent of the global online university market. In the next 10 years, 50 percent of students will study at online universities. Hanoitimes
Linh Pham