Foreigner starts company that makes new kind of motorbike lock in Vietnam
Robert Thorwath, who has been living and working in Vietnam for six years, has invented a special lock for motorcycles.
Robert Thorwath is the founder of Lock Cuff - a business specializing in manufacturing motorcycle locks 'Make in Vietnam'. This is one of the projects that successfully raised capital during the Vietnamese TV show Shark Tank - Billionaire.
In place of the conventional disc lock models on the market, Lock Cuff is designed to lock the brake and throttle, so users don't have to bend down to lock the disc or wheel or get their hands dirty.
CEO Robert Thorwath, founder of the Lock Cuff brand.
Seeing the inconvenience for his Vietnamese wife who bends over to lock her motorbike while wearing a mini skirt, Thorwath spent four years researching and developing the lock pattern.
Lock Cuff is inspired by the combination of a handcuff and a lock. It is very light, compact and easy to handle. Even if a thief cuts the brake line, the motorcycle cannot run as the throttle is blocked. Users can also safely hook the helmet to the accelerator with the lock, he said.
Lock Cuff locks the brake and throttle instead of the wheel or the disc as usual.
The lock pattern by Thorwath is catching on well in the market thanks to its high applicability. Despite being newly launched on March 3, Lock Cuff has made 500 locks at the price of VND 275,000 each. The product is now patented. It is eco-friendly, and comes in a green, biodegradable bag.
The production process does not produce any waste. All materials, from the rubber pad to the main metal of the lock, are made in Hanoi and can be recycled. The laser cutting and the production of the plastic pieces are both done in Vietnam.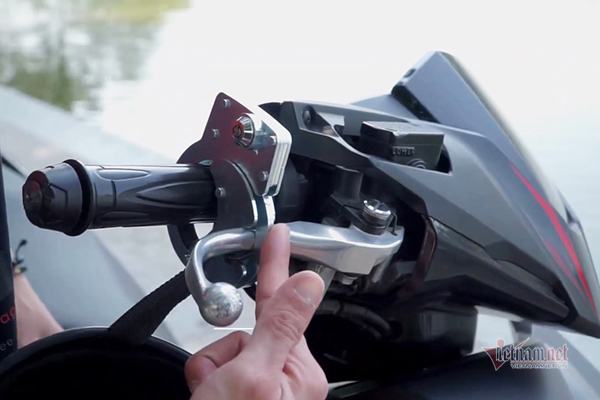 The compact lock costs VND275,000.
Thorwath chose Shark Phu with an offer of 2 billion for 10% of the shares, among the offers tendered by other "Sharks". Thr most important feature is the factory, which is Shark Phu's strength.
When asked about his decision to start a business in Vietnam, Thorwath said: "I simply can proudly say I love Vietnam. My wife and children are both Vietnamese, so I don't see how I would pick another country."
Trong Dat

Start-up has become a trend among youngsters with driving ambition. Some, though still in college, have started their business out of their actual studies.
Start-ups globally have been in a critical condition recently, as COVID-19 has forced many private equity firms to cut their investment.