They have invested money and effort to create brands that reach out to the world.
Hasfarm
In 2020, at the IPM Essen (Germany), Hasfarm was awarded the Gold Prize for flower production. The award for the world's top flower producers was presented by the International Association of Horticultural Producers (AIPH).
Dalat Hasfarm flower farm.
Hasfarm is the parent company of Dalat Hasfarm, a flower production and trading firm founded 26 years ago by the late Thomas Hooft of the Netherlands. Dalat Hasfarm has invested tens of millions of US dollars in infrastructure and installed the first automatic greenhouses in Southeast Asia to produce flowers with Europe's most advanced technology. Hooft said that he surveyed China, the Philippines, Indonesia, and others but when he came to Da Lat, he immediately realized that this was the ideal land.
According to experts in the flower industry, the establishment of Dalat Hasfarm has been an important factor promoting flower growing with advanced technology. It created a technological revolution in the flower growing industry in Vietnam, and a new face for the flower market with diverse, rich and colorful flowers, putting Vietnam on the world map of fresh flower production and export.
With more than 80 hectares of greenhouses, the company produces hundreds of millions of flower branches, flower pots and seedlings each year, exporting flowers to Australia, Singapore, Taiwan, Indonesia, Cambodia ... and even the fastidious market of Japan. Dalat Hasfarm also has a distribution system with 50 agents and hundreds of flower shops in Vietnam. Annual turnover per hectare is more than $200,000, dozens of times higher than the average level of Vietnam's agricultural sector.
Dalat Hasfarm creates regular jobs for thousands of employees at the company, and at the same time forms pilot models for Da Lat farmers to learn, and has association with hundreds of households. Even though he was Dutch, Hooft was once selected as an outstanding Vietnamese businessman and a flower craftsman in Da Lat.
"It is very special, a great honor. I am very proud to speak in the meeting with the Vietnamese President. At that moment I felt like I was a Vietnamese citizen," he said at the time.
In 2012, Mr. Hooft retired. In 2015, after several months traveling between the Netherlands and Da Lat for medical treatment, he died in the Netherlands. According to Hooft's will, his family brought part of his ashes to Da Lat, where he had prepared a tomb for himself.
Coffee brands "made with love"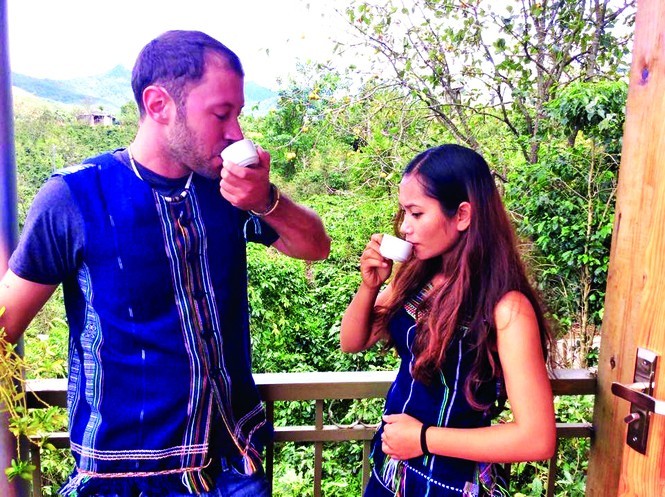 Josh Guikema and his wife in traditional clothes of the K'Ho.
The COVID-19 pandemic has hit many businesses, but the coffee brand K'Ho of Josh Guikema and his wife continues to grow.
Josh was born and raised in the US. In 2010, after graduating from university, he came to Vietnam and was mesmerized by the beauty of Co Lieng Rolan, a member of a gong troupe in Da Lat. They got married two years later.
As a son-in-law of the village of Bnơr'C at the foot of Lang Biang Mountain, Josh was stunned when he saw the immense coffee hills. "I have tasted coffee in many countries, but none have a special flavor like this Arabica. This is the most delicious coffee in the world because it is grown in the highlands of over 1,500 meters, with fertile basalt soil, cold climate, and fog,"Josh said.
The agricultural engineer created a brand for the village's coffee, named K'Ho Coffee. He developed an organic coffee growing process; guided local people to switch from dry coffee processing to fresh processing to improve the quality. Instead of just selling raw coffee, Josh experimented with manual roasting methods to have finished coffee products to get higher profits.
"K'Ho Coffee is not as dark black as some other kinds of coffees but with brown color, which is as beautiful as the eye color of Rolan, the girl I love," Josh said.
From only processed 10kg of Arabica coffee in the first year (2012), Josh now sells tons of processed coffee each year.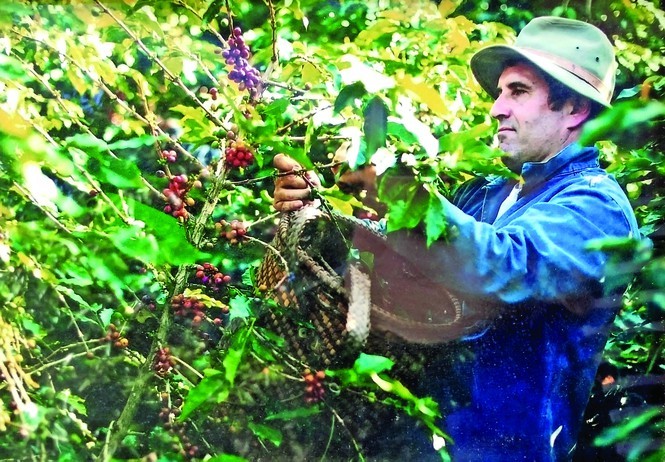 Pierre Morère in his coffee garden.
Another brand that makes a strong impression is Bourbon coffee by French businessman Pierre Morère. Pierre's coffee garden is located in the village of Cill ethnic group in Da Sar commune (Lac Duong district), more than 20km from Da Lat center. Bourbon is one of the first two varieties of Arabica coffee.
Pierre said that his grandfather brought the Bourbon seed to Da Lat in 1930. His vast coffee plantation prospered, but in 1945 they had to leave Vietnam. In 1999, Pierre returned to Da Lat to restore this coffee variety.
After harvesting, he and his Cill ethnic workers separate the coffee beans by themselves, and dry, roast, and grind them manually. "Processing coffee beans by machine will cause the DNA structure in the seeds to be broken, reducing the quality," he said.
It took him several years of studies and experiments to successfully process Bourbon Morère Pointu coffee and Market it everywhere, from world coffee fairs to hotels, restaurants, and cafes in Vietnam and abroad, from famous businesses like Annam Gourmet or famous chefs like Pierre Gagnère. He came to Japan to introduce his coffee to specialized importers and the Japan Coffee Association.
His coffee has received good feedback for its quality and taste. The price of other types of coffee on the market is only a few hundred thousand VND per kg while his coffee is priced up to VND2 million per kg, but it still attracts discerning customers.
Pha Le

Between 14,000 and 16,000 foreigners have bought housing in Vietnam since July 2015, mostly from China, the Republic of Korea, Japan, Taiwan (China), and Singapore, the HCMC Real Estate Association (HoREA) estimates.

It has been 75 years since the words of President Ho Chi Minh echoed throughout Ba Dinh Square in Hanoi proclaiming the Declaration of Independence.