Forest fire risk challenges southern VN
VietNamNet Bridge – Forest fires caused by carelessness, and at times deliberately, by humans, is currently a huge challenge for competent authorities in the southern Tay Ninh Province,
VietNamNet Bridge – Forest fires caused by carelessness, and at times deliberately, by humans, is currently a huge challenge for competent authorities in the southern Tay Ninh Province, online newspaper vov.vn reported.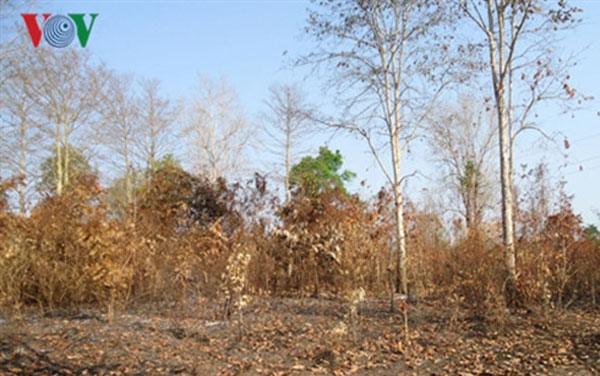 What is left behind after a forest fire in Tay Ninh Province. The province has raised the fire risk for forests in the province to level 5. — Photo vov.vn
The Tay Ninh authorities have raised the risk of forests fires in the province to level 5, the highest, as even a minor mistake could cause unexpected consequences. However, the local authorities admitted that the biggest challenge is due to the damage caused by human beings.
In the past two months, nearly 40 cases of large-scale fires have occurred in the Dau Tieng protective forest in Tan Chau District, damaging almost 100ha.
Human beings have been blamed for a majority of the fires, according to the Tay Ninh Forest Ranger.
The prolonged dry climate which arrived earlier than usual made the situation worse.
Fires usually occurred around noon, when winds were up so it was really hard to extinguish them.
The main reasons are attributed to the carelessness of locals. They cut wood in the forest or harvest crops at the forest's edge, or burn areas there to encroach on land for cultivation during the rainy season. In addition, provincial authorities have specified that sabotage is also a cause.
These people kept a close watch on the operations of forest rangers and deliberately set fire to various places at the same time which would force the authorities to run from one place to another.
"There were days when we witnessed fires, one after another. Perhaps, these people are frustrated by our stringent management," Director of Dau Tieng Forest Management Board, Nguyen Hoang Son said.
"Of course, we cannot prevent the incidents completely overnight, but we need to increase the publicity," he said.
Other areas in the province also face high risks of fire due to the extremely hot weather, especially in forests adjoining the border with Cambodia. Special attention has been paid to these areas because Cambodians living near the border are used to burning forests to clear the site for planting crops. Forest rangers have even increased their presence round the clock in high-risk areas and have prepared measures for quick responses in case of emergencies.
"It is true that fires often spread from Cambodia. We proactively stop them and ensure people are on guard. We also closely interact with forces in the border areas," Director of Management Board of the Chang Riec Forest in Tan Bien District, said.
Actual inspection shows that large forest areas in the province are at high risk, including 38,600ha of natural forest, 10,000 of planted forests, and nearly 7,400ha of land for re-afforestation.
Faced with the vagaries of the weather and destructive acts of humans, the province has required districts and communes as well as forest management boards to increase inspection and control in high-risk areas, install fire signals, add on-the-spot fire-fighting facilities, and arrange for more water supply.
Raising the awareness of locals in forest protection is included in meetings with village heads or with locals, or during consultative workshops organised by the local Fatherland Front Committee.
"The forest protection and forest fire prevention would be impossible without the engagement of locals. The communication to raise people's sense of responsibility is top priority though it takes time to do that," Deputy Head of Tay Ninh Forest Ranger, Mang Van Thoi, said.
"We have employed various channels to raise people's awareness about the evil influence of burning forests, as well as its protection," he said.
VNS