Forest fire surveillance cameras installed in Thanh Hoa

Surveillance cameras are being placed in forests in the northern central province of Thanh Hoá to monitor forest fires.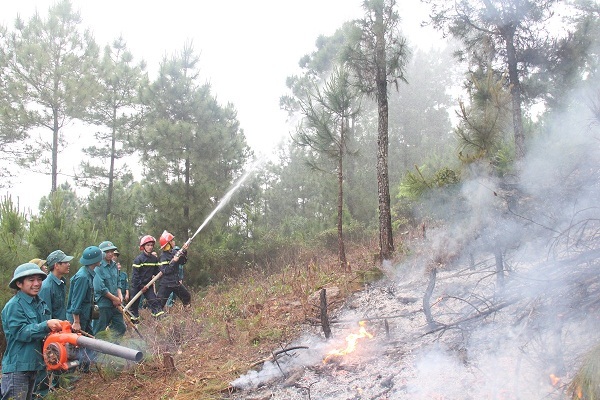 Thanh Hoá's Forest RangerDepartment practices extinguishing a fire. — Photo baotainguyenmoitruong.vn
The cameras are going to be installed as part of a trial in districts of Tĩnh Gia, Hoằng Hoá and Hà Trung.
The cameras, operating on solar energy and batteries, will be able to automatically detect fires in the forests and send images to authorised agencies.
"The cameras are capable of capturing images at day and night. The images are transmitted to computers and mobile phones of authorised officers," said Lê Văn Môn, director of Thanh Hoá Province's Forest Ranging Department.
"Installing the CCTV cameras is part of forest fire prevention efforts in the province," said Môn.
"We piloted the cameras in three regions and selected observation points," he added.
The pilot project is worth VNĐ1.2 billion (US$52,000) and will be carried out for two years.
The move aims to improve early detection and better suppression of the fires as forest areas in Thanh Hoá Province are expansive while the limited number of forest rangers cannot patrol all key spots.
The province has 547,000ha of forest, of which tens of thousands of pine forests are at high risk of fire in 16 districts.
According to the provincial Forest Ranger Department, about 48,00ha of forest caught fire last year.  VNS

Dao ethnic minority man Trieu Tai Cao has devoted his life to nurturing more than 30ha of precious ironwood trees by arterial road 279 which connects northern mountainous provinces.

Around 12 kilometers from Hue City, Ru Cha Mangroves Forest is nestled in Tam Giang Lagoon in Thua Thien-Hue Province. In the local dialect, ru means forest while cha is the name of the trees growing densely in the forest.