Former capital of Hue a historical gem
VietNamNet Bridge – For history lovers, few places in Vietnam can match Hue, the former royal capital, in the central province of Thua Thien - Hue.
VietNamNet Bridge – For history lovers, few places in Vietnam can match Hue, the former royal capital, in the central province of Thua Thien - Hue.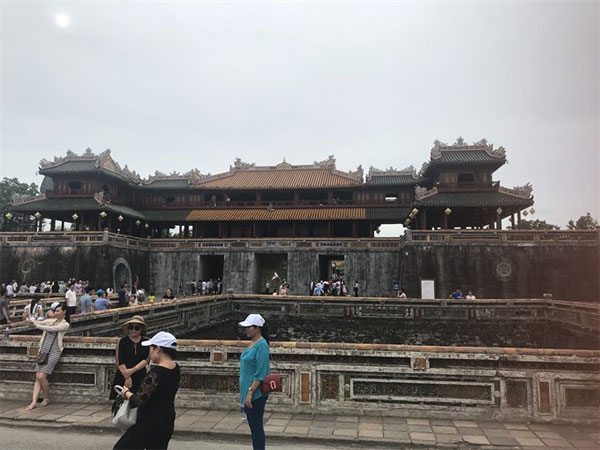 World renowned: The Complex of Hue Monuments is a UNESCO World Heritage Site in the city of Hue. VNA/VNS Photos Van Chau
As a southerner from Binh Duong Province, I was intrigued to visit the city for the first time recently.
Upon arrival, I was impressed by its quiet and deliberate lifestyle as well as the kindness of local residents.
Whenever I asked anyone where I should go first, the answer was always "the Citadel".
The UNESCO World Heritage Site is justly famous. Hue Citadel was founded as Vietnam's capital city by King Gia Long - the first king of the Nguyen Dynasty in 1802.
The dynasty, which had 13 Nguyen kings, reigned until 1945.
The massive complex features hundreds of monuments and ruins, including the residence of the royal family, which was badly damaged by time and wars.
Tran Thanh Toan, a 48-year-old visitor from Hanoi, said that he was also visiting Hue for the first time.
"I want to discover the city, which is an important part of our country's history. I've seen many old buildings and houses, some of them dating back a few hundred years," he said.
"Living and working in Hanoi is stressful with air and noise pollution. But here, I can feel relaxed and recharged to return to work."
The citadel area contains the imperial residence, Hoang Thanh (Imperial City), Tu Cam Thanh (Forbidden Purple City) and other royal palaces.
There's so much to see: royal tombs, a flag tower, pagodas, temples, a library and a museum.
Kings lived and conducted their business in the citadel. The Forbidden Purple City was reserved for the most important people in Vietnam.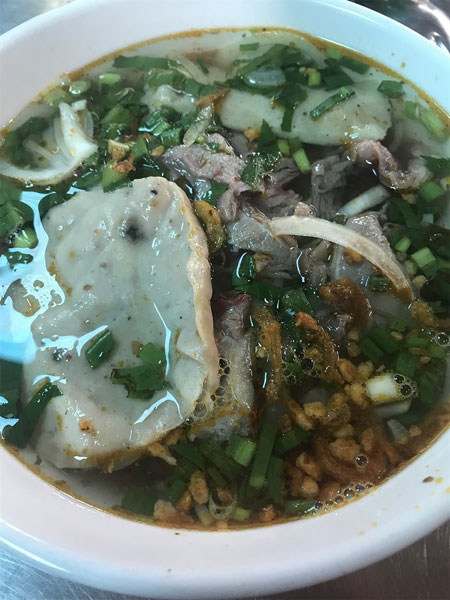 Delicious: Bun bo Hue is a famous dish made with lemongrass and Hue-style shrimp paste.
The citadel today is a shadow of what it once was.
The temples, pavilions, walls and gates were damaged first during skirmishes with the French in 1947, and then most of what was left was destroyed in 1968 during the Tet Mau Than Offensive (a major military campaign during the anti-American war).
Today, only a handful of buildings still stand within the citadel, which once had more than 250 buildings.
Still, the citadel area is well worth a visit, though the restoration process has been slow.
Visitors can see imposing city gates and walls, beautifully restored halls, and the ancient moat fed by the Huong (Perfume) River.
Visitor Dinh Trong, 29, from the central coastal city of Nha Trang, said that, as a history lover, he wanted to learn about the feudal era in Vietnam.
"I've read many books and searched for information on the internet. After arriving, it was easy for me to imagine the life of the kings," he said.
The Hue Monuments Complex was designed to be in harmony with the natural setting of the site and was aligned cosmologically with the five cardinal points (centre, west, east, north, and south), the five elements (earth, metal, wood, water, and fire), and the five colours (yellow, white, blue, black, and red), according to the tour guide.
The central structure is the citadel area, which was the administrative and military centre of southern Vietnam during the 17th and 18th centuries.
Further upstream of the Perfume are the tombs of the dynasty's kings, which are popular sites for tourists.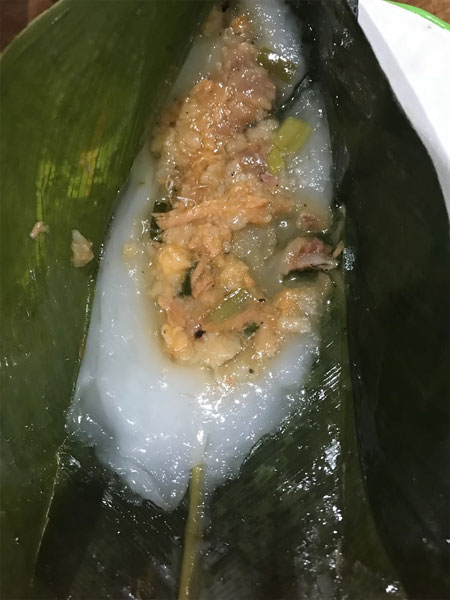 Traditional: Hue's food specialties include spring rolls with grilled pork, banh bot loc and banh nam (steamed cakes wrapped in banana leaf), banh Khoai (Vietnamese pancake) and many kinds of sweet soup.
Ngu Binh Mountain and the Perfume River that runs through the city, give the feudal capital great natural beauty and help define its symbolic importance.
The complex site was chosen for its natural features that include hills that act as a protective screen in front of the monuments and prevents the entry of malevolent spirits.
Within this landscape, the main features of the city are laid out.
It is a remarkable example of the planning and construction of a completely defended capital within a relatively short period in the early 19th century, according to experts. The integrity of the town layout and building design make it an exceptional specimen of late feudal urban planning in East Asia.
However, the complex site has been affected by wars as well as modern urbanisation. Nevertheless, it remains fairly well preserved, with its overall integrity maintained.
Surrounding the central area of the complex are other monuments of importance that include ritual sites related to the spiritual life of the dynasty, such as Van Mieu (Temple of Literature), Dan Nam Giao (Esplanade of Sacrifice to the Heaven and Earth), Ho Quyen (Royal Area), and Dien Voi Re (Shrine of the Roaring Elephant).
And outside the complex of monuments in another part of Hue is the oldest pagoda in the city, Thien Mu Pagoda (Pagoda of the Celestial Lady), built in 1601, and associated with many legends.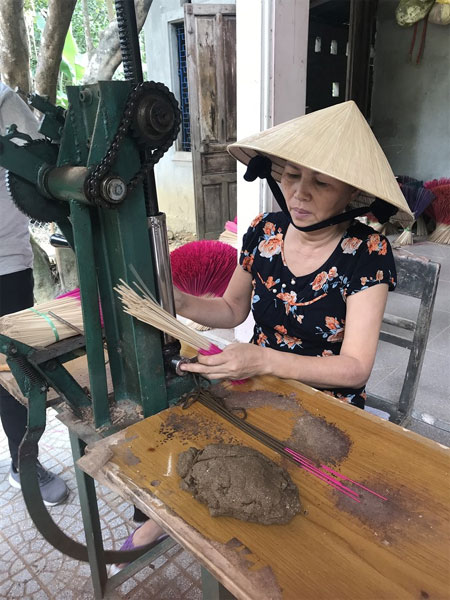 Handmade: One of Hue's many traditional craft village makes incense.
Handicrafts, food specialities
During the Nguyen Dynasty, Hue was home to many traditional craft villages with artisans who came from other localities to serve royalties and mandarins.
Many of the villages still exist and are making old and new products, some by hand and some by machine.
To support their development, local authorities have compiled a list of 16 traditional craft villages and another 10 craft communities. The villages will be given funds and technology so they can survive for many more years, according to Tran Dinh Dung, a tour guide at Huong Giang Travel.
Besides its handicrafts, Hue is also famous for its cuisine, with the simple dish bun bo Hue (Hue-style beef noodles) the most well known.
Dung said: "Restaurants in Hue are renowned for the high quality of authentic regional dishes, many of which were served exclusively to royal families."
"In the old days, it was said that finely skilled chefs were selected from different parts of the country to serve royalties. This movement of chefs added many new, different regional flavours to Hue royal cuisine."
Compared to pho (Vietnamese beef noodle soup), bun bo Hue delivers a different flavour with pungent lemongrass and Hue-style shrimp paste.
The soup is served with aromatic herbs, bean sprouts, shredded banana flower, shredded cabbage, lettuce and other vegetables. Unlike pho with flat rice noodles, bun bo Hue comes with round thick noodles. It sells for an affordable price of VND20,000-25,000 (around US$1) in Hue.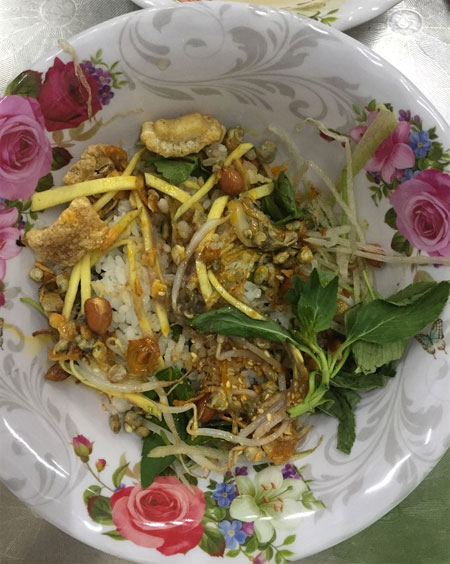 Simple: Com hen, or steamed rice with tiny mussels, once a commoner's dish, is now a specialty of the area.
Another popular dish is com hen, or steamed rice with tiny mussels. In the past, it was a dish for low-income earners and was mostly served by street vendors. Today, it is a specialty of Hue served in better restaurants as well.
The most difficult step of cooking the rice is sifting and winnowing the boiled mussels to split off the shell and the sand. The mussels are stir-fried with garlic, onion, fish sauce and pepper, and the steamed rice is added, along with shrimp paste, chili sauce and roasted peanuts served on top.
Other specialties include spring rolls with grilled pork, banh bot loc and banh nam (steamed cakes wrapped in banana leaf), banh khoai (Vietnamese pancake), and many kinds of sweet soup.
For tourists, the centre of Hue has many one- to three-star hotels with prices ranging from VND300,000 to VND1 million a night (US$13-US$45). One of the more well-known five-star hotels is the historic La Residence Hue, which overlooks the Perfume River and the Hue Citadel.
Located about 1,200km away from HCM City and 700km from Hanoi, Hue can be reached by air for VND2 million to VND4 million ($140 - $190) or by train for VND500,000 to VND1 million ($20 –45).
By train, it will take about a day to travel from HCM City and 14 hours from Hanoi.
Visitors can rent a motorbike from their hotels for about VND150,000 ($7) a day or take a taxi for a city tour.
By Van Chau
Source: VNS