Former Vietnam Airlines executive to be CEO of Vinpearl Air

Phan Xuan Duc, former deputy general director of the national flag carrier Vietnam Airlines, has been named chief executive officer of Vinpearl Air, which was recently established by Vingroup.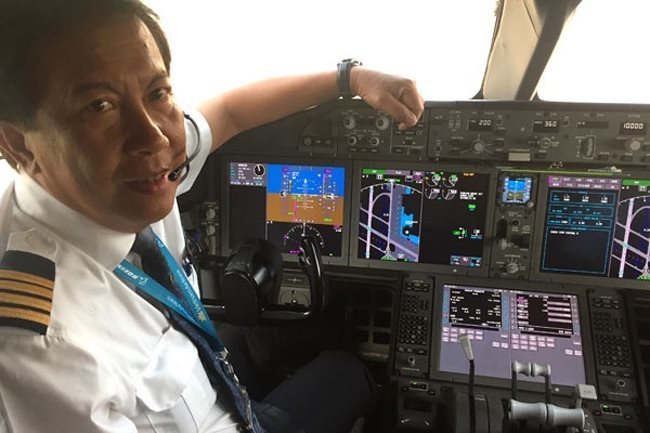 Phan Xuan Duc, former deputy general director of Vietnam Airlines, is now named chief executive officer of Vinpearl Air – PHOTO: KT&TD
Vingroup said in a statement on Thursday that with more than 30 years of experience in the aviation sector, particularly with Boeing airplanes, Duc was one of the most experienced captains at Vietnam Airlines, where he served as its deputy general director from 2008 to late 2017, when he retired.
Duc was involved in Vingroup's airline project from the start, the statement added.
Vinpearl Air is legally represented by Nguyen Thanh Huong, 47, chairwoman of the board of directors. The new air carrier has three major shareholders: VinAsia Tourism Development JSC, Hoang Quoc Thuy and Pham Khac Phuong, contributing 45%, 30% and 25%, respectively.
The Civil Aviation Authority of Vietnam (CAAV) recently backed the airline project, stating that it will satisfy requirements for the Ministry of Transport to present it to the prime minister for consideration and in-principle approval.
Vingroup has applied for an airline license with capital of VND4.7 trillion (US$202 million) and expects to start flying next July, reported news website VnExpress.
It aims to begin Vinpearl Air's operations with a fleet of six planes, with six more added each year until it reaches 36 by 2025.
Vinpearl Air plans to use narrow-body Airbus A320s and A321s or Boeing B737s as well as wide-body Airbus A330s and A350s or Boeing 787s.
Based in Noi Bai International Airport in Hanoi, it plans to operate on 62 domestic and 93 international routes.
Vingroup is expected to train 400 pilots and technicians annually with CAAV (Vietnamese safety certification), FAA (U.S. certification) and EASA (EU certification) credentials.
The Vinpearl Air Flight Training Center will conduct proficiency checks and aircraft type rating renewals and upgrades or conversions for pilots and engineers. It opened admissions last week. SGT

Lasting a maximum of two hours, the shift of an air traffic controller is strenuous and full of pressure.
Vinpearl Air of the private conglomerate Vingroup will begin domestic and international flights from July 2020 with a fleet of six aircraft, according to Director General of the Civil Aviation Authority of Vietnam (CAAV) Dinh Viet Thang.

Thien Minh Aviation JSC has proposed establishing a new airline, called Kite Air, with charter capital of VND1 trillion.