Four given death sentence for drug trafficking

The People's Court in northern Lang Son Province has sentenced four members of a drug gang to death for trafficking narcotics.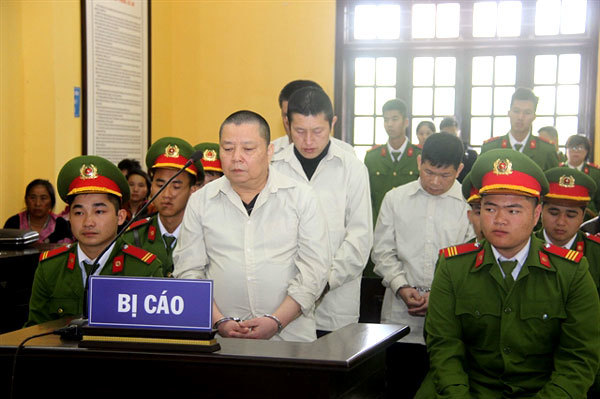 Four defendants during the hearing on Tuesday in Lang Son Province. They were sentenced to death for drug trafficking. — VNA/VNS Photo Thai Thuan
The men were Trieu Ky Voong, 50, from Lang Son City, and his accomplices including Pham Xuan Lan, 38, and Song A Sang, 36, from Son La Province and Lieu Van Cay, 45, from Lang Son Province.
According to the indictment, between March 2017 and May 2018, they colluded to illegally transport and trade a total of 320 bricks of heroin, weighing more than 100kg.
Voong, head of the gang, directed his members to transport drugs from Lang Son Province to Hanoi and onwards for sale in China.
On May 16, 2018, in Chi Lang District, Lang Son Province, local police in co-ordination with officers from the Ministry of Public Security caught Pham Xuan Lan while he was transporting 20 bricks of heroin in a truck from Son La to Lang Son Province.
Lan's arrest led to the capture of others in the gang.
In order to avoid the attention of officers, Voong set up a series of front restaurants and hotels in the centre of Lang Son City.
At the first instance trial on Monday and Tuesday, Voong and his accomplices confessed to their crime.
In addition, the court imposed an additional fine and collected VND3.52 billion (US$153,000) from the defendants.

Police in the northern border province of Lang Son have arrested a suspect allegedly trafficking 60 bricks (about 21 kilogrammes) of heroin.  

The border guard, customs and police forces in the central province of Quang Tri have broken an international drug trafficking ring, arresting two Nigerian men and seizing 14.7kilogrammes of crystal meth.  

A ring trafficking drugs from Cambodia to Ho Chi Minh City has been uncovered by the city's police after more than four months of investigation.  
VNS