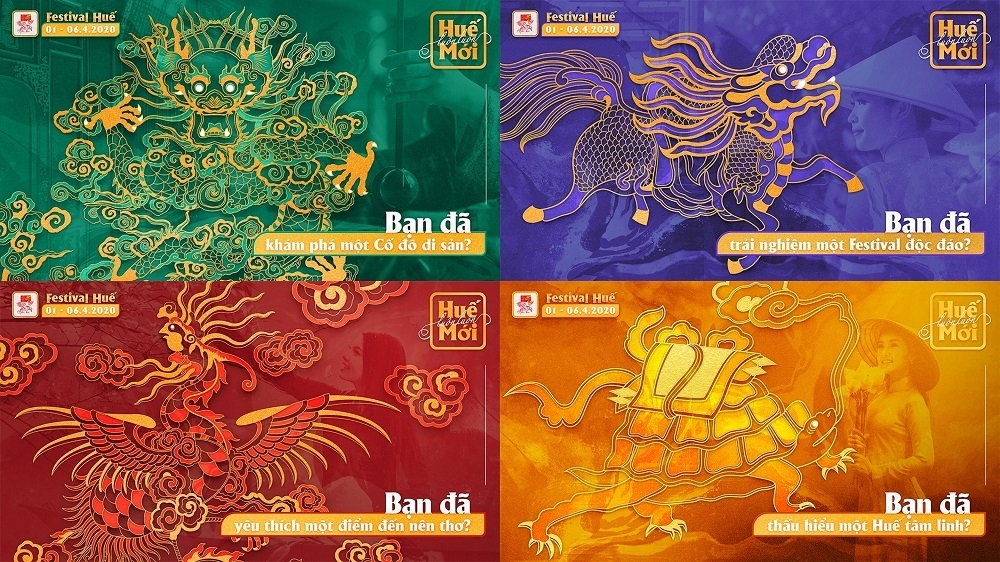 The images of the four holy beasts will appear on media products at the Hue Festival 2020. 

The images of such animals will complement the Hue Festival's official poster featuring a dragon-horse, which has been associated with the event since 2000 when it was first held.
The graphic images of the beasts will represent four themes: a Hue of heritage, a Hue of spirituality, a Hue of poetry and modernity, and a unique Hue Festival.
They convey the message that Hue is a charming ancient city with a rich and distinctive culture while inviting tourists to visit Vietnam's former imperial capital to explore and enjoy new experiences.
The biennial cultural festival is scheduled to take place from April 1-6 next year.
The 2020 edition marks the 20 years of a national festival of culture, arts and tourism as well as the first international festival of Vietnam.
The main events of the Hue Festival 2020 are the opening gala night, the Trinh Cong Son song programme, the ao dai, food and street festivals.
In addition, there will be a wide range of other cultural events taking place for six days, including a kite festival, a beer festival, an international trade fair, arts exhibitions, among others, promising to offer visitors novel and unique experiences. Nhan Dan

The Hue Festival 2020 will aptly be celebrated by at least 20 different countries to mark its 20th anniversary next year.