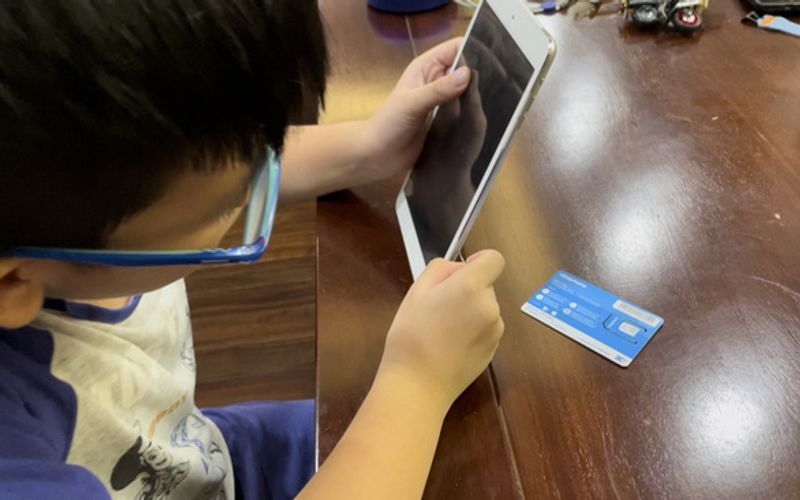 The Hanoi Department of Education and Training has launched a program "Internet connection and computers for children" in response to a project initiated by the Government, which would benefit over 1.5 million needy students nationwide.
Addressing the pressing need of underprivileged students who lack the necessary tools to assist them in distance learning amid the Covid-19 pandemic, the project aims to provide equal opportunity for students to access education.
Noting that students from low-income and marginalized families were the most affected in their studies during the social distancing regimen, Deputy Director of the Hanoi Department of Education and Training Pham Xuan Tien said the program is focused on education and built on sustainable support.
"Most students depend on computers for learning. Some rely on smartphones and those who do not have any of these devices are excluded," Tien told The Hanoi Times.
"We welcome donations from individuals and companies. The computers will be refurbished and installed with the necessary software before they are handed over to needy students," the deputy director added.
A statistic shows that there are around 10,000 students in the city lacking studying equipment due to their families' limited financial resources. Currently, nearly 4,000 computers and 10,000 data SIM cards have been sent to the program from organizations inside and outside the sector.
Tien stressed that amidst the increasingly serious evolution of the Covid-19 pandemic, the sector identifies online learning as a stable and effective solution and may continue for a long time. Therefore, it is necessary to equip learning devices for students.
Excited about the precious gift, Nguyen Thu Uyen, a student of class 12D6 from Dong Da High School in Hanoi's inner district of Dong Da said: "The computer is a very practical gift and a source of motivation for my determination to study, overcome adversity, live a meaningful life, and be responsible to family and society."
Cao Thi Ngoc Hoai, a worker in Nam Tu Liem District, had no idea of how her seven-year-old son will start his school year because she could not afford a computer for her child yet amid the raging pandemic.
Hoai is among millions of parents across the country who are worried when their children are about to start a new school year in the midst of the pandemic. To keep their children safe from the virus, many parents know that online learning is the only choice regardless of its numerous drawbacks.
"A computer for online learning costs at least VND2 million (US$87.77), which is unaffordable for me now as I have been jobless after the Covid-19 outbreak began in Hanoi. Thanks to the program, my son was presented with a computer for online studying, I feel so grateful," Hoai told The Hanoi Times.
Some 1.5 million students get support
According to a report from the Ministry of Education and Training, online teaching and learning had been deployed in 26 out of 63 provinces and cities across the country. The total number of students joining remote learning is estimated at 7.35 million, 1.5 million of them have not had computers.
The program "Internet connection and computers for children" aims to call on citizens and businesses to support students, especially those in coronavirus-hit areas and those facing resources shortage to study online. It is expected to minimize the negative impacts of the pandemic on the education field and minimize challenges to students' learning.
Online learning will be considered a permanent solution for education during the ongoing pandemic, rather than a situational alternative like in the previous school year.
However, the new learning method requires access to the Internet and accompanying gadgets, which jeopardizes the learning opportunities of underprivileged students. Therefore, the Ministry of Information and Communications collaborated with the Ministry of Education and Training in the campaign, which is aimed at bringing high-speed Internet and digital infrastructure to students in need.
The campaign calls for donations from all sectors in Vietnam to ensure that "no student is left behind" in terms of learning opportunities.
Minister of Information & Communications Nguyen Manh Hung said his ministry has instructed Internet service providers to ensure access in Covid-hit regions for students to study online. For this year, service providers would also provide free Internet for students studying online under the support program.
''The program is very important during this pandemic. I believe it will spread positive energy throughout the community and will help schoolchildren in remote, border, and island areas and in disadvantaged circumstances enjoy the service the Party and State have made widely available to the Vietnamese people," said the minister.
Source: hanoitimes

Education experts warn that teachers will be sure of failure if they use in-person teaching methods for online teaching for first graders.