French-style architectural landmarks in Hai Phong City
Hai Phong, a port city in northern Vietnam, boasts a smooth blend of Oriental and Western architectural styles.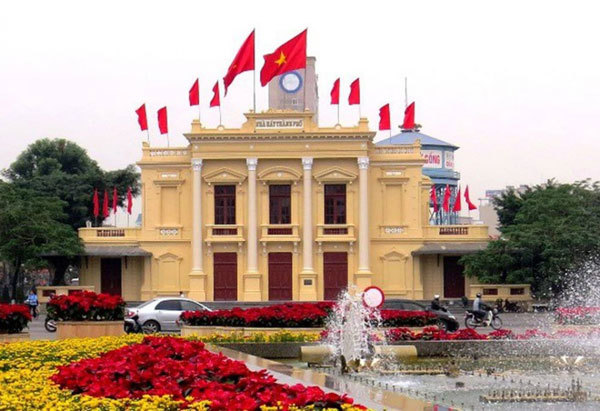 The Opera House in Hai Phong City. (Photo: dangcongsan.vn)
A mixture of traditional and French neoclassical architecture that embellishes Hai Phong's old streets makes the city uniquely captivating. 
Hai Phong, a big port city and traffic hub, was Vietnam's major municipaly under French rule. Like Hanoi's and Ho Chi Minh City's, Hai Phong's architecture is heavily influenced by the French style.
Vo Quoc Thai, Chairman of the Hai Phong Architectural Association, said, "In the 1940s, Hai Phong buildings and infrastructure that were planned by French architects as first class urban areaare still well-preserved, and some have been restored to their original form. Local authorities have resisted the impulse to build skyscrapers in those areas to preserve their old-school vibe."  
Many of the French-style buildings in Hai Phong City can be found along Tam Bac and Ly Thuong Kiet Street in Hong Bang and Le Chan District.
Some of them are a hundred years old. Tam Bac Street was inaugurated in the colonial period and took its name from the river that it runs beside. Tam Bac street runs parallel to Ly Thuong Kiet Street, which is lined with French villas built in the early 1900s. Typically, they have small arched windows.   
Nguyen Tac Nghiep, a member of the Hai Phong Architectural Association, said, "Modern lifestyles peacefully coexist with the colonial buildings of Hai Phong City, almost all of which have remained intact. There local people live, work, and practice their culture."
The opera house, train station, and museum are the most remarkable French relics in Hai Phong.
Nguyen Van Phuong, Director of the Hai Phong Museum, told VOV, "The museum has been around for a century but it hasn't changed at all. Originally, the building was meant to be a bank, so the exterior features strings of coins decorating the main pillars. This well-kept building is a highlight of Hai Phong's architecture."  
Hai Phong is one of Vietnam's five centrally-managed cities. It has been developing at a much slower pace than Hanoi, Ho Chi Minh City, and Da Nang, where high-rises have mushroomed, so it has retained much of its colonial-era ambiance.
Hoang Viet, Chairman of the Hai Phong Arts and Literature Association, said, "When we talk about Hanoi, we think of the Long Bien Bridge crossing the Red River. Hoi An is loved for the Hoai River flowing through the ancient town. Hai Phong residents take pride in the Tam Bac River. Many wonder what the city looked like before the French-style architecture was here. I think it must have been dull and boring."
Hai Phong's French colonial architecture creates a feeling of nostalgia and tranquility that softens the city's image as a bustling port and busy industrial and transport hub.
Source: VOV5

As the largest seaport in Vietnam's northern region, Hai Phong city boasts huge potential for tourism development, especially sea-based tourism.  

The Hang (Cave) Pagoda, also known as Coc Tu Pagoda, leaning on a mountain and overlooking the beach in northern Hai Phong City is a spiritually and historically significant place of worship.