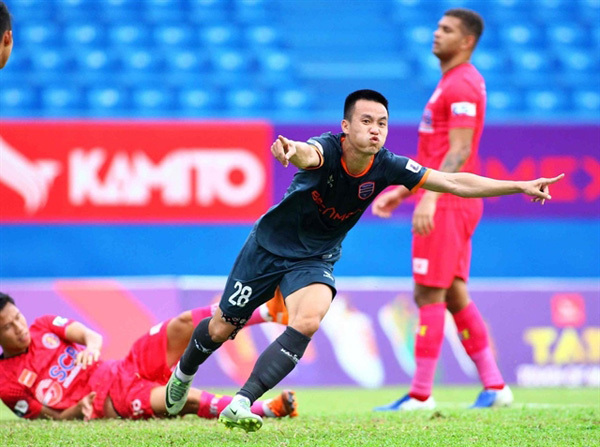 To Van Vu in action. The former shoe shine boy is aiming for a start with the national team. Photo zing.vn
As a child, Vu would walk the streets of Dong Nai Province with his mother, shining shoes to earn a living.
Now it's his football boots that are polished to perfection as he continues living the dream of a professional player.
"My football journey has been like a dream come true," he said.
"When I look back at what I have done, it is incredible. I am lucky because I overcame many challenges to be a professional player.
"Thanks to football I escaped from poverty that I was stuck in throughout my childhood.
"Now, I am happy to have the chance to pursue my passion and contribute to football." 
Tough childhood
Born in 1993 in Thanh Hoa Province, Vu followed his parents to Dong Nai Province for better life when he graduated from high school in 2011.
While his mother earned money as a vendor, Vu supported his family as a shoe shine boy.
Mother and son worked hard to earn a living as they walked dozens of kilometres each day.
And as he crouched down cleaning shoes, Vu would dream of his true love, football.
Eventually his big chance came.
He said: "When I was 20 my friend got me a trial at Dong Nai FC who were scouting players for their U21 squad to compete at the national championship.
"I scored two goals in a trial match that day and after one week training with the team, I signed a contract.
"I was different than all my other teammates because I had not yet trained or practised with any team or football centre.
"I had no worthy rival in terms of physique in regards to technique, I was seven to eight years behind the others because at 20-years-old, I was late starting my profession.
"In the early days, I was really self-conscious because of my shortcomings. So I spent more time training by myself to sharpen my finishes and passes and strengthen my skills to control the ball."
His hard work paid off, and in 2013 he got his chance with the first team of Dong Nai FC playing in V.League 1.
He moved to Binh Duong in 2017 and three years later, he was named captain.
It was a remarkable change for the boy who once shined shoes for a living.
His next milestone came when he received the call to join the national squad.
"The news made me happy like crazy," he said.
"It is the dream of any player but it is even bigger for a shoeshine boy who wants to be a footballer. But life sometimes does not go the way we want and an ankle injury forced me out of the team."
Two years later he was named for the second time but did not make it to the first team.
"Coach Park Hang-seo saw my aspirations and said the door to the national team is open to everyone who does a good job. He encouraged me to strive for next time," said Vu. 
Dream to come true
Binh Duong FC coach Dang Tran Chinh echoes the South Korean's words.
"Vu has good physique, technique and speed," said Chinh.
"He is also doing well in 1v1 duels. He can serve Park's need for a strong winger in his 3-5-2 formula."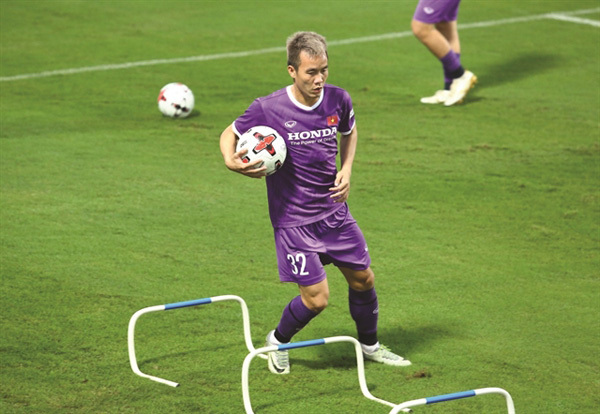 To Van Vu training in 2021 with the national team. He hopes to make coach Park Hang-seo's final list play for the national team for the first time. Photo courtesy of VFF
Vu, who can play as either a defender or midfielder, is one of the key players in the three-time champions' plan. He was in the starting line-up in all 52 matches scoring eight goals and 10 assists. 
Chinh added: "It is clearly that Park sees Vu's potential so he called him to the national squad.
"Vu was called twice but did not make the final list. I told him to try his best next time.
"Playing in a team, players should share the same philosophy and have equal levels of technique, if not he would not be a suitable part of that team.
"I told him if he could manage his style more appropriately and simply, he would be a playmaker and definitely find his place."
On Thursday, Vu joined the national squad in Hanoi for another training camp, and could not wait to show Park his strong progress and energetic will.
Vu said: "The career of a player is short. I'd love to wear the national team jersey and I don't mind vying for a berth. As long as I have a chance, I'll give it my all."
But one thing's for sure, when he finally does pull on the national team jersey, it will surely mark the end of a remarkable journey from shining shoes to shining bright in Vietnamese football.
Source: Vietnam News

Luong Xuan Truong was left out of the 25-player Vietnam squad named by head coach Park Hang-seo Friday (October 4) for their upcoming World Cup qualifiers against Malaysia (Oct. 10) and Indonesia (Oct. 15).
Overall, in 2021, Vietnamese football was not as positive as expected after the V-League was postponed and then canceled under the impact of the Covid-19 pandemic.