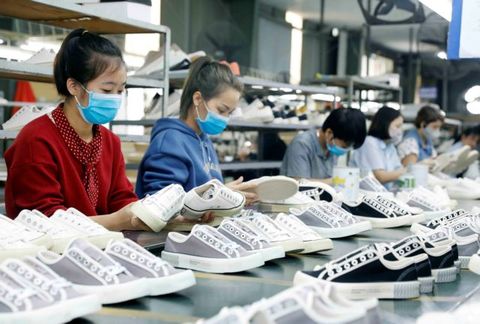 Viet Nam's total export-import value rise from $84.7 billion in 2006 to $545.3 billion in 2020. Workers make shoes for export. 
Now, the Ministry of Industry and Trade (MoIT) is enhancing the formation of a portal that will make accessing information on the current and upcoming FTAs easier for Vietnamese businesses.
Ngo Chung Khanh, Deputy Director of the MoIT's Multilateral Trade Policy Department, said that 2021 has been a difficult year for businesses and the wider economy, but there is still hope for the future.
He mentioned export turnover as an example, in which traditional markets like China and other ASEAN countries were supplemented by the US and other countries that Viet Nam has signed Free Trade Agreements with.
Thanks to two newly-signed FTA's, Viet Nam's export turnover to Canada and Mexico maintained double-digit growth over the last year.
In addition, small markets like Peru also experienced growth in export turnover, up to 300 per cent in some periods, Khanh said, adding, "Although the absolute value is still low compared to other markets, the relative value shows that there is a strong shift of Vietnamese enterprises to the Peruvian market."
Export growth to the EU was nearly 12 per cent and the UK market also grew by double digits, said Khanh.
He also added that besides exports, import turnover from Canada, Mexico, EU and UK markets showed that Viet Nam has begun to import raw materials.
Sharing more about the opportunities and challenges of the implementation of the European Union-Viet Nam Free Trade Agreement (EVFTA), the Comprehensive and Progressive Agreement for Trans-Pacific Partnership (CPTPP), or the Viet Nam-UK FTA (UKVFTA), Khanh said, "More businesses should have a better, more complete and accurate understanding of FTAs."
"When they better understand the benefits of markets, they will not focus much on the traditional market, but begin to encroach on Vietnamese markets with FTAs ​​such as Canada, Mexico or Peru. That is the new opportunity," said Khanh.
According to the Report on the Implementation Results of the EVFTA and CPTPP in 2020, many localities still focus heavily on traditional export markets.
As a result, the proportion of import and export turnover to markets with new FTAs​​ is still modest, even in provinces with export turnover of more than US$10 billion, said Khanh.
He added, "It is also an opportunity for localities to pay more attention and participate more strongly to coordinate with businesses to make effective use of FTAs."
According to a leader from the MoIT, law-making and institutional reform has been focused on the standards of a new generation FTAs, instead of the old WTO standards.
He said this can be seen in the decree guiding the Law on Foreign Investment, which brings all FTAs under one investment decree, adding it is a new way of thinking that will hopefully spread to many other fields.
To support businesses in quickly and effectively taking advantage of new FTAs, Khanh said the MoIT will continue to educate businesses to better understand FTAs.
In particular, the ministry will speed up the building of the FTA Portal (FTAP) as a one-stop shop to learn more about FTAs.
The portal is a smart online look-up tool for enterprises and others who wish to explore import duties, rules of origin, and services and investments relating to FTAs. It also offers information and knowledge essential to foreign traders, such as market updates, local regulations on imports and exports and advice on sustainable development.
Khanh said enterprises interested in an export product just need to type the HS code into the portal to receive full information on the market, competitors, tax cuts, rules of origin, and instructions.
At the moment, only CPTPP, EVFTA, and UKVFTA are integrated, said Khanh, though the portal will soon be updated with all other FTAs.
Along with the dissemination of information, the MoIT promotes trade activities by organising online and offline activities and connecting domestic and foreign supply and demand.
MoIT recognises that local firms have maximised their advantages to boost exports and penetrate new markets.
The country's total export-import value rose from $84.7 billion in 2006 to $545.3 billion last year. In the first ten months of 2021, the figure was $537.31 billion. 
Source: VNS