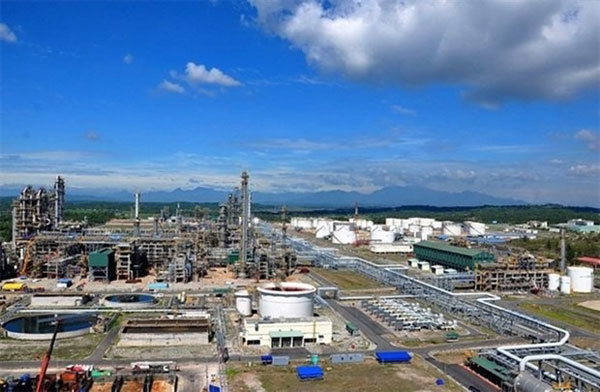 A view of the Nghi Son petrochemical refinery located in Nghi Son Economic Zone (EZ) in the central province of Thanh Hoa. — Photo vietnambiz.vn
The retail prices of RON95 bio-fuel and E5RON92 both increased by nearly VND1,000 to a maximum of VND25,322 (US$1.12) per litre and VND24,571 per litre, respectively.
The prices of diesel 0.05S and kerosene also went up by VND962 and VND958 per litre, respectively.
The fuel price rise matched the market expectation and was in line with global oil prices.
In global markets on Friday, Brent crude futures increased 3.3 per cent to settle at $94.44 a barrel while US West Texas Intermediate crude rose 3.6 per cent to $93.10 a barrel. Both benchmarks touched their highest level since late 2014 on escalating fears of an intervention in Ukraine by Russia and concerns over tight global crude supplies as demand recovers post-pandemic.
The International Energy Agency raised its 2022 demand forecast and expects global demand to expand by 3.2 million barrels per day (bpd) this year to reach an all-time record 100.6 million bpd.
In a note to its clients, Goldman Sachs analysts predicted Brent crude to top $100 per barrel in the third quarter.
In the domestic market, the petrol price grew around 50 per cent since February 2021 and 9 per cent this year. 
Reduced production by Nghi Son refinery
Besides the global impact, according to experts, reduced production by Vietnam's largest refinery Nghi Son was partly blamed on costlier fuel prices and fuel shortages in some southern localities since early this year.
The Thanh Hoa-based refinery has cut production by 20 per cent since January due to cash shortages which it said if not resolved, it might shut down the plant in mid-February.
Though this scenario will not happen after the plant managers reached a short-term funding deal with PetroVietnam to keep the plant operational. Shareholders of Nghi Son Refinery and Petrochemical LLC (NSRP) have accepted the principle of restructuring this factory proposed by PetroVietnam while the latter agreed to make an early payment under a fuel offtake agreement (FPOA).
In a meeting with MoIT last week, NSRP's managers said the plant will run at 100-per-cent capacity from mid-March.
Nghi Son oil refinery has a capacity of 200,000 crude oil barrels a day, or 10 million tonnes a year, which is twice that of Dung Quat Oil Refinery in Quang Ngai Province. The two plants supply 75 per cent of domestic demand while the other 25 per cent comes from imports.
However, according to industry insiders, Nghi Son refinery could not immediately restore 100 per cent of its capacity in a short time as disbursing money and then importing crude oil also take time, but the situation will improve compared to the past few weeks.
Last week, the MoIT confirmed the supply shortage has only occurred locally at some petrol stations due to the practice of hoarding petrol for profit on the expectation of fuel price hike. The country's petroleum reserves are enough for market consumption.
Vietnam's other refinery Binh Son which manages the Dung Quat oil refinery is operating above capacity to offset Nghi Son's reduced production. Meanwhile, the Government has requested the authority to increase imports to supply domestic demand.
The Vietnam Oil Corporation (PVOil) has a plan to import more and is expected to receive imports of 26,000cu.m of gasoline and 42,000cu.m of oil on February 20. The Vietnam National Petroleum Group (Petrolimex) has also signed import contracts to ensure the supply of petroleum to the market according to the registered plan. 
Need for restructuring
The Nghi Son incident raised concerns about the risk of disruption to domestic petroleum supply.
With an investment capital of $9 billion, Nghi Son refinery has been operating commercially since the end of 2018 and is expected to contribute to national energy security, meeting 40 per cent of the domestic petroleum demand.
It has four major shareholders, including PetroVietnam (25.1 per cent), Japan's Idemitsu Kosan Co and Kuwait Petroleum (each 35.1 per cent) and Mitsui Chemicals Co (4.7 per cent).
According to the agreement with the investors, Nghi Sơn refinery enjoys incentives, including 10 per cent corporate income tax for 70 years; be compensated (from the money of PetroVietnam) for the 2017-27 period if the generally applied tax rate in the market is lower than the preferential tax; and a corporate income tax exemption for four years.
PetroVietnam has also been an off-taker of Nghi Son's products for 15 years, with wholesale prices equivalent to imports at the same time plus a 3-7 per cent import tax incentive depending on the type of product. According to previous calculations, this group may have to compensate for a loss of $1.5-2 billion for Nghi Son.
However, after three-year of operations, Nghi Son lost more than VND61 trillion, dautuvietnam.com.vn reported.
According to PetroVietnam, Nghi Son refinery was put into commercial operation in the context of the world shifting to renewable energy, so the demand for gasoline decreased. Besides, the volatile market adversely impacted the profit margin of the oil refining industry while the COVID-19 pandemic had also a great influence on the project's production and business efficiency.
In addition, shortcomings in the governance of Nghi Son led to financial difficulties that contributed to NSRP facing the risk of shutting down.
Meanwhile, Binh Son refinery demonstrated a different picture. In 2021, the company reported an estimated record profit of VND6 trillion. Dung Quat oil refinery has a stable capacity, reaching 100 per cent of the plan with an output of 6.5 million tonnes of petroleum products.
According to economist Dinh Trong Thinh, NSRP has received many incentives from the State in terms of financial mechanisms, especially the mechanism to compensate selling prices when gasoline prices are low.
"When the plant's production is unstable or has a problem, it will affect the Vietnamese petroleum market, because the market share of Nghi Son refinery is large. The risk of a factory shutdown is an important issue for the petroleum sector in particular and the economy in general, which urgently needs the intervention of State management agencies," Thịnh was quoted as saying on tienphong.vn.
Therefore, the overall restructuring of NSRP is a necessary and urgent need. PetroVietnam is in a negotiation phase with foreign capital contributors on the content of the overall restructuring of NSRP.
Besides, experts have suggested the Government, the Ministry of Industry and Trade, the Ministry of Finance and localities need to think more carefully about the plan to jointly restructure the NSRP to reduce the adverse impact of the plant's production problems on the market and gradually reduce the dependence on NSRP's contribution to the central and local budgets.
Source: Vietnam News

The limited supply of fuel from NghiSon, the biggest refinery in Vietnam, is not causing the current petroleum shortage in the market, analysts say.

A representative of the Ministry of Industry and Trade (MoIT) has confirmed that Vietnam has a sufficient supply of fuel for local use and offers solutions if a shortage occurs in the market.

A large number of petrol stations in several localities have suspended operations or have been forced to cut working hours over the past few days, reasoning that they have either faced losses or only received a limited supply of fuel.