Fuel supply: retailers deny hoarding products for speculation purposes
The limited supply of fuel from NghiSon, the biggest refinery in Vietnam, is not causing the current petroleum shortage in the market, analysts say.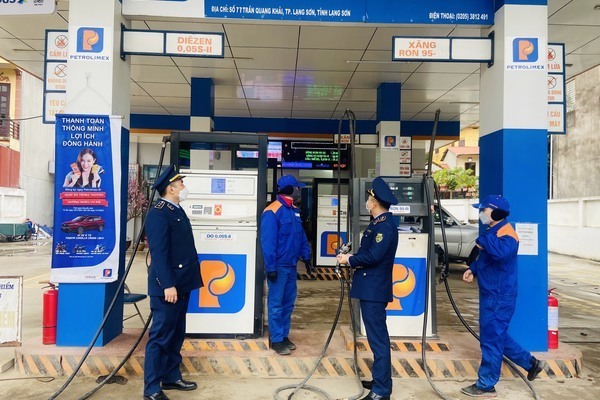 State agencies say the fuel supply shortage is due to many retailers hoarding products and waiting for prices to increase. In reply, retailers say there are no products to hoard.
In principle, petrol prices are adjusted once every 10-day review. That means the price should have been adjusted on February 1. However, the day fell during the Tet holiday, so the adjustment could be made only on February 11.
Decree 95/2021 that amends Decree 83/2014 on petrol and oil trading, which took effect on January 2, 2022, says that if the review day falls on the Tet holiday, the price adjustment will be made in the next review.
As such, the petrol price had to wait for another 10 days to be raised. Petrol retailers are facing product shortage and the more they sell, the bigger losses they will incur.
Some filling stations estimate that if they continue selling petrol these days, they will incur a loss of VND650 per liter. However, they still have to sell petrol as they understand that making profit and taking loss are common in doing business.
However, a retailer who owns three filling stations told VietNamNet that he doesn't have petrol to sell.
"All the filling stations nearby closed the doors and people flocked to my filling station. However, I have no petrol to sell because I cannot order petrol from distributors," he said, adding that after four days of urging distributors, he got only 9,000 liters of oil, and no petrol.
At a meeting with the Ministry of Industry and Trade (MOIT) on February 9, Nguyen Tuan Ha, Deputy Chair of Dak Lak province, confirmed that the provincial market surveillance units have inspected filling stations and checked their inventories. Nineteen units have suspended operation and they have no more fuel to sell.
The HCM City Department of Industry and Trade also affirmed that there is no hoarding in the city.
MOIT, which has been assigned to control filling stations since pre-Tet, has found only one filing station that still had petrol (7,000 liters) but was not selling to people. Market surveillance units did not find anything.
This indicates that some filling stations are hoarding fuel, but it is not common. If such filling stations are found, they must be heavily punished.
It is the tardiness in adjusting petrol prices which caused fuel shortages on a large scale. The running at just 60 percent of operation capacity of Nghi Son Oil refinery is also a reason.
An analyst said it's understandable why filling stations don't want to sell petrol at this time. The goal for all businesses is profit. If the prices are good, oil refineries, distributors and filling stations will step up production and distribution. If the prices are not high enough for them to make profit, they will hoard products for speculation.
In May 2020, signboards that said petrol had run out were posted at filling stations in Hanoi, Hai Phong and other provinces. People were surprised that filling stations did not have petrol.
The circumstances were similar to current conditions. Right after the review on May 13, 2020, the supply became short. Distributors then cut discount rates for sale agents, while retailers rushed to buy products for speculation. Oil refineries experienced a tough period of taking big losses as they bought crude oil at high prices. As a result, they only sold products under signed contracts and refused to sell additional volume.
It was a period with unprecedented events. The crude oil price dropped from $68 per barrel in early February 2020 to $18-20 per barrel, while the retail petrol price plummeted from VND21,000 per liter to VND10,000. As a result, distributors had to offer sky-high discount rates of VND5,800 per liter so as to boost sales and reduce inventories.
Since distributors incurred big losses caused by the petroleum price falls and lower demand, they later tried to hoard products and waited for price increases which helped them offset losses.
The problem in 2020 was settled and the market activities then turned to normal after the selling price was raised by regulators.
But the problem is now reoccurring, which causes product shortages. It's expected that once petroleum prices are raised, slated for February 11, the shortage will end. 
Luong Bang

A representative of the Ministry of Industry and Trade (MoIT) has confirmed that Vietnam has a sufficient supply of fuel for local use and offers solutions if a shortage occurs in the market.

A large number of petrol stations in several localities have suspended operations or have been forced to cut working hours over the past few days, reasoning that they have either faced losses or only received a limited supply of fuel.