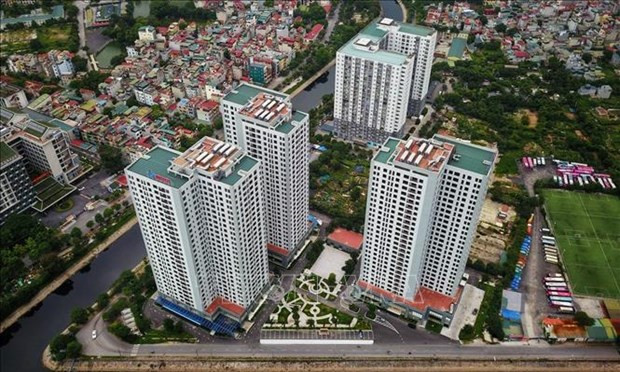 Apartment buildings in Hoang Mai district of Hanoi (Photo: VNA)

Earlier, the central bank decreased regulatory interest rates on March 14 and 31.

The SBV said that under the National Assembly's resolution and the Government and the Prime Minister's directions, the monetary policy has been governed in a proactive, flexible, timely, and effective manner and combined with the fiscal and other macro-economic policies so as to help control inflation, stabilise the macro-economy and the monetary market, and reduce interest rates to assist with economic growth recovery.

Economist Can Van Luc, member of the national financial and monetary policy advisory council, described the recent interest rate cuts by many banks as positive for the real estate market since lower lending interest rates will benefit both sellers and buyers.

He elaborated that pressure from capital costs will ease as developers can access loans with more reasonable interest rates, issue more attractive sales policies, and have more resources to complete unfinished projects and launch new ones.

Property demand will also recover since high lending rates have previously discouraged customers from buying real estate. Besides, customers have waited for property prices to go down further, and with more interest rate cuts, prices will continue declining and purchasing power may rebound, Luc added.


Echoing the view, the BSC Securities Company perceived that the reduction of regulatory interest rates will pave the way for lowering interest rates, which in turn will help enterprises improve their performance and stimulate customers' purchase decision.

Experts from the Vietnam Association of Realtors (VARS) said the monetary policy tightening has shown signs of slowdown, and the tightening period is likely to end by the end of the second quarter of 2023.

Following the SBV's reduction of regulatory interest rates thrice since March to aid enterprises and the economy, commercial banks have cut deposit interest rates. Thanks to lower rates, including bond and inter-bank ones, customers now can access loans with interest rates of 10 - 11% and even lower.

However, VARS experts also noted only when average interest rates drop to under 10% can the property market strongly "respond".

A VARS survey revealed that total deposits made in the banking system increased by nearly 900 trillion VND (38.3 billion USD) in 2022, 46% of which was made in Q4.

Pham Anh Khoi, a member of the VARS market research working group, said Q3 of 2023 will be the key point of time when a large sum of deposits at banks will start becoming mature, and the market will see whether or not money flows will return.

VARS Chairman Nguyen Van Dinh predicted that in the optimistic case, the property market will bounce back from late Q2 and early Q3 this year, when real estate prices may become more reasonable, especially in the groundland segment, and stimulate purchase decision./. VNA