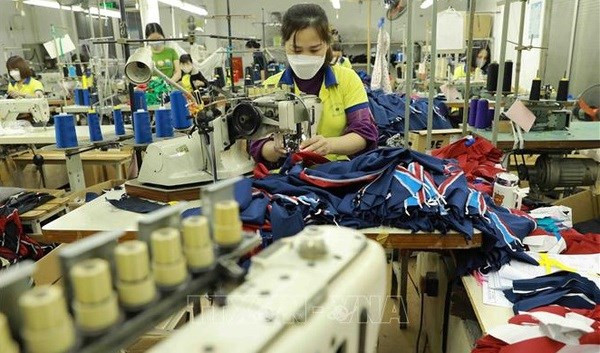 Experts expect the market will recover in the second or third quarter with orders increasing again (Photo: VNA)
VITAS Chairman Vu Duc Giang held that motivations for brands to choose Vietnam include programmes on sustainable development, greening, digital management and circular economy in the country, which support the country's stability and development, as well as the encouragement of domestic garment and textile firms to increase creative products and reduce processing for partners.
Many businesses expect the market will recover in the second or third quarter with orders increasing again, which means they are in need of stable and skilled workforce, he said.
After the long Lunar New Year (Tet) Festival last month, many enterprises have promptly resumed production to complete their orders.
In Garment 10 Corporation, 12,000 workers have returned to work. This year, the firm aims to earn a revenue of 4.5 trillion VND (190.88 million USD). Currently, it is recruiting additional 800 labourers.
Seeing positive signs from markets, right from the beginning of the year, many businesses have mobilised 100% of their employees for production, while recruiting more high-quality human resources to fulfil high-end orders from partners.
According to VITAS, free trade agreements are becoming a motivation for the transition of investment inflow from other countries to Vietnam, helping domestic firms diversify markets and products. Previously, domestic enterprises only supplied a small proportion of products to Muslim countries, but now the rate is much higher thanks to the switching of parts of their orders from Bangladesh and Myanmar to Vietnam, it said.
At the same time, the domestic garment and textile sector is working to reduce imports and increase the localisation of material, which is considered a way for them to reduce dependence on imported materials for production.
Data from the VITAS showed that the localisation of garment and textile has reached about 49%, which is expected to increase to 51-55% in the 2023-2025 period.
Despite difficulties in major markets, the association still forecast that Vietnam's garment and textile exports will reach 45-47 billion USD this year. It underlined that companies with stable workforce will grow faster when the market recovers in the second quarter./. VNA