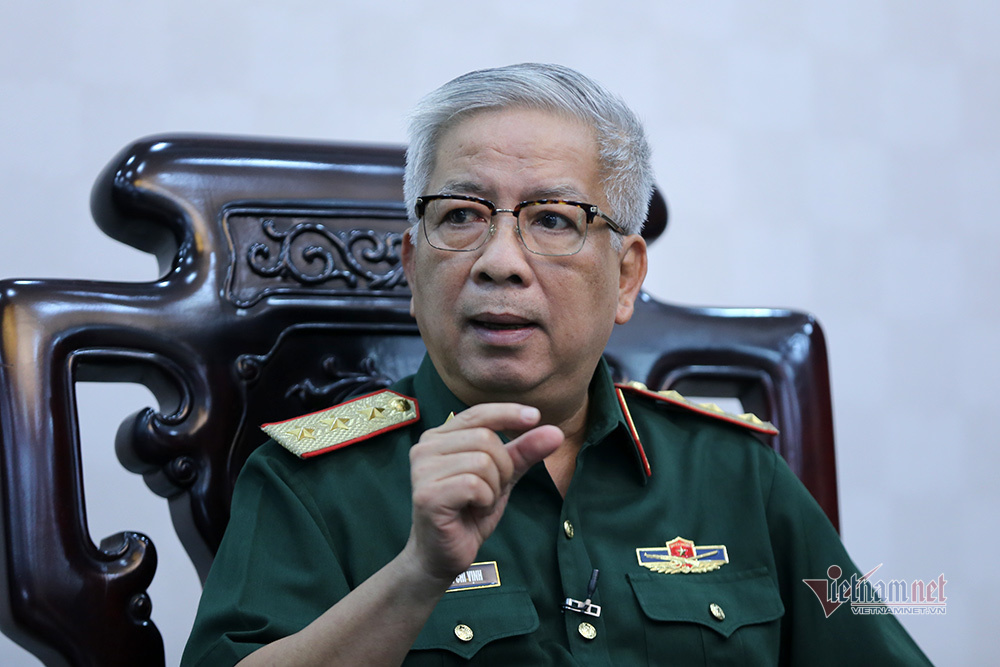 Senior Lieutenant General Nguyen Chi Vinh
At a seminar with VietNamNet, Senior Lieutenant General Nguyen Chi Vinh, who is the Deputy Minister of National Defence, and Do Hung Viet, Director General at the Department of International Organizations at the Ministry of Foreign Affairs, talked about international cooperation and the great efforts to ensure safety for the mine clearance force.
Vinh, what are the difficulties in mine clearance?
The problems in financial and technical resources are the most mentioned. They really exist, but they are not the biggest problem. The biggest problem is people's awareness.
If people are aware of UXO (unexploded ordnance) and have a sense of self-protection, and report to appropriate agencies when they discover bombs and mines, this will be very helpful to mine clearance in Vietnam.
People cut up bombs or carry them while driving their motorbikes to sell them as scrap metal. So, what we need to do is educate people to make them afraid of bombs and mines and report to the responsible agencies when they discover bombs. It is necessary to teach students about bombs and mines in the first school lessons.
Second, it is necessary to build capacity for specialized agencies. First of all, we need to have an accurate and sufficient database about the situation in localities, so that we can decide which localities need to be dealt with first and then build a complete plan. We need to improve the capability of management agencies and of people who clear mines on the sites.
Admitting mistakes
The US is one of the countries that most actively cooperates with Vietnam in addressing the war consequences and implementing demining projects. How did the first days of cooperation go?
General Vinh: We need to thank the American people, especially veterans and their families, the families who have relatives who died in the war and the consortium of missing soldiers in the war for their struggle to demand that the US Government be accountable to the children who have suffered from landmines and UXO (unexploded ordnance) after the war.
I, along with a group of US senators, went to see children with amputated limbs caused by tragic UXO accidents, though the war had ended many years ago. They cried and shared the common view that everyone needs to struggle to be sure that this will not occur in the future. The US and some other countries, including South Korea, have shown high responsibility in this issue.
I think that about 95 percent of resources for mine clearance is from the State, while the remaining is from contributions from other countries and organizations. We really appreciate the support in financing, information and technology from other countries.
I assume that in order to obtain such great achievements as we see today, there might be unprecedented stories occurring with the two countries which formerly were on two sides of the front line?
Admitting war crimes, admitting mistakes, and admitting the responsibility of a country after the war is an extremely difficult job. This reminds me of US Senator Patrick Leahy, who said it is a miracle that the handling of the aftermath of the war, which seemed to be a difficult problem in the two-way relationship, turns out to be the most effective field of cooperation.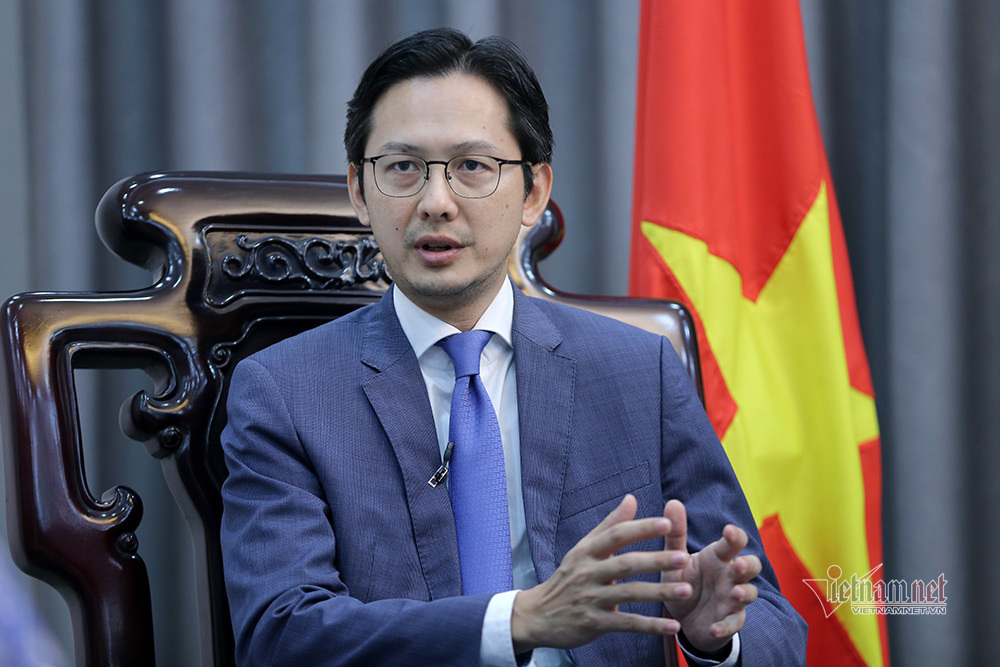 Director General at Department of International Organizations at the Ministry of Foreign Affairs Do Hung Viet 
No one could imagine that just several months after the signing of the Paris Agreement, we established an organization specializing in searching for the remains of missing American soldiers in order to return them to their families. This had a profound impact on American people's feelings and thoughts.
A question for Viet. Can you describe the international cooperation in dealing with land contaminated with UXOs?
The US is a typical example of the great efforts in mine clearance. This is obviously a cooperation of great significance to the bilateral relationship. And from a multilateral perspective, we also can see that it has a positive impact: it helps the international community and countries in conflicts realize that countries that were enemies in the past can cooperate with each other.
In addition to the US, we also have international cooperation with many other partners, including Norway, Ireland, and the UK in the Security Council.
The President of Ireland, during his visit to Vietnam some years ago, came to Quang Tri to see with his eyes the mine clearance operations in Vietnam. We also received cooperation and support from the United Nations, international organizations and non-government organizations.
Heroes in real life
Could you please give us more details about the recent open discussion session of the Security Council in Hanoi?
General Vinh: The discussion session caught the high attention and attendance from the United Nations and Security Council member countries.
There was a ministerial meeting with the participation of nine ministers and deputy ministers of countries, including Vietnam, the United Nations' Secretary General, and two famous actors, including Daniel Craig, who is a United Nations' Global Advocate for Elimination of Mines and Other Explosive Hazards, and Michelle Yeoh, who is a United Nations' Goodwill Ambassador.
Yeoh spent one-third of her speech to talk about Vietnam and Vietnam's efforts in mine clearance.
Do Hung Viet: Other countries highly appreciated Vietnam's efforts in mine clearance and showed their response to Vietnam's comprehensive approach in addressing bomb and mine consequences, as well as their agreement with what Vietnam proposed to the Security Council – paying a lot of attention to this issue in association with efforts for sustainable development and post-conflict reconciliation.
As Vinh said above, two famous actors attended the meeting. Right after the meeting ended, there was a tweet on Twitter, maybe from Norway, saying that the two actors were heroes on the screen, while Vietnam has heroes in real life.
We invited Dieu Linh to the meeting. She was head of the demining female team in Quang Tri province. She represented thousands of army engineers and hundreds of volunteers participating in mine clearance.
The presence of Dieu Linh really created repercussions at the discussion session.
Accidents are unacceptable
I myself last week was present in Quang Tri province for a business trip and I could see with my eyes the operations of the mine clearance team. The members of the team are young, careful and professional on the site, and are not afraid of the dangers lurking around them.
General Vinh, which measures are being used and will be applied to ensure safety for mine clearance forces and minimize fatalities in peace time?
We have been applying a lot of measures to ensure safety for them. But honestly speaking, there have been unfortunate accidents. However, no army engineer and no volunteer has refused the tasks assigned to them.
I think there are some measures. First, it is necessary to learn about the situation, and determine the exact ERW areas (explosive remnants of war) and types of explosives in order to decide which areas to focus on.
Second, regularly upgrade the capability of people who directly do the demining on the site. It is a must to follow standard procedures in demining.
Third, regularly check the capability of the agencies and units doing this work. Specialized units must get certificates from the appropriate agencies.
Also, we need to modernize demining operations.
These are major measures to prevent accidents during the demining process which have brought effects in the last years. The accident rate is low. However, accidents, though occurring at minor rate, are unacceptable.
At the open discussion session of the United Nations Security Council in Hanoi on April 18, Minister of Foreign Affairs Bui Thanh Son emphasized that peace will be sustainable only when the consequences of wars and conflicts, including bombs and mines, are resolved. 
D. Thuy

The Government spends money to clear bombs and mines. Wherever the soil becomes 'clean', soldiers' remains have been exhumed and moved. That means the debt to soldiers is being paid step by step, said Senior Lieutenant General Nguyen Chi Vinh.

After finding unexploded bombs when he was digging the foundations of his new house last month, Ta Thanh Dat knew what he had to do.