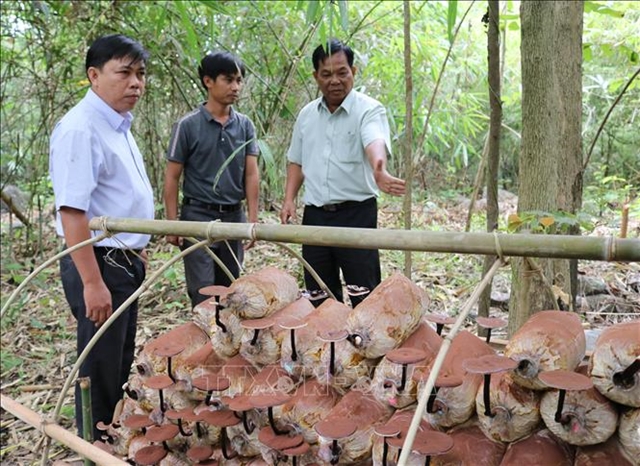 Experts fromthe Phước Bình national park checking the mushroomsplanted under the forest canopy. 
The research was part of a project titled 'Conservation of Linh Chi genetic sources originating from Phước Bình National Park'.
The 3-year project was carried out by Phước Binh National Park Management Board of the central province of Ninh Thuận in co-operation with Ninh Thuận Science and Technology Department, HCM City's Institute of Biotechnology and Food, and the Institute of Food Supplements.
The project was estimated to cost VNĐ2 billion.
According to Lưu Văn Luông, an expert from the park, the research group conducted several surveys to collect all kind of Linhzhi mushrooms in the national park as well as test their DNA to name 8 species and add them to list of fauna and flora.
Based on the results, the national park successfully classified and conserved two kinds of mushrooms, namely the Ganoderma Lucidu (red Linhzhi) and Humphreya endertii (black Linhzhi), said Luông.
The genetic preservation was implemented under the off-site or ex situ conservation method in laboratories.
A model of conserving and producing the red and black Linhzhi in mushroom houses and in semi-natural conditions under the forest canopy was carried out by the park.
The model was evaluated by the researchers before being transferred to local farmers for production, said Luông.
The research indicators showed that it took 68 days from seeding to harvest for the red mushroom and 88 days for the black ones.
The interval between harvests was 10 or 12 days. The mushroom would bring 3 crops if they had good care.
On an area of 30 sq.m, the yield of red Linhzhi was nearly 24kg of dry mushroom per 1,000 embryos while black Linhzhi's yield was 12kg.
Nguyễn Tuấn Anh, vice head of the park's international co-operation section, said the Linhzhi gene conservation project had an important meaning in genetic resource preservation to the rare Linhzhi mushrooms of Ninh Thuận Province.
The national park had co-operated with scientific agencies to conduct research to analyse and publish medicinal active ingredients of the Linhzhi originating from the park, Anh said.
At present, the park had taken 5 households to grow the mushroom as a trial, while offering financial assistance for setting up gardens and providing mushroom embryos.
According to the park's experts, growing the mushrooms was simple and cheap so it was suitable for poor households.
Currently, the price of mushroom can be up to millions of đồng per kilo. – VNS