VietNamNet Bridge – German director Dominik Gunther from Hamburg and puppeteers from Dresden are cooperating with the Ha Noi-based Youth Theatre to stage a play entitled Fisherman and a Golden Fish.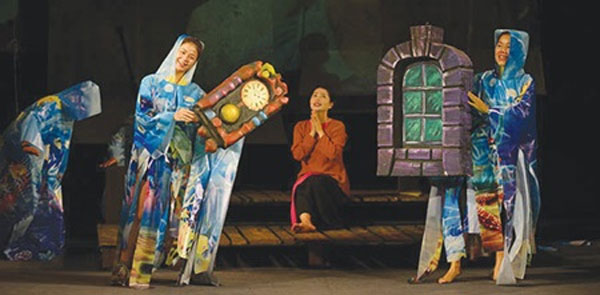 Grimm tale: Artists rehearse the play Fisherman and a Golden Fish, the second co-operation between the Ha Noi Youth Theatre and German artists. — Photo thoidai.com.vn
The play is a combination of a fairy tale by the Brothers Grimm and a popular story in Viet Nam.
This is the second joint-effort of the noted director. Last year, they worked on The Caucasian Chalk Circle by German playwright Bertolt Brecht.
The play also utilizes audio clips, allowing the audience to hear voices of Vietnamese and German children.
"I got to know the actors last year…This year, I'm really happy that I have such strong actors. They are really good with body language, so I can add a lot of really difficult things for them to perform," Gunther told Viet Nam News.
"Dominik's staging style is like those of many German theatrical directors, who consider theatre a game of arts," commented People's Artists Le Khanh, vice director of the play, "The game is objective. It just raises issues through events."
Khanh further said that though she has been an experienced artist working in the field for many years, she admires the director and finds him to be an interesting person.
"I kept telling my colleagues to take advantage of this opportunity to come to the rehearsals and learn from him. We don't have to travel abroad to exchange experiences. We can learn a way to stage plays from him that offers a happy, open atmosphere with no limitations in creation and doesn't stick to any discipline. It doesn't limit artists within the directors' power or words. All these limitations encourage the creativeness of artists," added Khanh.
Actress Anh Tho, who plays the role of the fisherman's wife, noted that she is happy to work with the director.
"His style involves realistic descriptions," she said, "For example, the gold fish character is made by a 2.5-metres-long fish, which is controlled on stage by artists. He uses less music than Vietnamese directors do. The play is like a dialogue between audiences and artists."
"If we 'catch a fish' with artful value, which adds more meaning to our life and contributes to children's theatre a play with interesting, alluring and entertaining features, surely in the very near future there will be more co-operations. That's the most important and highest value of cultural co-operation," Khanh said.
The Fisherman and a Golden Fish play is to be performed at the Youth Theatre, 11 Ngo Thi Nham Street, on November 28 and 29.
Free tickets are available at the theatre and the Goethe Institute, 56-58 Nguyen Thai Hoc Street, beginning today.
A German and Vietnamese language version of the play will be performed in April next year with the puppeteers from Dresden.
VNS