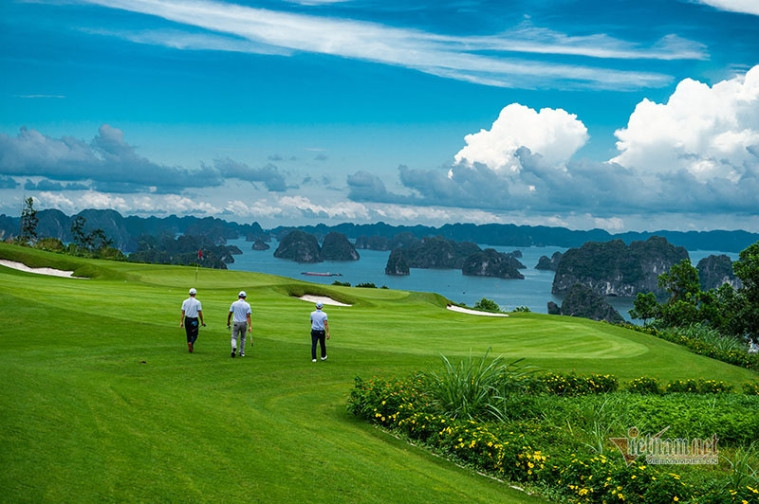 Vietnam's golf market is the fastest-growing in the world, according to Forbes. The latest report about the world golf market from R&A Club (based on global statistics of the National Golf Foundation) showed that Vietnam has 78 golf courses and 51,000 golfers.
Potential
Vietnam, however, has lost opportunity to rivals such as Thailand. Deputy General Director of the Vietnam National Administration of Tourism (VNAT) Nguyen Le Phuc said Vietnam has potential to become a "golf paradise of Asia".
However, golf tourism remains modest because of the low number of golf courses. The number of foreign travelers coming to play golf is not high, while connections between travel firms and golf courses remain loose.
In addition, there are no linkages between golf tourism and other tourism types; there are no professional tournaments; and there is no proper solution to promote golf tourism products. Golf tours are not diverse and lack focus on activities to support golf players.
Phuc said that in the future golf will become a global entertainment with many new developing markets. Vietnam's tourism has advantages and potential to develop golf tourism in a sustainable way.
Vu The Binh, Chair of Vietnam Tourism Association (VTA), said that golf plays an important role in tourism. Golfers use many associated services such as culture, food and relaxation. As a result, there should be cooperation between golf courses and hotels and travel firms.
According to the International Association of Golf Tour Operators (IAGTO), golf tourists spend twice as much as normal tourists, while golf tourism ranks third in tourism spending incentives in Asia.
A report found that 1.9 million golfers often go to different golf courses to play. A survey by KPMG found that golf tourists on short-haul golf tours mostly have 3-4 day trips. For long-haul golf tours, the time is one or two weeks.
Meanwhile, market analyses say that the majority of golfers are middle-aged and have higher income.
If Vietnam develops golf tourism, it will be able to attract more foreign travelers, especially from important markets such as South Korea, Japan, Taiwan and China. Analysts said that demand from these markets is very high. In winter, all the golf courses in the central and southern regions in Vietnam are full of players, mostly from Northeast Asia.
Problems
Talking about cooperation between golf courses and travel firms, Trinh Thanh, CEO of Golf Pro, said restaurants at luxury hotels all meet 5-star standards but the food there is not suitable for golfers.
"They eat a lot and need to eat their fill. Fine dining is not enough, and golfers won't be satisfied if they eat a little. These small things may create a big problem," he said.
According to travel firms, there should be specific golf tour packages with prices much lower than golf club members. However, most golf courses argue that golf tourism must be a high-end product. This can lead to a restriction in the number of golf tourists.
Pham Duy Nghia, CEO of Vietfoot Travel, said there is no tour package for golfers from South Korea and Japan. In Thailand and Malaysia, there are package tours with good prices thanks to cooperation among involved parties, including the government, hotels, restaurants and travel firms.
Tran Ngoc Hai, Deputy Chair of the Vietnam Golf Tourism Association, believes that in order to lure more golfers to Vietnam, taxes need to be reduced.
He also emphasized cooperation among travel firms, airlines, golf courses, destinations, restaurants and hotels. Local authorities also need to help businesses and travel firms connect.
The Vietnam Golf Tourism Association needs to build a golf tourism ecosystem that allows booking of golf tours via the web and apps.
Le Thanh Hoa, CEO of Good Feeling Vietnam, said golf businesses should be considered as tourism businesses and golf tourism should be advertised at Vietnam's tourism promotion events in key markets.
Duy Anh