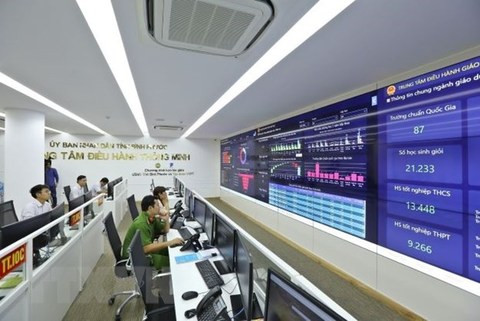 Accordingly, the institutions, mechanisms, policies and legal framework would be improved to accelerate the national digital transformation with a focus on developing human resources and ensuring information security.
The digital platforms and national databases would be integrated to improve the efficiency in management and handling of administrative procedures.
Non-cash payments for social allowance, pension and social insurance allowance would be promoted while the national population database would be improved and used to identify customers and authenticate bank accounts.
Digital transformation must also be strengthened at corporations and small and medium-sized enterprises.
In the context that global growth momentum losing steam, the Government is looking for new growth drivers, one of which is developing the digital economy.
Recently, the Government has raised drastic measures to promote the development of the digital economy.
The Government issued a strategy for developing e-Government toward digital Government, the national strategy about developing digital economy and society, and the programme about national digital transformation to 2025 with a vision to 2030.
The latest edition of the e-Conomy SEA report by Google, Temasek Holdings Pte and Bain & Co published in late December highlighted that Viet Nam had the fastest growing digital economy in Southeast Asia with a year-on-year increase of 28 per cent in gross merchandise value (GMV).
The report pointed out that the driving force for Viet Nam's digital growth was the growing penetration of new forms of commerce across urban and rural regions for businesses. Logistical infrastructure also improved to facilitate nationwide e-commerce transactions and there was a noticeable high-quality homegrown tech workforce that had been driving innovation in Viet Nam.
Tran Minh Tuan, director of the Department of Digital Economy and Society under the Ministry of Information and Communications, said that based on the survey of Financial Times and Omdia, Viet Nam was the second fastest growing digital economy in the world, expanding at the rate of 12.3 per cent in 2022, after India. In 2023, Viet Nam might fall behind Mexico and India but could take the lead in the world in digital economy growth in the 2022-26 period.
Tuan pointed out that the scale of Viet Nam's digital economy remained modest, leaving significant room for future development, especially in connectivity, digital payment and digital entertainment.
Digital finance was expected to see breakthrough development with a compound annual growth rate of 114 per cent in 2021-22 and at 56 per cent in 2022-25.
The department said that the digital economy contributed 14.26 per cent of GDP in the third quarter of 2022. Viet Nam targets to increase the contribution of the digital economy to GDP to 20 per cent by 2025. — VNS