Government asked to allow Bamboo Airways' fleet expansion

The Ministry of Transport (MoT) has proposed the Government allow Bamboo Airways to increase its fleet instead of restricting the firm's aircraft number to 30 like at present.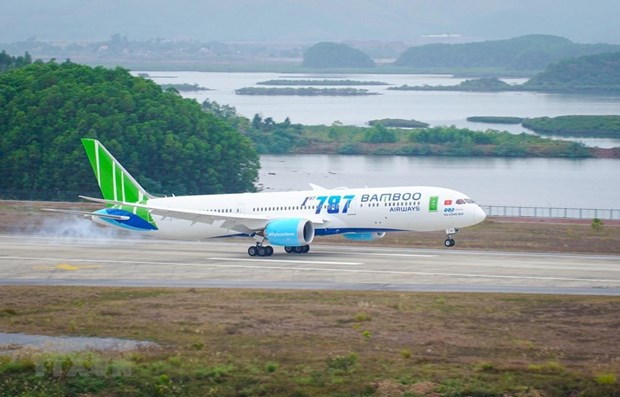 An aircraft of Bamboo Airways 
In its recent document to the Prime Minister, the MoT cited the Law on Civil Aviation and some related decrees of the Government as regulating that the fleet of a Vietnamese carrier is considered on the basis of market demand, the aviation sector's development directions, and its minimum capital.
In particular, an airline with 11 – 30 aircraft must have a minimum capital of 600 billion VND (25.9 million USD), which must be 700 billion VND if it wishes to operate more than 30 planes.
The MoT said these regulations do not limit the number of aircraft of carriers, and they can develop their fleets in accordance with their business purposes and market demand, conditioned that they meet relevant requirements.
Under legal regulations, Bamboo Airways can increase its fleet to more than 30. The specific number will be considered on the basis of aviation safety, security and infrastructure, according to this ministry.
It proposed the PM order the Ministry of Planning and Investment, which had suggested the approval of adjustments to the Bamboo Airways air transport project in the past, to consider revision to the fleet size of this carrier.
Earlier, the Civil Aviation Authority of Vietnam (CAAV) had asked the MoT for removing the cap on Bamboo Airways' fleet, adding that other carriers like Vietnam Airlines, Vietjet Air and Jetstar Pacific are all allowed to operate with an unrestricted number of aircraft.
Bamboo Airways, which launched the first commercial flight in January 2019, is operating 41 domestic and international routes.
The company aims to gain a 30-percent share in Vietnam's aviation market and expand its flight network to 85 routes this year, including 60 domestic and 25 international ones.
As of late January 2020, it had operated more than 20,000 flights with nearly 3 million passengers and the on-time performance of 94.1 percent – highest among Vietnamese carriers in 2019.
The firm is planning to expand its fleet to 50 by the end of 2020.
Bamboo Airways poised to launch direct air service to Germany from July
Vietnamese airline Bamboo Airways have initiated plans to open a direct air route between the nation and Germany, with flights set to get underway in July.
The airline plans to put flights into operation in July, with the Hanoi-Munich route set to fly one return flight per week whilst the Ho Chi Minh City-Munich route will see two return flights operating each week.
Information regarding the latest air route was unveiled in a Memorandum of Understanding (MoU) that was signed between Bamboo Airways and Munich Airport on March 2, which aims to promote direct flights to and from Germany.
The MoU states that Munich Airport is fully committed to providing the highest standard in aviation safety and security conditions for the latest direct flights, while information detailing air transport and tourism projects between the two countries will also be regularly provided as a means of supporting the development of direct flights.
The newest direct routes will be operational using a Boeing 787-9 Dreamliner aircraft - the world's most modern and fuel-efficient wide-body aircraft that boasts a range of outstanding utilities and services.
The MoU signing ceremony allows the strong flight network and five-star quality service provided by Bamboo Airways to make use of Munich Airport's strong facilities and long-term operational experience, thereby meeting the people's demand in both nations, stated Bui Quang Dung, Deputy General Director of Bamboo Airways.
Aside from increasing the flow of German visitors and promoting mutual co-operation, these direct air routes will serve as the airline's new products which will facilitate a greater connection between Europe and countries throughout both Asia and Southeast Asia, with Vietnam being the transit point, Dung noted.
Dung added that these routes will lay a foundation for the launch of the airline's future air services to Germany and other countries throughout Europe later in the year./. VOV/VNA

Bamboo Airways and resort operator Vinpearl on February 27 signed a strategic cooperation agreement in the field of air-tourism service.
Vietnam's Bamboo Airways will suspend flights from the central cities of Da Nang and Nha Trang to the Republic of Korea (RoK)'s Incheon city as from February 26 over coronavirus concerns.