Former Italian PM Letta welcomed in Viet Nam
Prime Minister Nguyen Tan Dung hosted a reception in Ha Noi yesterday for former Italian Prime Minister Enrico Letta.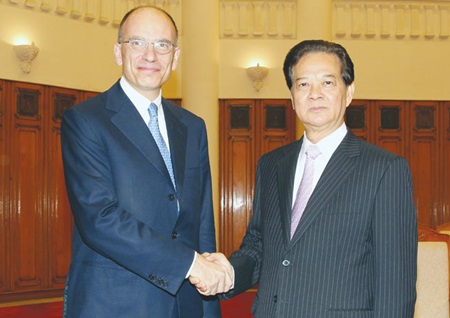 He affirmed the nation's consistent policy to deepen bilateral ties with Italy and expressed pleasure at the ongoing development of friendship and co-operation, reflected in the recent signing of an action plan on implementing the Viet Nam-Italy strategic partnership.
He also expressed hope that Enrico Letta would continue contributing to the development of bilateral co-operation in security, defence, economy, trade, education, and interpersonal exchange, as well as at regional and international forums.
Dung sought Italy's support for the early signing of a free trade agreement between Viet Nam and the EU alongside its backing of Viet Nam and ASEAN's stance on the East Sea issue.
Enrico Letta responded that Italy had always attached importance to enhancing ties with Viet Nam. He said deepening co-operation between the two countries had brought practical benefits to Italy.
He reiterated support for settling East Sea disputes through peaceful means and on the basis of international law.
Also yesterday, the former Italian PM was received by Deputy PM and Foreign Minister Pham Binh Minh. They exchanged views on regional and international issues of common concern.
PM hails efforts of RoK-Viet Nam Friendship Association
Prime Minister Nguyen Tan Dung received a delegation from the Republic of Korea (RoK)-Viet Nam Friendship Association led by its chairman, Kim Hack-yong, yesterday in Ha Noi.
Lauding the great contributions of the RoK-Viet Nam Friendship Association to the progress of bilateral relations, the Government leader expressed hope that the association would continue its practical and effective activities to foster bilateral friendship and support the Vietnamese community in the RoK.
Kim Hack-yong, who is also a parliamentarian, said that the bilateral FTA would open new affiliation prospects for both countries, especially in the fields of economy, trade and investment. He pledged to continue contributing to the growth of the bilateral friendship by increasing activities to enhance mutual understanding and trust between the two peoples.
He also vowed to assist Vietnamese nationals studying and working in the RoK, helping them integrate into the host country's society.
CPVCC's 10th meeting focuses on socio-economic performance
The Communist Party of Vietnam Central Committee (CPVCC) on the morning of January 9 debated a draft report on the realisation of socio-economic development tasks during 2011-2015 and orientations for the next five years at its ongoing 10th meeting.
Politburo member and Prime Minister Nguyen Tan Dung chaired this session.
Meanwhile, at the afternoon session, Politburo member and Deputy PM Nguyen Xuan Phuc delivered a report on a project to streamline and restructure the contingent of civil servants.
CPVCC member and Deputy PM Vu Duc Dam presented a report on a national press development and management plan by 2025.
The CPVCC's 10 th meeting will conclude on January 12.
VNS/VOV