GOVERNMENT IN BRIEF 16/4
Consultations with Iran result in praise for bilateral developments; Crime fight needs intensifying; President vows better policies for fishermen; Party delegation visits Myanmar, Thailand, Sri Lanka
Consultations with Iran result in praise for bilateral developments
Deputy Foreign Minister Nguyen Phuong Nga visited Iran to attend the fifth political consultation with her Iranian counterpart Seyyed Abbas Araghchi on April 13-14.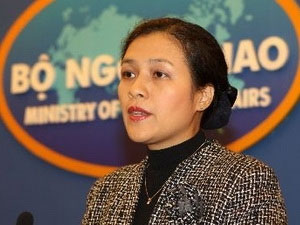 Deputy FM Nguyen Phuong Nga. (Photo: VNA)
During her meetings with Iranian leaders, the two sides informed each other of the political and socio-economic situation in each country and praised the encouraging developments in bilateral ties in recent years, especially in the realms of politics, diplomacy, agriculture, education and training.
They agreed that the two nations needed to cooperate even more efficiently to meet the aspirations of their high-ranking leaders and people.
In order to fulfill this goal, the two sides planned to hold joint activities to mark the 40th anniversary of diplomatic ties, step up the exchange of delegations and enhance links in economics, trade, agriculture, fishery, education, training and tourism.
They also agreed to prepare for the eighth meeting of the Viet Nam–Iran Joint Committee and speed up negotiations for the signing of a double taxation avoidance agreement as well as memorandums of understanding on cooperation in culture, customs and plant protection and quarantine.
At these meetings, the two sides also discussed regional and global issues of mutual concern.
Crime fight needs intensifying
More operations should be launched across the country to combat crimes, especially those involved in social disorder and human and drug trafficking.
Deputy Prime Minister Nguyen Xuan Phuc delivered the task to relevant agencies and localities at an online conference in Hanoi on April 15, amidst reports that social security and order are still complicated by crime, which is on the increase.
Preventing and fighting crime are major tasks for the entire political system and population, he said.
He spoke highly of involvement of political organisations and citizens in crime prevention, which has contributed significantly to national socio-economic development.
He particularly extolled Hanoi's model 141 and Ho Chi Minh City's model 622 designed to crack down on crime to maintain social order, and asked other localities to replicate the model.
Phuc asked Hanoi and HCM City, as well as other localities to strictly implement the Politburo's directive on preventing and fighting crime in the new context, along with the national target programme on fighting drug trafficking and crime. He said they should consider these regular key tasks and mobilize the strength of the whole political system and people to ensure social order and safety.
The Deputy PM asked relevant ministries and localities to continue with a crackdown on crime to reduce the number of murderers, organised crime activities, human trafficking and high-tech crimes. Expanding international cooperation, especially for fighting against trans-national, foreigner-related and high-tech crimes, is another priority, he said.
According to the National Steering Committee for Crime Combat and Prevention, more than 14,000 criminal cases were recorded in the first quarter of this year, up 4.83 percent against the previous quarter. Police captured nearly 500 criminal gangs, 131 human traffickers and discovered nearly 4,000 drug trafficking cases.
President vows better policies for fishermen
President Truong Tan Sang has pledged to make proper changes to policies to support fishermen, especially assistance in travel and petrol costs, and shipbuilding to help them generate higher income while safeguarding national sovereignty over seas and islands.

While talking with fishermen in Ly Son island district in central Quang Ngai Province on April 15, Sang urged them to uphold solidarity going off-shore fishing as it takes them days, even months, away from the mainland.

He suggested local fishermen clearly locate the coordinates where they will fish and thoroughly apprehend international regulations and laws related to fishing grounds.

Participating fishermen have expressed their wish for a policy that is exclusively designed for fishermen encountering risks at sea.

According to them, the Party and State need to protect their legitimate right to work at the fishing grounds which belong to Vietnam's sovereignty, and the marine police must work to support fishermen's operation.

Many recommended the State promptly invest in a frozen seafood processing facility as well as allocate capital to bring electricity to the island district.
Party delegation visits Myanmar, Thailand, Sri Lanka
The Communist Party of Viet Nam (CPV) wishes to foster friendship and cooperation with political parties, including the ruling, communist and left-wing parties, in Myanmar, Thailand and Sri Lanka in order to boost ties in trade, investment, culture and education.
So said a delegation from the CPV Central Committee's Commission for External Relations, led by deputy head Nguyen Huy Tang, during a working visit to those countries from April 6-14.
While there, the delegation met with the deputy foreign ministers, leaders of political parties and other high-ranking officials.
Tang briefed the hosts on the current situation in Viet Nam and in the CPV as well as policies and measures the country is embarking on to boost economic growth, Party building and external policies.
The guests and hosts discussed specific measures to strengthen bilateral ties in a straightforward and open manner.
The leaders of parties such as the Union Solidarity and Development Party of Myanmar, the Democrat Party of Thailand, the For Thais Party, the Communist Party and the National Freedom Party of Sri Lanka expressed their hope to increase delegation exchanges, share leadership and management experience and exchange information and views on national, regional and global issues of common concern.
The leaders of Sri Lanka's parties in particular wished to consolidate their ties with the CPV to create a firm political foundation for a stronger relationship between the two countries.
Viet Nam cheers Venezuela's new President
Party General Secretary Nguyen Phu Trong, President Truong Tan Sang and Prime Minister Nguyen Tan Dung yesterday congratulated Nicolas Maduro on his election as President of Venezuela in the 2013-19 term.
The Vietnamese leaders also expressed their desire to expand and deepen the friendship, solidarity and all-sided co-operation between Viet Nam and Venezuela.
People-elected bodies' budget supervision improved
The United Nations Development Programme (UNDP) will work with the National Assembly's Committee for Finance and Budget Affairs to improve the people-elected bodies' budget supervisory capacity.

A seminar to kick-start a project on the work took place in Hanoi on April 15.

With the funding of 2.456 million USD, the project will see the participation of the National Assembly's Ethnic Council and organs and the people's councils of 30 provinces and cities nationwide in the 2013-2015 period.

Data and analysis on budgetary affairs, especially their effects on people, are expected to be provided for NA deputies and the NA Committee for Finance and Budget Affairs to help them perform well their decision making and budget oversight.

Meanwhile, the municipal and provincial people's councils will be equipped with skills to make right decisions for their local sustainable development.

Addressing the seminar, UNDP Country Director Louise Chamberlain said in the current public financial reform, priority should be given to raising the capacity of the NA and people's councils in monitoring budget to ensure transparency and accountability.
VNN/VOV/VNS/VNA