People should be centre of poverty reduction policy
Putting people at the centre should be the foundation of any poverty reduction policy, Ambassador Le Hoai Trung, permanent representative of Vietnam to the United Nations, said at the second session of the General Assembly Open Working Group on Sustainable Development Goals (SDGs) recently in New York.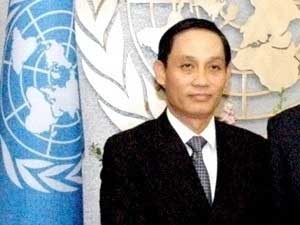 Ambassador Le Hoai Trung, Vietnam
permanent representative to the UN. (Photo: VNA)
Speaking on behalf of the Troika (Bhutan, Thailand and Vietnam), the ambassador said eradicating poverty, which is at heart of the implementation of the Millennium Development Goals and a key enabler for developing countries to achieve other goals, must remain the overriding objective of the Sustainable Development Goals.

He noted that poverty has become a more complex and multifaceted problem as constantly changing characteristics of the poor requires efforts to reduce poverty to be equally responsive, adaptive and sophisticated.

"Governments should focus their support on multiple socio-economic aspects specifically for the most vulnerable groups who lag behind in poverty reduction," Trung said.

The Vietnamese ambassador also stressed the need for every nation to transform into a green economy which supports social inclusiveness and environmental sustainability and in consistence with the level of development in the context of sustainable development and poverty eradication.

At the same time, access to adequate social protection and support in adaptation to adverse impacts of natural disasters and climate change are essential to help the poor avoid falling back into the vicious circle of poverty, he said.

Earlier, at a debate on the conceptualization of the Sustainable Development Goals (SDGs), Ambassador Trung also presented the Troika's view, which reiterates that the guiding principles of the SDGs must be in conformity with international law and respect all Rio Principles, including the principle of Common But Differentiated Responsibilities.

"While poverty eradication should remain an overarching goal, the new framework should also aim to incorporate the following elements: ensuring sustainability, building resilience and reducing inequality," Trung said.

He reaffirmed the Troika's strong commitment to engage in international efforts on sustainable development and poverty eradication.
Russia, Vietnam enhance strategic partnership
A business delegation from Russia has gathered in Hanoi to discuss the strategic economic partnership between Vietnam and Russia.
At the press conference on April 22, head of the delegation and Director of the "portrait of technological innovation in Russia" project, Strozaeva Lubov Viktorovna, emphasized that in addition to active economic cooperation in science, and technology, Russia has focused on developing investment and industrial cooperation with Vietnam. It also aims to strengthen cooperation in a number of fields including national defense, education, and especially in technology.
Vietnam has recorded many achievements in developing science and technology, establishing hi-tech zones and other aspects of national technological innovation. Along with major petroleum, atomic energy, and transport projects, communications have also served as an important link between the two nations for establishing relations in trade, investment and technology for small and medium-sized enterprises.
Mr Pankov Dmitry Vladimirovich Viktorovna, editor-in-chief of "The Portrait of Technological Innovation in Russia" publication, said that since 2012, Vietnamese executive agencies, the Vietnam Union of Science and Technology Associations (VUSTA) and the Vietnam Academy of Science and Technology, have supported a series of long-term activities entitled "Russia-Vietnam: The New Economy".
The project aims to provide information and support the development of business cooperation between the two countries in advanced technology, apply the latest technologies in Vietnamese factories, and expand integration and cooperation among business circles involved in technology reform.
From April 21 to 26, the delegation will meet and work with the Vietnam National Assembly and some Vietnamese ministries and hold a science and technology conference and a round table forum for scientists, officials and businessmen from both nations.
Vietnamese journalists explore Cambodia
A delegation of Vietnamese journalists is exploring historical and cultural sites in Cambodia under a programme jointly launched by the country's national flag carrier Cambodia Angkor Air (CAA) and its Ministry of Tourism.

The journalists come from the Vietnam News Agency, the Vietnam Television, Radio the Voice of Vietnam, Nhan dan (People's) daily, English-language Vietnam News, Vietnam Economic Times, Saigon Economic Times, Thanh nien (Youth), Dan tri, and VnExpress.

On April 21, the first day of the five-day trip, they visited the three most popular temples in Cambodia, including Angkor Watt, Angkor Thom and Taprohm in the Angkor complex, which is home to a total of 292 temples, in Siem Reap Province.

CAA Chairman Tekreth Samrach, who is also Cambodian Secretary of State at the Council of Ministers, underlined the significant role of the media in helping people learn about historical and cultural sites in each country to boost their friendship and economic-cultural cooperation.

Last year, Cambodia welcomed 3.3 million holiday-makers and is expected to serve 4 million this year, he said.

Vietnam now ranks second in the number of arrivals in Cambodia with about 600,000 visitors in 2012, and the figure is hoped to reach 800,000 in 2013, he noted.

As scheduled, the journalists will visit Tole Sap lake, Le Artisan Dangkor arts and crafts centre, Angkor night market, and the culinary centre in Siem Reap Town.

They will also tour Sihanoukville before concluding their trip in Phnom Penh where they will engage in a workshop themed "Cambodia destination".

Established in July 2009, the CAA is a joint venture between the Cambodia Royal Government and Vietnam's national flag carrier Vietnam Airlines.
Condolences sent over former Algerian leader's death
President Truong Tan Sang yesterday, April 22, sent condolences to Algerian President Abdelaziz Bouteflika following the death of the country's former leader Ali Kafi.
Kafi passed away last week in the Algerian capital of Algiers at the age of 85.
Nation strengthens judicial co-operation with Sri Lanka
Minister of Justice Ha Hung Cuong yesterday, April 22, signed a memorandum of understanding with his Sri Lankan counterpart Abdul Rauff Hakeem on co-operation between the two ministries.
Cuong congratulated Sri Lanka on its recent development and informed the guest that Viet Nam was recognised as a full member of the Hague conference on private international law on April 10.
He spoke highly of the co-operation between the two countries at international forums like the United Nations, the Non-Aligned Movement and the ASEAN Regional Forum.
The two sides discussed boosting legal co-operation between the two nations, including making policy by participating in the Asian Forum of Legislative Information Affairs.
They agreed to strengthen the friendship and co-operation between Sri Lanka and Viet Nam and praised the cooperation between the two countries' legislative, executive and judicial bodies.
VNN/VNS/VNA