Second political consultation with Sri Lanka held
Deputy Minister of Foreign Affairs Nguyen Phuong Nga held the second political consultation with Kurunatilaka Amunugama, Secretary of Sri Lanka's Ministry of External Affairs, on Saturday.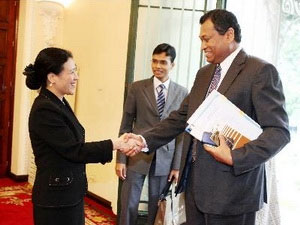 Photo: VNA
During the event, the two sides exchanged views on a series of international and regional issues of common concern while discussing measures to boost bilateral relations in politics, economics, trade, investment, agriculture, justice, culture and education.
They agreed to speed up the implementation of signed cooperation agreements and continue creating favourable conditions for the two countries' enterprises to promote trade and investment.
The two sides also agreed to continue close cooperation at international and regional forums such as the United Nations, Colombo Plan and the Asia Co-operation Dialogue Forum (ACD).
At a meeting on the same day between the Viet Nam Union of Frendship Organisations (VUFO) and a delegation from the Sri Lanka's Ministry of Culture and the Arts and the Sri Lanka-Viet Nam Solidarity Association (SVSA), VUFO General Secretary Nguyen Thi Hoang Van said that VUFO would accelerate the establishment of a Viet Nam-Sri Lanka Friendship Association in order to develop solidarity and friendship between the two peoples.
She added that her union also planned to carry out a number of information exchange activities to strengthen understanding and close attachment between the nations.
Flag to fly on Ly Son island
The national flag will fly on Thoi Loi mountain, the highest peak on Ly Son island in central Quang Ngai Province, by the end of this year.
Construction of a 25-metre high flagpole began on Saturday. The pole looks towards the Hoang Sa (Paracel) archipelago.
It is being built with funds raised by students as part of an on-going programme to foster interest in the nation's sea and islands 2013.
To mark the occasion, doctors from Ho Chi Minh Communist Youth Union's Quang Ngai provincial chapter and the HCM City Association of Young Entrepreneurs provided free medical check-ups and medicine for more than to 500 local people.
Gifts for Spratly island residents
More than 80 representatives of overseas Vietnamese organisations and Vietnamese living abroad have visited and presented gifts to officers, soldiers and residents in the Truong Sa (Spratly) island district, central coastal Khanh Hoa Province, since early May.
According to Colonel Nguyen Hai Trieu, permanent member of the Southern Political Department, the donors came from Laos, Thailand, Cambodia, Russia, the United States, France, Germany, Poland, Denmark, Japan, Canada, Singapore and the Czech Republic.
The Association of Vietnam Veterans in Germany's Leipzig province presented 2,000 euros to soldiers working on the Truong Sa archipelago while the Overseas Vietnamese Association in Russia gave US$2,000.
Overseas Vietnamese also presented 71 electric fans, 40 clocks and three boxes of medicine and other gifts worth a total of hundreds of millions of dong.
And the Ha Noi Association of Fellow Countrymen in HCM City gave VND100 million (US$4,800) to the soldiers.
VNN/VNS/VNA