Government News 20/1
PM welcomes Danish trade minister; Communist Review launches tasks for 2015; Judicial system shows progress, but needs further reform; Deputy PM calls for deeper ties between Vietnam and Uruguay; Deputy PM seeks answers on low labour export rate
PM welcomes Danish trade minister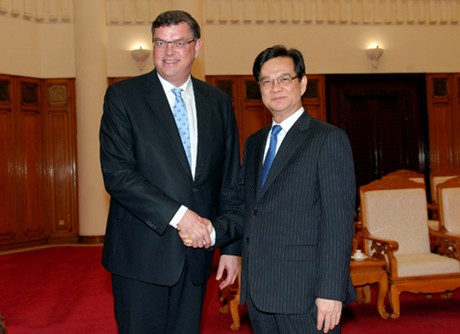 Prime Minister Nguyen Tan Dung greeted Danish Minister for Trade and Development Cooperation Mogens Jensen in Hanoi on September 19, assuring him that the government always facilitate operations of foreign enterprises, including Danish firms working in Vietnam.
The PM said he is fully confident that the early ratification of the Partnership and Cooperation Agreement and the free trade agreement between Vietnam and the European Union (EU) will open up new opportunities for Vietnam and the EU, including Denmark.
He also took the occasion to ask for Denmark's continued official development assistance to Vietnam, especially for climate change response and environmental protection.
The host also expressed his wish that Denmark help the Vietnamese expatriate community assimilate into their society.
Minister Jensen, for his part, affirmed that Denmark has always valued cooperation with Vietnam across sectors, and hopes that the upcoming Vietnam-EU FTA will boost economic development in both countries.
He hailed the Vietnamese government for its efforts in institutional reform and improving business climate, adding that his accompanying delegation of 18 businesses from the energy, food, health care, and education sectors is eager to explore investment prospects in Vietnam.
The minister reiterated his willingness to continue supporting Vietnam in climate change response, environmental protection, and green technology, and vowed to assist the Vietnamese community living in Denmark.
Communist Review launches tasks for 2015
The Communist Review held a conference in Hanoi on January 19 to review its 2014 efforts and launch tasks for 2015, with Le Hong Anh, Politburo member and standing member of the Secretariat of the Party Central Committee, in attendance.
Addressing the event, Le Hong Anh asked the magazine to closely follow the guidelines, strategies and viewpoints of the Party, the Constitution, and law to popularise and bring resolutions into society.
The Communist Review continues to actively counter false, unfounded and untrue allegations to safeguard the Party's ideology and viewpoints, the State's policies and laws, and the Marxism-Leninism and Ho Chi Minh thoughts, he said.
It needs to proactively work against corruption and wastefulness, he added.
The theoretical and political agency of the Communist Party of Vietnam was also asked to carry out additional research and promote friendship and cooperation with scientific research agencies of parties and progressive organisations around the world, contributing to improving the quality of the Party's theoretical and political work.
Judicial system shows progress, but needs further reform
State President Truong Tan Sang has told the Supreme People's Court that the most important task for the sector is to deliver accurate verdicts and judgments to ensure justice for all.
As such, the court must take immediate action to accelerate its reform process and increase staff capacity, the President said at the Court's conference in Hanoi on January 19.
He noted that in 2014, although the number of cancelled and amended verdicts decreased, the rate is still too high at 1.61 percent, due primarily to the court's mistakes.
However, the President commended the sector for the impressive workload handled last year, with 92.8 percent of total cases addressed. Major cases, especially those related to corruption, were addressed swiftly and strictly, receiving strong public approval.
The sector was also active in ensuring the consistent enforcement of laws during judgment.
For 2015, the State leader has asked the courts to continue implementing the 2013 Constitution, the revised Law on People's Court, and National Assembly's resolutions on judicial work and judicial reform.
According to a report delivered at the conference, the judicial system addressed over 385,000 out of the 415,000 cases it received last year.
Deputy PM calls for deeper ties between Vietnam and Uruguay
Deputy Prime Minister Pham Binh Minh has suggested the Chamber of Representatives of Uruguay pay more attention to promoting Vietnamese and Uruguayan Governments' efforts to further step up their bilateral relations.
During his reception for Speaker of the Uruguayan Chamber of Representatives Anibal Pereyra in Hanoi on January 19, Deputy PM Minh who is also Foreign Minister spoke of Uruguay's decision to open its embassy in Hanoi in 2011 and its recognition of Vietnam's market economy in 2013, saying that these have contributed to strengthening the Vietnam-Uruguay friendship and cooperation.
The host highlighted recent development of the relations between the two countries, noting that they worked closely at international organisations and multi forums.
According to the Vietnamese official, economic cooperation between Vietnam and Uruguay has enjoyed positive results in recent years, with two-way trade hitting 120 million USD in 2014, four times higher than that in 2007.
There is great potential for the two countries to set up partnership in the fields of agriculture, breeding, farm-aquatic product processing and biotechnology in the near future, he said.
Deputy PM Minh said he hopes the Chamber of Representatives of Uruguay will support the signing and ratification of future cooperation agreements between the two countries.
For his part, Speaker Anibal Pereyra said that his country appreciates Vietnam's role and increasing important position in the region and the world.
He expressed his wish that he will welcome high-level delegations of the National Assembly and Government of Vietnam in Uruguay in the near future.
Deputy PM seeks answers on low labour export rate
Deputy Prime Minister Nguyen Xuan Phuc urged ministries and localities to find out why few people from poor districts went to work abroad.
Although the Government had issued preferential policies as well as financial and human resources assistance to poor districts, most areas failed to meet national labour export targets, Phuc said at a conference yesterday in northern mountainous Lao Cai Province.
In 2009, the Government issued Decision 71, which created a programme to help labourers in 62 poor districts escape poverty through labour export. They would be provided with free vocational training, language classes and financial assistance when they were sent to work abroad. The decision set the target of about 60,000 workers to work abroad by 2015.
However, after five years of implementation, only 26,800 workers in poor districts have enrolled in this programme, according to the Ministry of Labour, Invalids and Social Affairs (MOLISA)'s Department for Overseas Labour Management.
About 9,500 workers have been sent to markets like Malaysia, South Korea, Japan, Saudi Arabia and Taiwan (China), 95 per cent of whom are poor or belong to ethnic minorities.
Only about 325 workers registered for the programme in each district, with roughly 22 workers registering in each village. In poor districts, about 161 workers were sent to work abroad.
Former deputy director of the department Hoang Kim Ngoc, who is in charge of the implementation of Decision 71, told Sai Gon Giai phong (Liberated Sai Gon) that half the workers abandoned the programme after enrolling. Many were undisciplined and would leave the programme if they didn't like the training.
At the conference, Phuc asked MOLISA to work with local authorities to examine how the programme was carried out.
He asked local authorities to learn about labourers' concerns and report shortcomings in the programme to authorised agencies. He cited changes in training as an example, pointing out that training should be suitable for the customs of ethnic minority labourers in remote areas.
He also required the ministry to study the feasibility of increasing financial assistance, especially for those who worked abroad, to encourage more labourers to participate in the programme.
VNA/VNS