Government News 21/1
Lao Defence Minister receives former Vietnamese soldiers, experts, Vietnam-Laos military ties should be upgraded: Lao minister, Vietnam helps Laos upgrade Military History Museum
HCM City decentralises power to make Decision Number 54 a 'reality'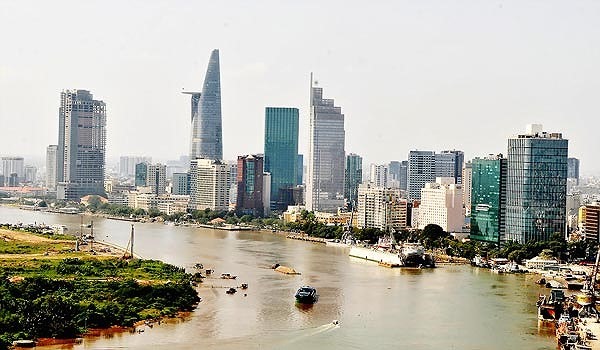 HCM City decentralises power. — Photo sggp.org.vn
The HCM City People's Committee has decided to devolve decision making authority to departments and local authorities in certain areas.
It has identified 85 areas, including contentious ones like environment protection, construction of transport infrastructure and land management.
For instance, district authorities can hereafter appropriate land under certain circumstances, sell State-owned housing and management of waste collection and treatment.
"We hope to achieve a breakthrough in administrative reform by giving more powers to lower level officials," city People's Committee Chairman Nguyễn Thành Phong told Người Lao Động (Labourers) newspaper.
"This is to make Decision No 54 of the National Assembly creating a special mechanism for HCM City a reality," he added.
Trần Xuân Điền, chairman of the District 10 People's Committee, said: "When we have more power, procedures will become faster and it will benefit the public and businesses because we do not need to seek permissions from the city's authorities."
But more power also means more works and many districts and departments are worried about the adequacy of human resources.
Điền added: "The city does not provide more staff to us while works related to land management and construction require skilled and well-educated staff. We lack such people."
There are also worries about abuse of power if districts and departments are allowed to decide sensitive issues.
"Leaders of districts and departments must take responsibility for what they do before the city's People's Committee," director of the Department of Internal Affairs, Trương Văn Lắm, said.
"The municipal People's Committee gives more power but also more guidance, will supervise what districts and departments do.
"We have already prepared human resources, equipment and [others] and informed the public and businesses."
Diệp Văn Sơn, an administrative reform specialist, backed the project saying: "If the city devolves power, districts and departments can make the best decisions because they are close to residents and businesses."
"But close oversight is imperative to avoid abuse of power. If there is a lack of efficiency in any area, the devolution must be reconsidered."
Algeria – Vietnam Friendship Parliamentarians' Group launched
Scene at the event
The Algerian People's National Assembly (APN) (lower chamber) debuted an Algeria – Vietnam Friendship Parliamentarians' Group at a ceremony in Algiers on January 20.
Nemamcha Mohamed, a member of the APN's external affairs committee, was selected as Chairman of the group.
Speaking at the event, APN vice president Terbeche Abderezak and Nemamcha Mohamed expressed their admiration for Vietnam's struggle for independence and efforts made to develop the country.
Appreciating Vietnam's support toward Algeria's fight for independence and national construction, they praised the bilateral friendship and multifaceted cooperation between the two nations and their parliaments in many years.
They highlighted the significant meaning of the friendship group establishment, particularly in connecting the sides and in supervising bilateral efforts to boost collaboration between Vietnamese and Algerian law-making bodies.
Echoing the view, Vietnamese Ambassador to Algeria Pham Quoc Tru thanked the Algerian Government, Parliament, and people for their solidarity with and assistance toward Vietnam, particularly the Parliament's contribution to Vietnam – Algeria friendship and cooperation.
The diplomat stressed his belief that the friendship parliamentarians' groups of both countries will intensify their activities to enhance the close ties shared between their parliaments and nations.
Vietnam helps Laos upgrade Military History Museum
At the ground-breaking ceremony
A ceremony was held in Vientiane on January 19 to start a project on the maintenance and upgrade of the Lao Military History Museum as a gift from the Vietnamese Ministry of National Defence to its Lao counterpart.
The ceremony was attended by General Ngo Xuan Lich, Politburo member and Minister of Defence, and his Lao counterpart Chansamon Chanyalath.
Speaking at the event, Lt. Gen. Noethong Phomlavong, Deputy Chief of the General Political Department of the Lao People's Army, said the project is of great significance and a new landmark in the special relation of friendship and solidarity between the two sides. He also expressed gratitude to the party, State and people of Vietnam for their attention and assistance to the Lao People's Army.
Representatives of the Vietnamese constructor guaranteed the completion of the project as scheduled with the highest quality.
The project is started on the occasion of the 70th founding anniversary of the Lao People's Army. It costs nearly 37 billion VND (about 1.6 million USD), covers 5,655 square metres and is scheduled to complete in September this year.
Vietnam-Laos military ties should be upgraded: Lao minister
Lao Minister of Defence General Chansamone Chanyalath
Vietnam and Laos should elevate the relations between their armies to a new height to prevent sabotage plots by hostile forces that harm the special friendship and solidarity between the two nations, said Lao Minister of Defence General Chansamone Chanyalath.
In an interview granted to the Vietnam News Agency's correspondents, he said that in the context of complicated and unpredictable developments in the region and the world, the cooperation must be promoted towards a tighter and more effective manner to step up actions against wrong and distorted allegations by hostile and reactionary forces.
The move will help ensure national independence, stability and development in each country, he stressed.
He hailed the sound collaboration between the two armies in the past years, especially the wholehearted support that Vietnamese volunteer soldiers and experts provided for the Lao People's Army (LPA) in the struggle against the enemies and traitors to gain national independence in 1975.
In addition, Vietnamese friends always stand side by side with the LPA during its 70 years of development, helping it attain strategic victories, he underlined.
Lao Defence Minister receives former Vietnamese soldiers, experts
Participants in the meeting between Lao Defence Minister Gen. Chansamone Chanyalath and former volunteer soldiers and advisors of Vietnam pose for a photo
Lao Defence Minister Gen. Chansamone Chanyalath received former volunteer soldiers and advisors of Vietnam in Vientiane on January 19, saying that his country never forgets the enormous support and sacrifice that they gave to its revolutionary cause.
The Vietnamese delegation was in Laos to attend the ceremony marking the 70th founding anniversary of the Lao People's Army.
Chanyalath, who is also a Politburo member of the Lao People's Revolutionary Party Central Committee, emphasised that each victory of the Lao army was associated with the assistance and contributions by Vietnam's voluntary soldiers and experts.
He asked the former soldiers and advisors to uphold the revolutionary tradition and educate the two countries' younger generations on bilateral relations so that the great friendship, special solidarity and comprehensive cooperation between Laos and Vietnam will be further consolidated.
At the meeting, Maj. Gen. Huynh Dac Huong, head of Vietnam's liaison board of former volunteer soldiers and advisors in Laos, presented the Lao Ministry of National Defence a map of the Southern Laos campaign that records the victories the two armies gained before the final triumph in 1975.
EU, ASEAN Foreign Ministers meet on furthering cooperation
Foreign Ministers of the European Union and the Association of Southeast Asian Nations (ASEAN) are gathering in Brussels, Belgium, on January 21 to discuss enhancing their cooperation across many fields.
Under the co-chair of High Representative of the EU for Foreign Affairs and Security Policy Federica Mogherini and Singaporean Foreign Minister Vivian Balakrishnan, the two sides are expected to talk about their partnership in dealing with regional and global issues, including global challenges such as climate change and shoring up principle-based multilateral systems.
The ministers will also share their views on recent developments in the EU and the ASEAN.
The meeting also offers a chance for the two sides to review their bilateral ties and strategic cooperation, thus looking for ways to strengthen the ties, particularly priorities in 2019 such as fighting terrorism, trans-national crime, maritime security and cyber security.
The 10 members of ASEAN are Brunei, Cambodia, Indonesia, Laos, Malaysia, Myanmar, the Philippines, Singapore, Thailand and Vietnam.
Vice President Thịnh gives Tết gifts to cancer patients
Vice President Đặng Thị Ngọc Thịnh visits patients at the Hà Nội Oncology Hospital in Hà Nội on Saturday.
Vice President Đặng Thị Ngọc Thịnh handed over Tết gifts, each worth VNĐ1 million (US$44.5), to 100 cancer patients during her visit to the Hà Nội Oncology Hospital in Hà Nội on Saturday.
The gifts were part of the Ngày mai tươi sáng (Bright Future) Fund for Cancer Patients' humanitarian programmes ahead of the Tết (Lunar New Year) holiday.
Speaking at the event, Thịnh hoped all patients would get well soon in order to return to their families to enjoy Tết.
The hospital director Bùi Vinh Quang said that the gifts would ease their pain and bring confidence to cancer patients.
image: http://image.vietnamnews.vn//uploadvnnews/Article/2019/1/20/aaa56333913PM.jpg
Vice President Đặng Thị Ngọc Thịnh hands over Tết gifts to cancer patients at the Hà Nội Oncology Hospital in Hà Nội on Saturday. — VNS Photo Thanh Hải
The fund will also provide other 100 Tết gifts to poor cancer patients at the Oncology Centre of the Phú Thọ General Hospital on January 29.
In addition, the fund will organise free coaches to transport patients and family members from several hospitals in Hà Nội to their homes for Tết on January 25 and 31.
Established in 2011, the fund has so far provided more than VNĐ24 billion ($1.1 million) in financial support to more than 24,000 cancer patients. It has also provided cancer treatment drugs worth more than VNĐ400 billion ($17 million) to patients and free cancer screenings for more than 78,000 people.