VietNamNet Bridge – Le Tan Dung, deputy minister of Labour, Invalids and Social Affairs, tells Thoi bao Kinh te Viet Nam (Viet Nam Economic Times) newspaper that the Government will take tough measures against those who abuse the country's humanitarian law on war invalids.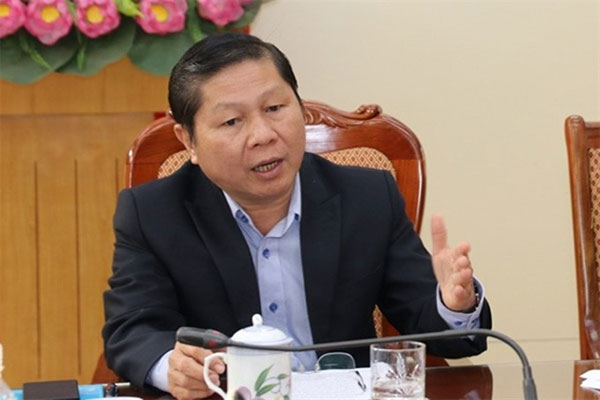 Le Tan Dung. — Photo laodong.vn
How will the Ministry of Labour, Invalids and Social Affairs handle the cases of falsified documents on war invalids in central Nghe An Province?
Through our inspection visit to Nghe An Province, we have detected 569 people who falsified their personal history records to seek profits from the Government's lenient policy for those who served during the war for national salvation. However, among the 569 people, quite a few of them were authentic war invalids, but they weren't able to submit the required official documents certifying that they were truly war invalids. That's why, in my opinion, in these cases, we will take a close look at all the related laws. We at the Ministry of Labour, Invalids and Social Affairs (MOLISA) will try our best to find out the best options to show the nation's deep gratitude to people who have rendered services to the nation. On the other hand, we vow to deny rewards to the wrong persons and pledge to give due sanctions to the people who wrongly certified such documents.
In our working session with provincial officers from Nghe An Province, they acknowledged that it was their mistake to incorrectly include quite a few people in the list of beneficiaries.
Both MOLISA and the leaders from Nghe An Province are resolved to set things correct again and retrieve the money that has been wrongly disbursed.
Who will then take responsibility for certifying falsified documents to usurp the money from taxpayers?
In my opinion, there are several reasons [the certification occurred], but one of them is a big loophole in our legal system. For example, under the law, if anyone wants to be certified as a wounded soldier during wartime, he or she needs to have at least two people sign a paper saying that they had witnessed that he or she was injured in the battle during wartime. However, in real life, such a paper document is sometimes falsified. In my opinion, the Ministry of Public Security, the Ministry of National Defence, the Ministry of Labour, Invalids and Social Affairs and local administrations also should take responsibility for such false claims. However, for those cases in Nghe An Province, I think the Ministry of National Defence, including the 4th Military Zone, is to take the main responsibility as most of the beneficiaries are ex-soldiers under their command.
To overcome this loophole, in the near future, MOLISA has asked the National Assembly to revise the ordinance on giving awards to people who rendered their services to the War for National Salvation to make sure the right people will be well treated. I hope in the near future all who ever falsified their papers to be certified as war invalids and already received their remuneration, from VND100 million - 200 million, will have to return that huge sum of money to the State coffers.
This is quite a big sum for many families. Don't you think that poor families will struggle to pay back such a huge sum?
We understand that for poor and near-poor households or households with residents with serious diseases, it is very difficult for us to ask them to pay back the money. But from the point of view of MOLISA, maybe right now they can't pay back the money, but when they are better off they will pay it back. As we're now living in a society ruled by law, when something is done wrong, we have to take action to correct it and the money they had spent is the money from taxpayers.
We also understand it is not easy to ask the people to pay back the money they already received and spent. Of course, in the course of solving this issue, MOLISA will work closely with concerned agencies to find the best options to solve the problem in accordance with the law.
Following the inspection visit to Nghe An, did MOLISA conduct inspections in other provinces?
Since 2016, MOLISA has worked closely with the Ministry of National Defence to verify the War Invalids documents for war invalid soldiers in five Military Regions.
According to our plan, MOLISA will soon submit a full report to the Government on cases that had received money wrongfully from the Government budget for war invalids nationwide.
By late 2017, we checked more than 600,000 dossiers of war invalids in all localities nationwide and detected that over 12,000 papers were suspicious – of which 1,800 papers were falsified. And the inspectors from MOLISA wrote a petition asking the concerned agencies to erase those people from the list of beneficiaries and order them to pay back VND130 billion (US$5.6 million) that they had already received from the State budget.
Source: VNS